footfootfoot Friday May 5 11:28 AM

May 6th, 2017: Make Me A Pallet On Your (Forest) Floor

This guy from Odense, Denmark, Thomas Danbo has some mad skilz. Madder than a wet hen, as my uncle used to say.

He builds stuff out of trash and other recycled materials.




These are from a series of six giants he built and hid in the forest, off the beaten track, (soon to be the beaten track, no doubt)



Check out his website and feel awed and inspired.

OR, if you're the type to wait forit to come out on video, here you go:



---

Gravdigr Friday May 5 11:41 AM

Quite cool.

---

Diaphone Jim Friday May 5 12:07 PM

That whole concept is neat.
The heads of the monsters remind me of the wooden puzzles that we had as kids (and I still have several of).

---

xoxoxoBruce Saturday May 6 12:39 PM

Do you have the urge to push or pull each board to see if it's the key to taking it apart?

---

footfootfoot Saturday May 6 08:15 PM

I suspect 97,000 Spax screws.

---

xoxoxoBruce Saturday May 6 11:03 PM

I like Little Tilde in the first picture up top. He/she is not threatening, not helping, just watching. Learning lessons from good and bad things seen and trying to separate each into the proper column. Not easy when his/her head is already stuffed with 28 bird houses.



Here's another take on them.

---

BigV Saturday May 6 11:33 PM

Reminds me of The Fremont Troll at the Center of the Universe.

Pics

---

Diaphone Jim Sunday May 7 12:28 PM

The more I see of those, the better I like them.
You bet I would look for the key piece, being prepared to run like hell!

---

xoxoxoBruce Sunday May 7 01:33 PM

Listen for that warning low growl.


---

glatt Monday May 8 09:47 AM

The construction reminds me a lot of boat building. Much more complex shapes than boat building, which makes it harder. But also the joints don't have to be so perfectly tight. An eighth inch gap here and there is no big deal. So that makes it easier.

I wonder how long each took to make, and how much was done in the shop versus assembly and finishing touches in the field?

The video doesn't show enough building for my tastes.

---

xoxoxoBruce Monday May 8 12:50 PM

At Danbo's website, click on the picture of Teddy Friendly and it shows Dambo and his six helpers(all friends) during construction.
It appears the head and feet were prefabbed off site on this one.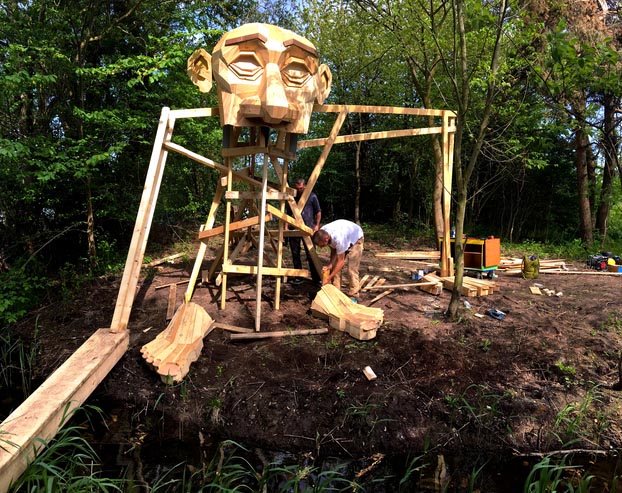 The other five may have been done differently but I suspect the complicated bits were prefabbed.

---

xoxoxoBruce Monday May 8 01:14 PM

On another project the head is prefabbed, I think the feet too.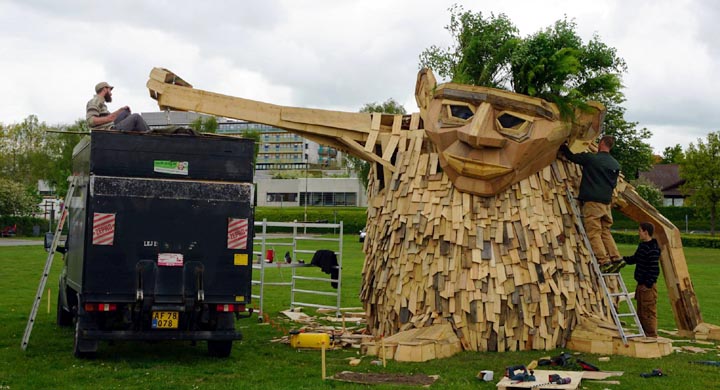 Pile 'em up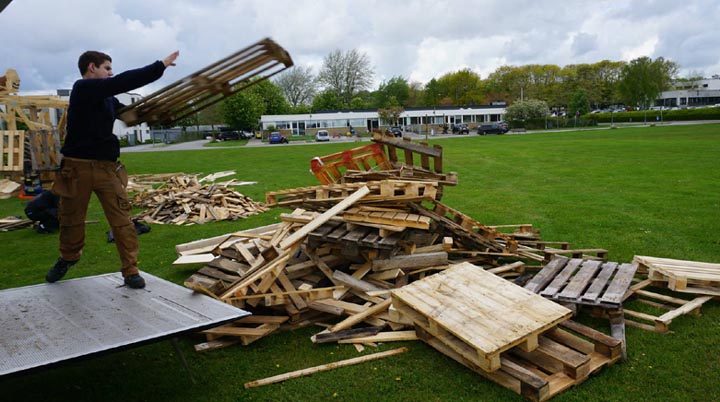 Cut 'em up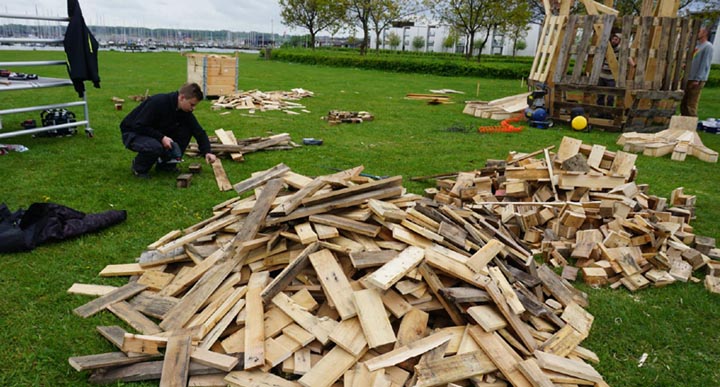 Screw 'em up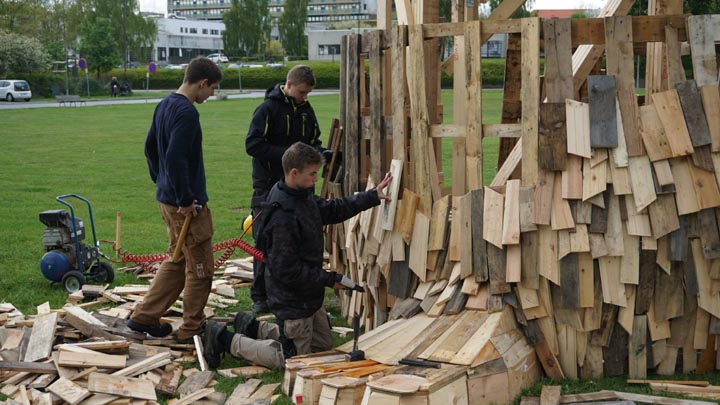 I was thinking he couldn't do that here because some lawyers kid might get a sliver but here's one in Florida.

---

glatt Monday May 8 01:39 PM

Excellent. Thank you.

That would be a fun job, being on that crew.

---

xoxoxoBruce Monday May 8 11:01 PM

3foot don't post no junk.

---

footfootfoot Tuesday May 9 08:51 AM

When I was in college, studying furniture design, there was a guest teacher who worked for a company called Bronx 2000 that had a spin-off company called Big City Forest. They had a contract with Con Edison to take about 3,500 pallets a week that they turned into flooring and furniture.

NYT article

and a sad follow-up.

Some of the stuff they made was gorgeous. A lot of pallets are made of "exotic" tropical wood that either didn't make the grade for furniture lumber or was just re-directed to pallet making. Sort of like how our domestic woods like oak, maple, cherry can go to secondary uses because there is only so much of a market for fine woodworking hardwoods.

The teacher incorporated the idea of recycling into some of the design briefs; build a piece of furniture using only the wood from one pallet, or all the wood from a pallet, things like that, with no other limits. A lot of neat ideas came out of those assignments.

---

xoxoxoBruce Tuesday May 9 09:46 AM

My buddy used to bring home pallets from work for firewood. All the runners were hardwood and the slats were whatever they could get. There was one pallet that was almost all Black Walnut.

---
Your reply here?

The Cellar Image of the Day is just a section of a larger web community: a bunch of interesting folks talking about everything. Add your two cents to IotD by joining the Cellar.