xoxoxoBruce Friday Oct 20 01:00 AM

Oct 20th, 2017: Fake News

Trump is right, the mainstream media lies.
The Guardian's headline;
World's first 3D-printed bridge opens to cyclists in Netherlands
Crossing printed from 800 layers of concrete… could take weight of 40 trucks, designers say.

It's not a total lie, it's inaccurate and misleading the readers which has been driving scientists nuts for years.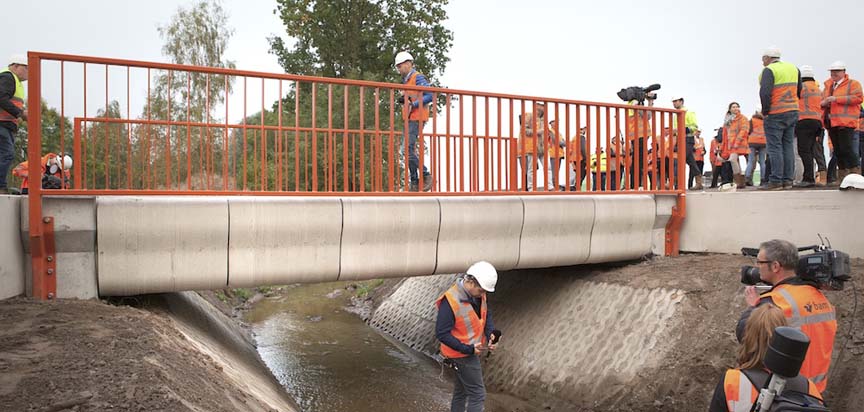 Quote:
Dutch officials have toasted the opening of what is being called the world's first 3D-printed concrete bridge, which is primarily meant to be used by cyclists.
----
"The bridge is not very big, but it was rolled out by a printer, which makes it unique," Theo Salet, from the Eindhoven University of Technology, told Dutch broadcaster NOS. Work on printing the bridge, which has some 800 layers, took about three months after starting in June and it is made of reinforced, pre-stressed concrete, according to the university.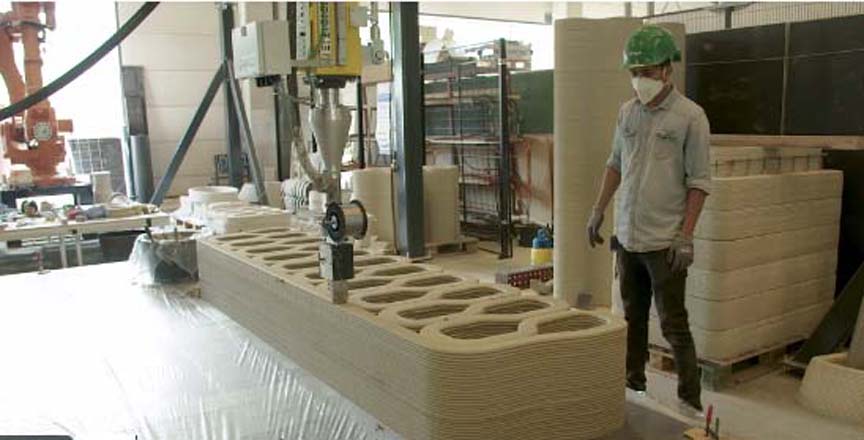 I don't know how this method pre-stresses the concrete?



Quote:

"One of the advantages of printing a bridge is that much less concrete is needed than in the conventional technique in which a mould is filled," it said on its website. "A printer deposits the concrete only where it is needed." The eight-metre (26-ft) bridge spans a water-filled ditch to connect two roads, and in conjunction with the BAM Infra construction company was tested for safety to bear loads of up to two tonnes.

Two tonnes = 4409 lbs = The Guardian's 40 trucks???

This is the first 3-D printed concrete bridge in Europe.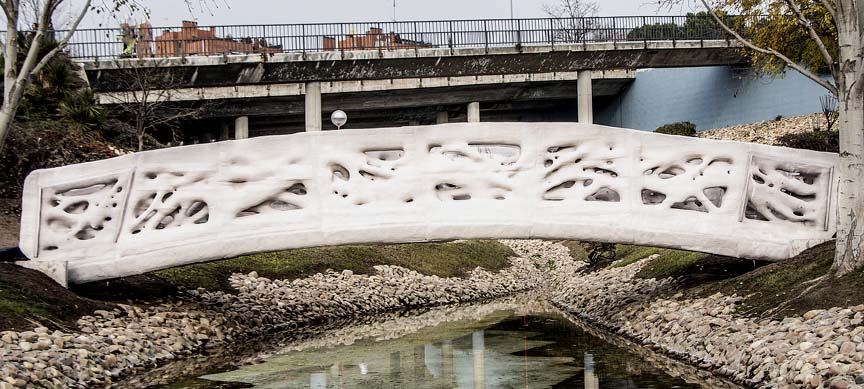 Quote:
The first 3D printed pedestrian bridge in the world opened to the public on December 14 in Madrid. Led by the Institute of Advanced Architecture of Catalonia (IAAC) in a process that took a year and a half from its conception, the structure crosses a stream in Castilla-La Mancha Park in Alcobendas, Madrid.
Although similar initiatives have already been announced in the Netherlands, this is the first to have finished construction. The structure is printed in micro-reinforced concrete, and measures 12 meters in length and 1.75 meters wide.
link
link
---

Clodfobble Friday Oct 20 07:42 AM

Pouring a traditional concrete bridge (a little one like that) would take a week at most, right? Just wondering how the current 3-month timeline compares.

---

xoxoxoBruce Friday Oct 20 11:58 AM

That span could be poured pre-stressed in a mold and delivered in a month. Building forms on site and pouring would use much more steel and concrete, and probably take three months.

---

Gravdigr Friday Oct 20 12:32 PM

The (my) county recently built a bridge over a fairly well-traveled road. Two lanes, around forty feet. Built forms, poured on site.

Road was open a week later.

BTW: That time frame includes removal of the old bridge.

---

Clodfobble Friday Oct 20 02:21 PM

Bridges are of somewhat greater interest to me right now because they are replacing a major highway bridge right next to my kids' school.

For about 4 months now, they've been building a new "U-Turn section" on the north edge of the existing bridge. It is expected to be complete in the next week, at which point all westbound traffic will be routed up and over the new section and eastbound traffic will be eliminated for (they say) 10 months while the main bridge is demolished and rebuilt. All the parents are a little miffed about the pickup/dropoff traffic being so dramatically affected for so long, but realistically we're the reason the bridge has to be widened in the first place.

The U-Turn bridge was poured into forms; I guess we'll find out if the main bridge is done the same way or partially pre-fabricated elsewhere.

---

xoxoxoBruce Friday Oct 20 06:21 PM

The 20 ft long bridge over a brook at the end of my road needed replacing.
Start - Erect 8 ft chainlink fence across the road to block traffic.
Start + 6 weeks - Begin tearing out the old bridge.
Start + 14 weeks - start building a new bridge on the old piers.
Start + 21 weeks - Pour concrete.
Start + 25 weeks - start building guardrails and approach curbs.
Start + 28 weeks - Open new bridge 8 ft narrower than either road approaching it.


---

Gravdigr Tuesday Oct 24 06:02 PM

Damn.

---

Griff Wednesday Oct 25 07:36 AM

That is some hardcore Pennsyltucky nonsense.

---

glatt Wednesday Oct 25 11:22 AM

Speaking of Pennsyltucky bridge replacement nonsense, there's a little village in NEPA called Aldenville and a large stream runs through it. The stream twists and turns, and the main road that twists its way through the village crosses the stream twice in a short distance. So you have these two bridges.

It's getting to be a couple decades ago that this happened, but it feels like it was fairly recent. One bridge was your typical modern bridge that is well built and you don't even notice as you drive over it, and the other bridge was a narrow one lane steel bridge, riveted together, was all rusty, and had dents at both ends where trucks had hit it over the years.

Pennsyltucky decided to replace the bridge, so they did a XOXOBruce style replacement job of the more modern bridge. It took a while, and residents were confused about their choice of bridges to replace, but whatever. The new new bridge was also pretty nice, just like the old new bridge, and they continued to be careful driving over the narrow old rusty bridge. Then a couple years later, Pennsyltucky realized they replaced the wrong bridge, and finally replaced the old narrow bridge. And now cars fly through the little village because they don't need to be careful on the bridge.

This was all explained to me by my aunt, who lived in Aldenville before she passed. Maybe it's not entirely true about the order of replacement being a mistake, but I did see both bridges get replaced, and not in the order that I would have replaced them based on my observations as a driver.

---

Clodfobble Wednesday Oct 25 11:56 AM

Maybe it was one of those awkward budgeting situations, like "we have $5 left this year, and $10 coming next year. New bridge costs $5 to replace, old bridge costs $7. We can replace new bridge now, or do nothing, but old bridge can't get fixed until more money comes in." Or maybe there was a legal fight over the bridge's status as a historical site, or something.


Nah, it was probably just a fuck up. If a doctor can cut off the wrong leg, an engineer can draw up plans for the wrong bridge.

---
Your reply here?

The Cellar Image of the Day is just a section of a larger web community: a bunch of interesting folks talking about everything. Add your two cents to IotD by joining the Cellar.