What's IotD?

The interesting, amazing, or mind-boggling images of our days.
xoxoxoBruce Sunday Oct 22 11:36 PM

Oct 23rd, 2017: Black Rhinos Matter

Quote:

Natural History Museum, London. Wildlife Photographer of the Year 2017
Grand title winner - Brent Stirton, South Africa - Memorial to a species
Taken as part of an undercover investigation into the illegal trade in rhino horn, Brent's winning image tells the evocative story of one of the trade's latest victims – a black rhino bull from South Africa's Hluhluwe Imfolozi Park. The poachers responsible are thought to have come from a local community, working to order.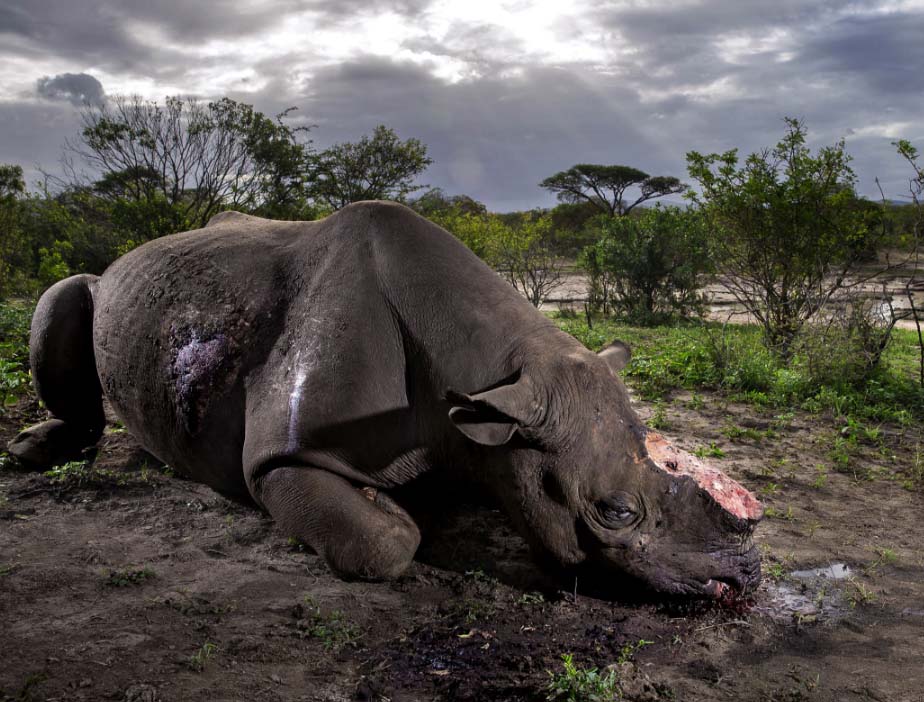 Quote:

'When an image shocks and assaults us, there needs to be good reason. With this one, there is. The stark simplicity forces us to witness the brutal, tragic, stupid waste of a poacher's work. If we feel disgust it is at our own species, while we pity the black bull rhino for its ghastly death, killed by two shots just so that its horn could be hacked off to supply illegal trade in a questionable "medicine". There is a horrible intimacy to the photograph: it draws us in and invites us to explore our response and responsibility.'
Lewis Blackwell, Chair of the jury

And from Scientific American.


Quote:

The brazen slaying and dehorning of an endangered white rhino in a wildlife preserve near Paris last month spurred widespread outrage. Mainstream media coverage blamed its usual suspects: Asian men who supposedly buy rhino horn as a crude form of Viagra. But this prurient tidbit overlooks the main factors driving the illegal rhino horn trade—and may even be reinforcing false beliefs about the substance's powers.

Did you catch that, some newer buyers are convinced it must have boner powers because of the western media quacking that bullshit.



Quote:

These days the main threat to the surviving rhinos comes from the illegal rhino horn trade between Africa and Asia. Certain buyers in Vietnam and China—the largest and second-largest black market destinations respectively—covet rhino horn products for different reasons. Some purchase horn chunks or powder for traditional medicinal purposes, to ingest or to give others as an impressive gift. Wealthy buyers bid for antique rhino horn carvings such as cups or figurines to display or as investments. A modern market for rhino horn necklaces, bracelets and beads has also sprung up.

Most of the desire for rhino horn seems unrelated to any wish for a raging hard-on, experts say. There is one group of buyers in Vietnam that may partially reflect the stereotype of horny Asians seeking a rhino horn fix. A 2012 report by TRAFFIC International, the World Wildlife Fund's trade monitoring program, described how wealthy Vietnamese and Asian expatriate business elites in Vietnam would "routinely mix rhino horn powder with water or alcohol as a general health and hangover-curing tonic"—an extravagant version of a detox routine. That group also included some men who also apparently believed rhino horn could cure impotence and enhance sexual performance. This example stands out because it is rare, however.

Historically, traditional Chinese medicine has mixed rhino horn with other natural ingredients for treating fever or relieving the symptoms of arthritis and gout. The list of historical uses also includes: headaches, hallucinations, high blood pressure, typhoid, snakebite, food poisoning and even possession by spirits. "Every historical documented use of rhino horn in traditional Chinese medicine was for treating conditions such as fever and infection," says Lixin Huang, president of the American College of Traditional Chinese Medicine. "It was never used for improving male sexual function or for curing cancer."

I hope this makes Hulk angry.

---

Gravdigr Tuesday Oct 24 01:17 PM

It used to be said that billionaire homeboy Brad Kelley had the largest private herd of black rhinos in the world. I don't know if that's currently accurate, or not.

One of his pet projects is The Peace River Center for the Conservation of Tropical Ungulates down in Florida.

---

newtimer Friday Oct 27 09:25 AM

Dang it, Chinese people. Stop it!

---

xoxoxoBruce Friday Oct 27 09:49 AM

newtimer, it's the Vietnamese buying most of it.

---

Griff Saturday Oct 28 02:43 PM

fuckity fuck assholes

---
Your reply here?

The Cellar Image of the Day is just a section of a larger web community: a bunch of interesting folks talking about everything. Add your two cents to IotD by joining the Cellar.