What's IotD?

The interesting, amazing, or mind-boggling images of our days.
xoxoxoBruce Tuesday Nov 14 12:55 AM

Nov 14th, 2017: Bat Soup

Google says...


Quote:

Palau is an archipelago of over 500 islands, part of the Micronesia region in the western Pacific Ocean. Koror Island is home to the former capital, also called Koror, and is the islands' commercial center. Larger Babeldaob has the present capital, Ngerulmud, plus mountains and sandy beaches on its east coast. In its north, ancient basalt monoliths known as Badrulchau lie in grassy fields surrounded by palm trees.

So like Japan, an island nation which gets most of it's protein from the sea making meat
a delicacy. I this case the meat is Fruit Bat, because eating fruit makes them sweet.
Kind of like munching children after Halloween.

Quote:
PK ordered a Bat Soup (with Ginger) for US$30 and waited nervously. As he waited, reassuring thoughts passed through his mind such as "How different can bat be from beef or chicken, anyway?" and "It's probably just a part of the soup stock or minced into little meatballs or something."
Boy, was he wrong.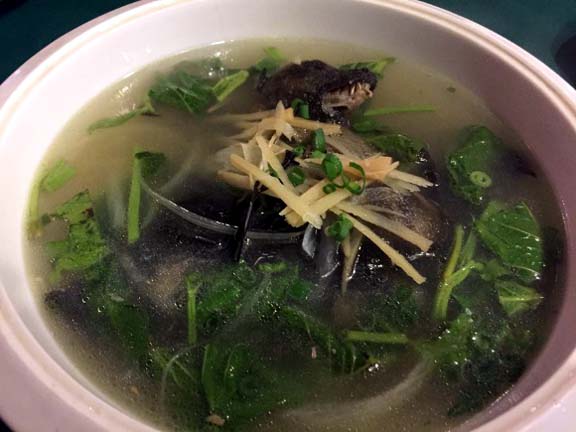 Quote:
PK stifled a scream, as through the murky broth the whole lifeless body of a bat could be seen soaking, with its face defiantly piercing the surface. He wasn't really sure what to do with this, but luckily his server took the lead and began to remove the bat.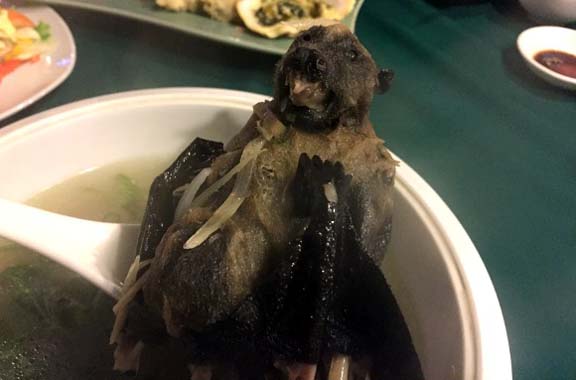 Quote:
So as not to be rude, PK again had to internalize an instinctive "GYAHHHH!" thinking he saw the bat suddenly move while the server placed it on a separate dish. "Just drink the soup first," she kindly instructed, and then took away the bat for further preparation.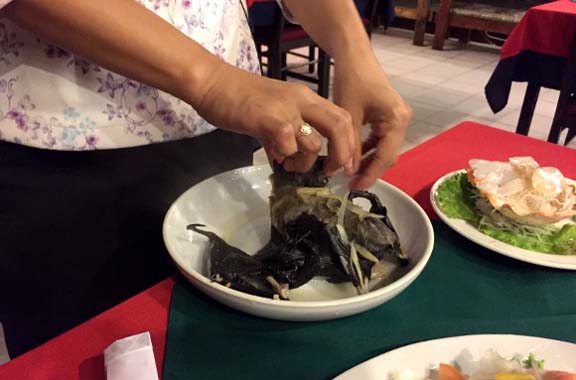 Quote:
PK described it as tasting like the chiai of a tuna. The term "chiai" refers to the dark red section of a fish that tends to have a bloody smell and texture more like red meat than fish. It is rarely used in sushi or sashimi and usually relegated to cat food, although it does have its fans.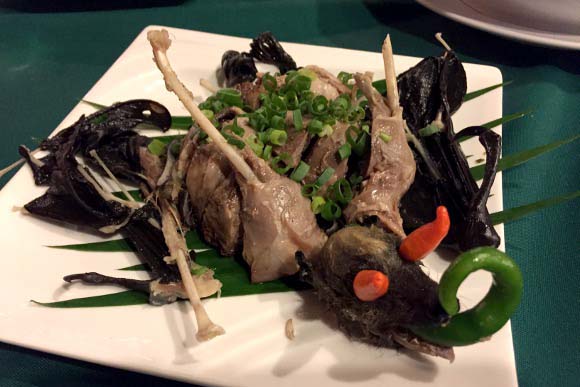 After one bite he gave the rest to some Jap tourists at the next table.

link
---

Griff Tuesday Nov 14 07:41 AM

I like meat but...

---

glatt Tuesday Nov 14 08:41 AM

If I was starving and felt close to death and nothing else was available, I'd totally go for that.

Bats are flying mice, and mice are dirty vermin.

---

Glinda Tuesday Nov 14 12:52 PM



That which has been seen cannot be unseen.

I have a feeling this will haunt me for the rest of my days.



---

Diaphone Jim Tuesday Nov 14 01:04 PM

Easy guideline to follow:
Don't eat bats, don't eat rats, don't eat cats.

---

Happy Monkey Tuesday Nov 14 01:23 PM

What's the point of the soup? Very little flavor is going to go through the pelt in either direction. The soup will be flavored primarily by skin oil, bat parasites, and whatever waste the bat releases while it's being boiled.

---

Clodfobble Tuesday Nov 14 02:50 PM

They had to be fucking with him. A chef is a chef, and restaurant guests don't skin their own meal no matter what part of the world they're in.

I bet it arrives all politely filleted the first time it's served, for the locals.

---

blueboy56 Wednesday Nov 15 01:24 PM

AAAGGGGHHHHH. . . (And I thought Rocky Mountain Oysters were vile.

---
Your reply here?

The Cellar Image of the Day is just a section of a larger web community: a bunch of interesting folks talking about everything. Add your two cents to IotD by joining the Cellar.