xoxoxoBruce Thursday Nov 16 02:29 AM

Nov 16th, 2017 : Animals in War

The dogs of war won't negotiate,
The dogs of war don't capitulate,
They will take and you will give,
And you must die so that they may live.

But the real dogs of war would rather chase a ball.





All the other animals sent off to war, Horses, Mules Elephants, Camels, cats, birds, etc, would druther not be.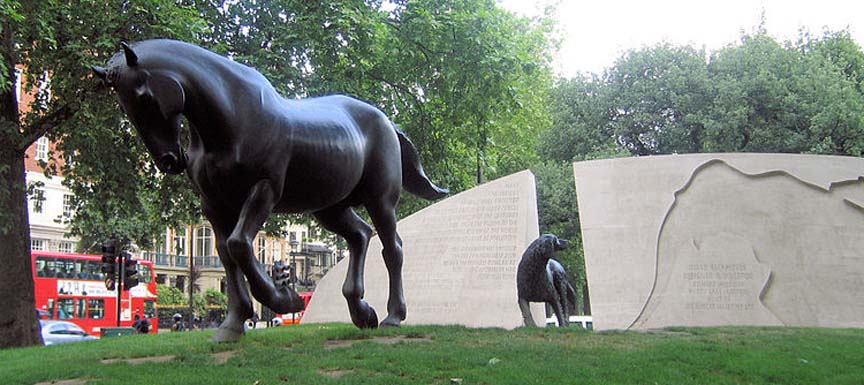 The Monument in London says:
............................"This monument is dedicated to all the animals
..............................that served and died alongside British and Allied forces
..............................in wars and campaigns throughout time"

................................................................................................"They had no choice."





But they animals at home didn't fare well either.
The Brits knew war was coming and this would not be fought in trenches on the continent.
They had seen the Nazis build a Navy and Air Force capable of striking Britain at will.



Quote:

In 1939 the United Kingdom, after failing to settle its differences with Germany through diplomacy, knew a war was imminent. Hence, in order to best prepare the nation for the worst-case scenario, the government issued some much-needed precautionary measures, such as preparing shelters for civilians or encouraging food stockpiling to avoid starvation. After witnessing sirens being placed on almost every corner of the United Kingdom and getting an issue of Air Raid Precaution in every newspaper they bought, the people, fearing for theirs and the safety of their loved ones, naturally began to panic.

But the government had been gearing up for a log time.
The "Keep Calm and Carry On" posters had been printed and plans made for rationing and civilian work details.



Quote:

What to do with them(pets) when the war started. As an answer, in mid-summer 1939, on the eve of World War II, the British government established the NARPAC as an extension of the ARP organization, issuing a formal statement that read: "If at all possible, send or take your household animals into the country in advance of an emergency," continuing with, "If you cannot place them in the care of neighbors, it really is kindest to have them killed."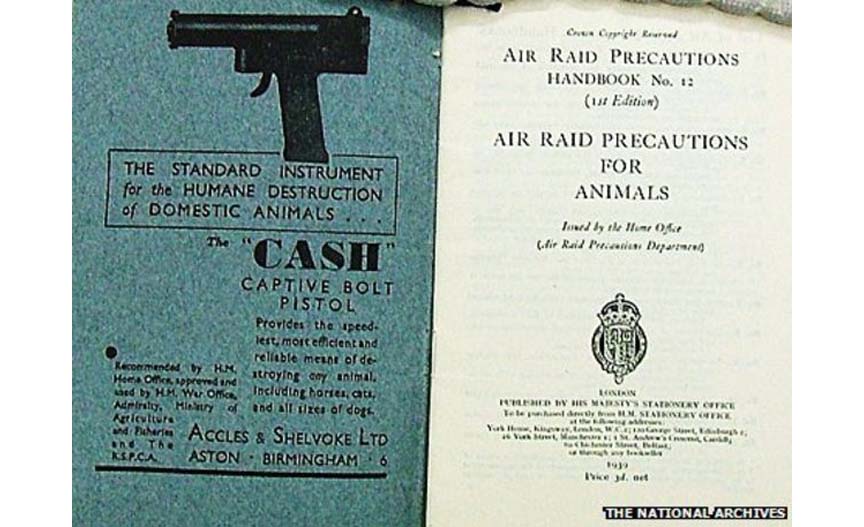 Quote:

Almost every street in London was suddenly filled with disoriented and scared people, among whom were many walking their pets for one last time. It was reported in the following days that almost every hospital and dispensary was overwhelmed by the sheer number of pets brought to them, and by the end of the week almost 750,000 of these poor animals were either put to sleep or killed by their owners.

Their chances at the front seemed suddenly better.


Quote:

In a way this was one of the many obvious signals that war is not knocking, it has entered uninvited through the front door. As the esteemed historian and former Dean of Ruskin College, Hilda Kean, recalls, "It was one of the things people had to do when the news came–evacuate the children, put up the blackout curtains, kill the cat."

link

---

Flint Thursday Nov 16 02:31 PM

Nice reference to a Gilmour-fronted Floyd song from 1987.

---

Carruthers Tuesday Dec 5 02:12 PM

A couple of books on the subject are:

The Animals' War by Juliet Gardiner.
ISBN-10: 0749951036
ISBN-13: 978-0749951030

and...

The War Horses: The Tragic Fate of a Million Horses Sacrificed in the First World War.
ISBN-10: 0857040847
ISBN-13: 978-0857040848

I have both in my bookcase and they are available in the UK and US on Amazon, but the second book is a bit pricey Stateside.

---

xoxoxoBruce Tuesday Dec 5 10:25 PM

And hence the tagline, They Had No Choice.

---

Carruthers Monday Dec 18 04:49 AM

Quote:

First war horse grave given heritage protection by Historic England

The first ever war horse grave has been given heritage protection as Historic England celebrates unusual listings.

The grave in Halewood, Merseyside, is one of more than 1,000 historical sites given heritage protection in 2017, the government's heritage agency said.

The grave received a Grade II listing this summer and commemorates Blackie, who served in most of the major battles of the First World War, including Arras, the Somme Offensive and Ypres, where he suffered severe shrapnel wounds.

Horses were used widely in the First World War when an estimated eight million were killed by enemy action, disease or starvation. Their story was famously recognised in Michael Morpugo's celebrated children's novel War Horse, which formed the basis of an award-winning play and a film adaptation by Steven Spielberg in 2011.

Blackie is thought to have been born around 1905 and served with the 275th Brigade Royal Field Artillery 'A' Battery - 55th West Lancashire Division during the First World War. He belonged to Lieutenant Leonard Comer Wall, a war poet from Kirby, who in his will requested that if he did not survive the conflict, his faithful horse should be buried with his medals and decorations.

Lieutenant Wall died at Ypres in June 1917 aged 20, and was riding Blackie at the time. Despite the horse's injuries from the same incident, Blackie remained in service on the Western front for the rest of the war.

After the war Lieutenant Wall's mother Kate brought Blackie back to England, making him one of only a small number of horses to return home. She lent him to the Territorial Riding School in Liverpool until he was retired to live at the Horses' Rest in Halewood in 1930, where he remained until his death at the age of 37, in December 1942.

Historic England said: "Blackie's death received press coverage across Britain, from the local Liverpool Daily Post to the Gloucester Citizen, Portsmouth Evening News, and Dundee Evening Telegraph."

The horse is buried in the north-west corner of the western field fronting Higher Road in Halewood.

The agency said it had taken the decision to give the grave protection as part of its First World War centenary listing project, which will see it recommend up to 2,500 more war memorials for protection in the next five years.

However, the charity War Horse Memorial, which supports infantrymen and their horses, and will unveil its own memorial next year, said the decision was overdue.

"It's been 100 years since the end of the First World War. Recognition of the part horses played had been long overdue. This war horse grave will go some way to redress the balance," said chief executive Alan Carr.

Historic England said although there are other war horse graves in England, it had no plans to recognise any others at present. According to Historic England, almost 400,000 historic sites are now listed in England, and ninety nine per cent of people live "within a mile of a listed building or place".

Daily Telegraph Yes, it's behind a paywall but, er, use your initiative.

Historic England catalogue entry.
---

xoxoxoBruce Monday Dec 18 09:13 AM

Blackie was fortunate. To survive his wounds, to be brought home, to live a long productive post war life. Fortunate indeed, although he had no choice.

---

Carruthers Monday Dec 18 09:45 AM

Quote:

Originally Posted by

xoxoxoBruce

Blackie was fortunate. To survive his wounds, to be brought home, to live a long productive post war life. Fortunate indeed, although he had no choice.

Two more who were lucky enough to survive and return home:



Quote:

Two horses, Jones and Joubert, of the Royal Horse Artillery where sent to the front in 1914. They were sub-section leaders and stayed together through German shot and shell fire. Despite being in the thick of the action for 4 years, they were among the few who returned home unharmed. When untacked at their Aldershot base in 1919 they walked to the stables and stalls they had occupied before the war. They were awarded campaign medals which they wore on their browbands and were later retired to the countryside. The Commander considered Jones to embody the spirit of the plucky light draught horse. A silver statue of Jones takes pride of place in the centre of the dining table of the Officer's Mess at the King's Troop Royal Horse Artillery and bronze copies are given to officers when they retire.

The above is taken from Real war horses remembered

---

xoxoxoBruce Monday Dec 18 10:50 AM

Thanks for that link Is it dusty in here.

---

Gravdigr Monday Dec 18 03:49 PM

Let us not forget Sergeant Reckless.

Attachment 62722

Attachment 62723

Ooh-rah!!

---
Your reply here?

The Cellar Image of the Day is just a section of a larger web community: a bunch of interesting folks talking about everything. Add your two cents to IotD by joining the Cellar.