xoxoxoBruce Sunday Nov 19 01:57 AM

Nov 19th, 2017 : Tappan Zee Bridge

Anyone driving from southern New England to Philly and points south has basically two choices. One is going through NYC and
the George Washington Bridge. The other was the Tappan Zee Bridge 20 miles north.
Opened in 1955 it was the longest bridge in NY state at 16,013 feet (4.881 miles), but always a bottleneck.
So they decided to build a new bridge next to it for $4 Billion, and tear the Tappan Zee down.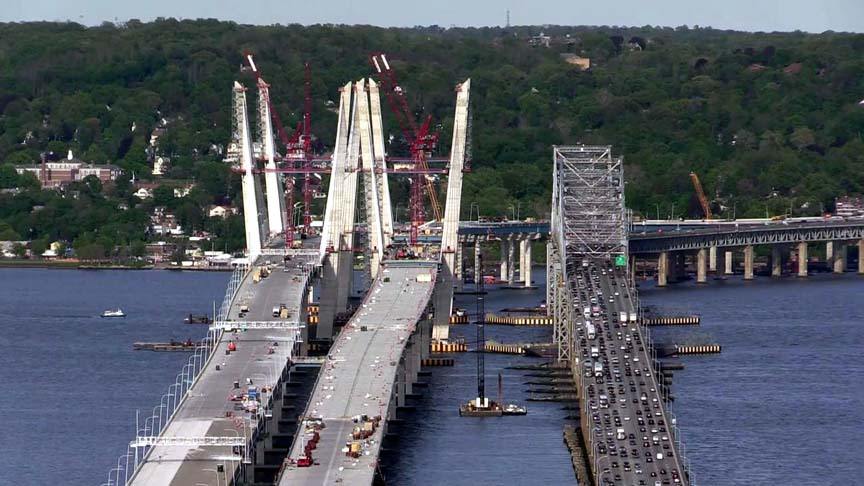 Now a bridge 7 lanes wide and near 5 miles long results in a lot of reinforced concrete.
But both the concrete and rebar are being recycled.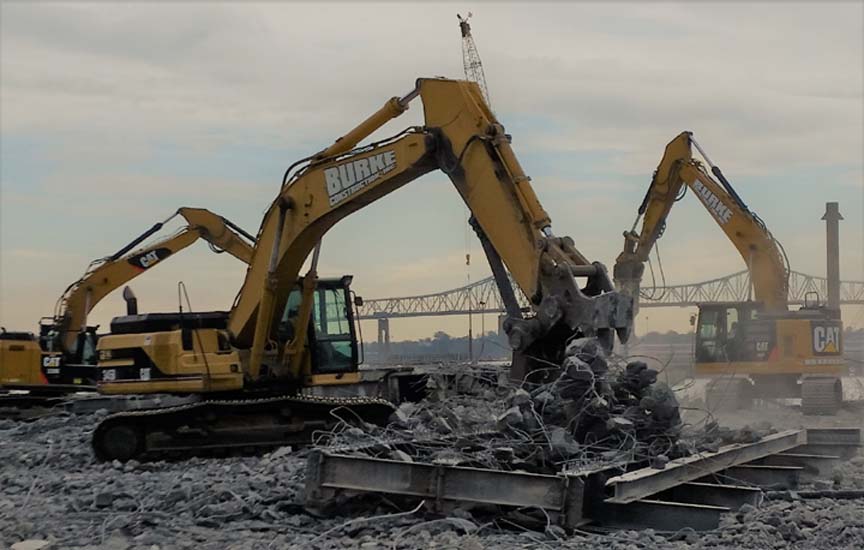 Bring on the concrete munchers, nom nom nom.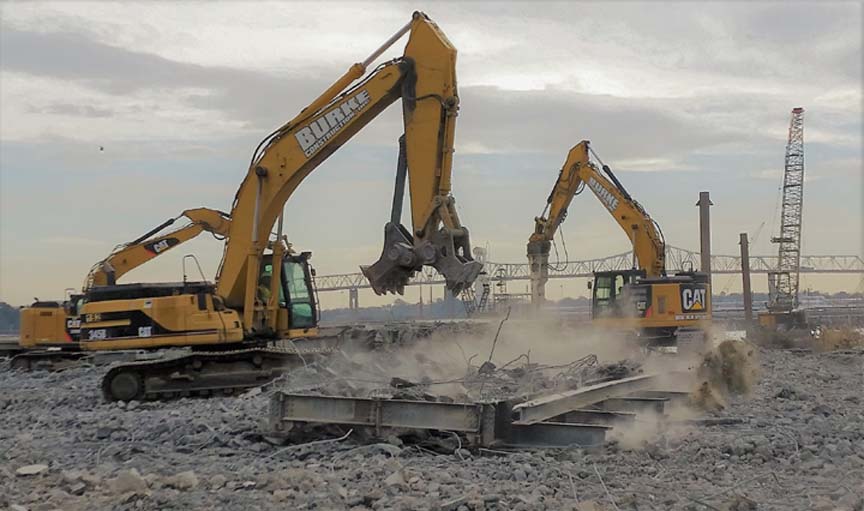 That crane in the background is rated at 600 tons.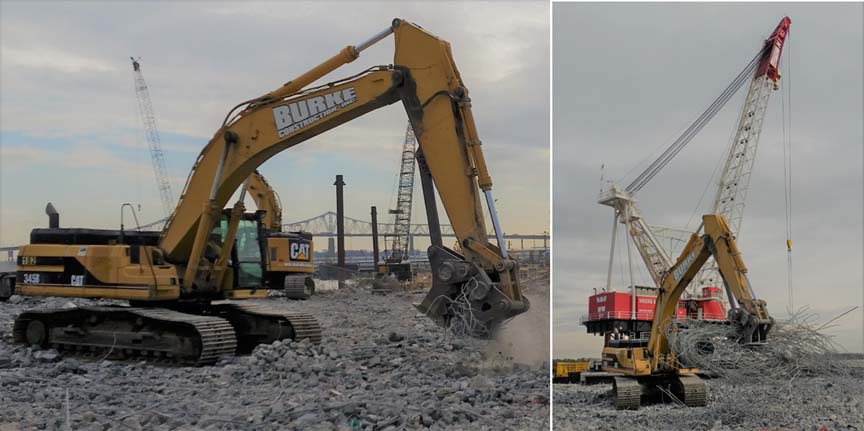 No link, my buddy's son sold the the CAT munchers to the contractor, and took the pictures.

---

Griff Sunday Nov 19 08:10 AM

Fun toys.

---

tw Sunday Nov 19 10:00 AM

Original 1955 Tappan Zee bridge was a victim of the Korean War. It was minimized since sufficient money was no longer available due to that war. It had long carried a load well beyond what it was originally designed to support.

This is very unusual in the US today. We don't build major construction projects any more. Even the George Washington Bridge, built in 1930, is that old. A nonsensical worry about costs dominates rather than productivity (ie a rail tunnel from NJ to NYC's Penn Station that is desperately needed). But NY State had no choice. It had to replace the Tappan Zee. It is a major Interstate highway.

No viable alternative exists across this Hudson river. A small Bear Mountain bridge (built 1924) is 22 miles north. Or an Interstate Highway bridge is 38 miles north. George Washington Bridge is 22 miles south. And takes much longer due to overburdened taffic jams (and a NJ Governor). Tapan Zee must carry heavy interstate traffic on InterState 287 - a major connection between New England and the rest of the continental US. So cost cutting (destroy America) politicians (ie NJ's Governor Christie is a classic example) could not block this construction.

---

Undertoad Sunday Nov 19 12:45 PM

And it costs a lot because, originally, it was stupidly placed at a spot where the river crossing is 3 miles wide, with a mucky floor... instead of just a bit south, where the river is one mile wide with a solid rock floor.

The bridge was only built where it was because it had to be 25 miles away from the Statue of Liberty...

...otherwise, the toll money from it would go to the Port Authority instead of to NY state.

source: NPR story

---

Pamela Monday Nov 20 06:46 PM

Ah, the run I love to hate. Just TRY to pilot a loaded semi across THAT bridge (toll is $99 last time I checked). I budget three extra hours to allow for delays there.

Or, I just take I-87 north to I-84, if possible, and save the toll and headache and the double-shot of scotch that night to calm my nerves.

---

Degrees Monday Nov 20 07:19 PM

Thanks

I don't like on that side of the USA, so I'd know nothing about the whole thing. Interesting pictures, and back story. Thank you.

I wonder how you recycle concrete though. If you grind it into a fine enough powder, can you mix it with water and pour it again? I thought concrete curing was an exothermic reaction.

---

xoxoxoBruce Monday Nov 20 11:05 PM

No, it's ground up to the size of gravel and sold for the same uses. As cheap or cheaper than gravel, slightly higher price with a guaranty of no metal.

---

Gravdigr Tuesday Nov 21 03:07 PM

I only use virgin gravel.

Extra virgin if they got it.

Used gravel. Pfft.

---

xoxoxoBruce Tuesday Nov 21 11:27 PM

You've got a lot of nerve being picky about the virginity of anything you use.

---

Gravdigr Friday Nov 24 01:42 AM

Touche.

---

tw Thursday Apr 26 08:09 PM

Another of Gov Christie's people. His commissioner, Caren Turner, demonstrates want kind of people are Christie people.

http://www.youtube.com/watch?v=S6vlu1FRaic or
http://www.nj.com/news/index.ssf/201...g_cops_to.html

She should have been arrested for obstructing an officer in the performance of his duties. A classic example of an adult thinking like a child - or with an inflated ego.

Car's registration was expired. Obviously windows were tinted both illegally and to put others at risk. Another ego thing.

Now that this video has been released, she suddenly and finally admitted she was wrong - and resigned. It took that much to make her honest - in the tradition of Christie and Bridgegate.

BTW, two convicted and sentenced Bridgegate conspirators still have not served jail time. Somehow Christie did not know anything about it? Demonstrated is the attitude of his people.

Never forget that he promoted himself by attacking the weak - starting with teachers. His cheapshots said teachers were over paid. Facts have long said otherwise. Does not matter. He profits. Only that matters. Also explains why Truner is another of his people. And why he so likes the Donald.

Turner is a Christie appointee - and his kind of people.

---

monster Thursday Apr 26 08:20 PM

Quote:

Originally Posted by

Gravdigr

I only use virgin gravel.

Extra virgin if they got it.

Used gravel. Pfft.

Graveldigr?

---
Your reply here?

The Cellar Image of the Day is just a section of a larger web community: a bunch of interesting folks talking about everything. Add your two cents to IotD by joining the Cellar.