xoxoxoBruce Tuesday Feb 6 09:51 PM

Feb 7th, 2018: Offbeat "Hotels"

Hey men, have you got a special squeeze you want to impress the pants off? Take her to Old Blighty.
What, you're name's not Rockefeller or Bezos? Well fly coach and make up for it at the other end.
You have two choices, either stay at the palatial Carruthers estate, or a Landmark Trust location.
Either way, her pants are coming off.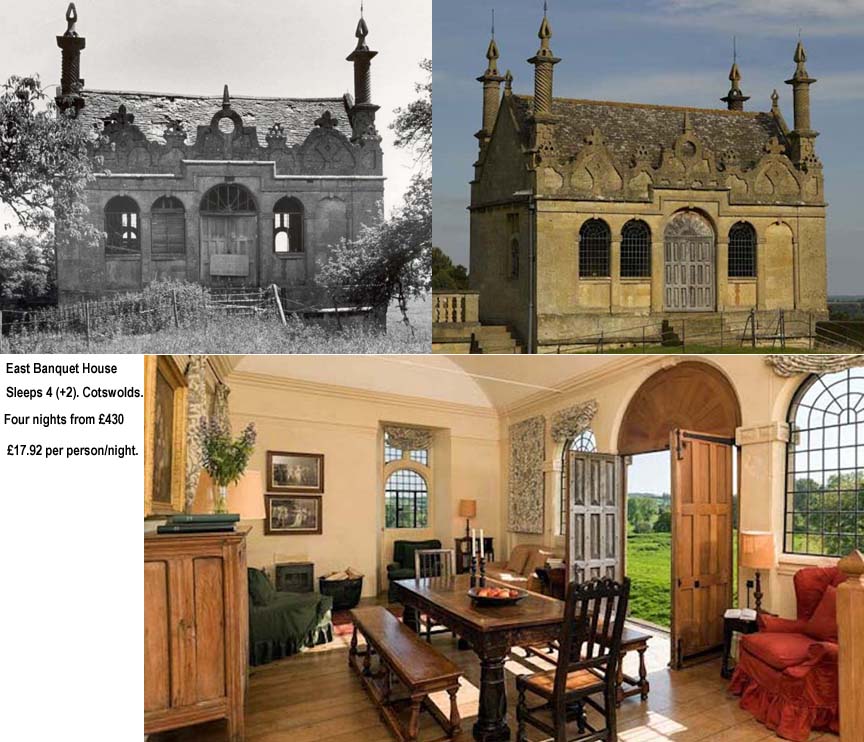 Quote:
I don't know what's more astonishing– discovering so many spectacular historic buildings where ordinary people can actually spend the night, or the fact that most of them won't cost me more than £20 per person a night.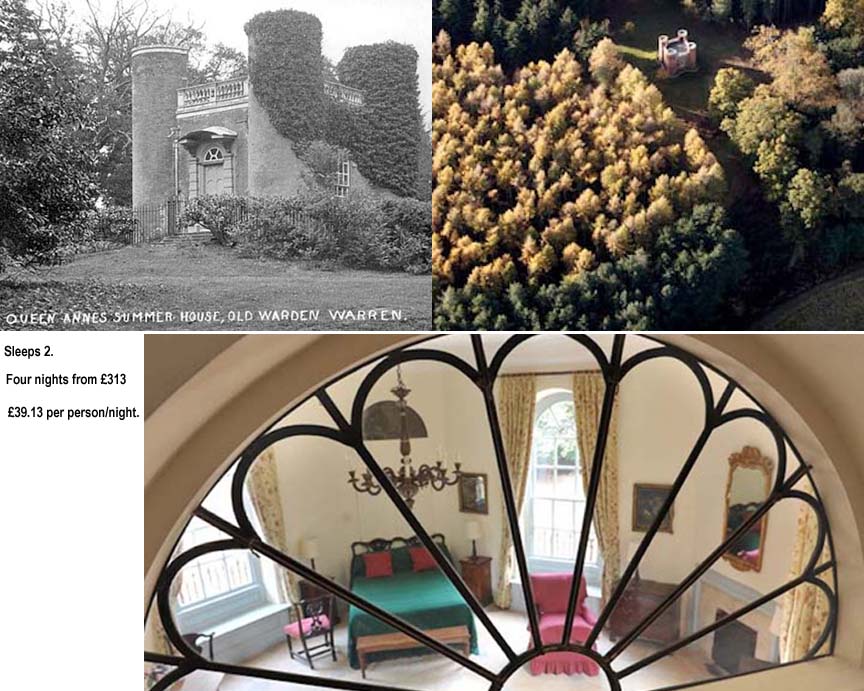 Quote:
Or that it took me so long to discover the Landmark Trust. Hiding in the shadows of the mainstream travel industry since 1965, this charity has been saving historic places in danger that would otherwise be lost, carefully restoring them and renting them out as self-catering holiday homes. Yup, these are all places you can actually stay overnight– on a student's budget no less.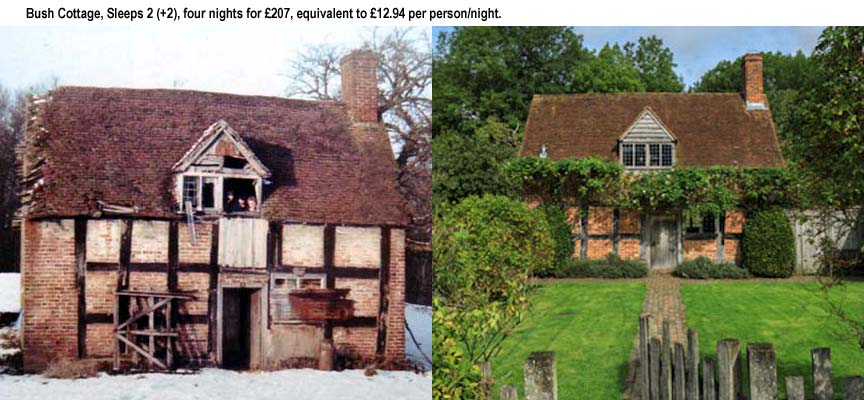 Quote:
They have nearly 200 buildings across Britain and several in Italy, France and Belgium too, ranging from clan chief's castles to cozy waevers' cottages; Tudor towers to train stations– all rescued and given a new future without closing them off behind museum ropes.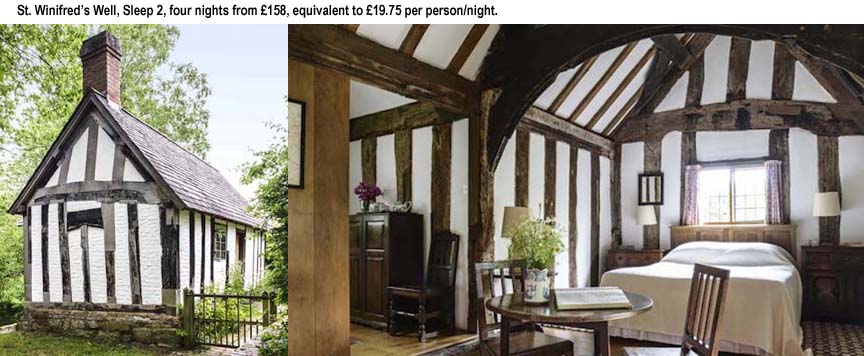 Quote:
Stepping in where the National Trust or the Ministry of Works has been unable to help, The Landmark Trust works to prevent loss of the smaller, lesser-known historic buildings of England by securing them a place in the travel & accommodation industry. Founded by philanthropist John Smith, fittingly a descendant of the 19th-century travel pioneer Thomas Cook, the charity's efforts are made possible entirely through generous donations, making the incredible historic places affordable to the rest of us and most importantly relevant.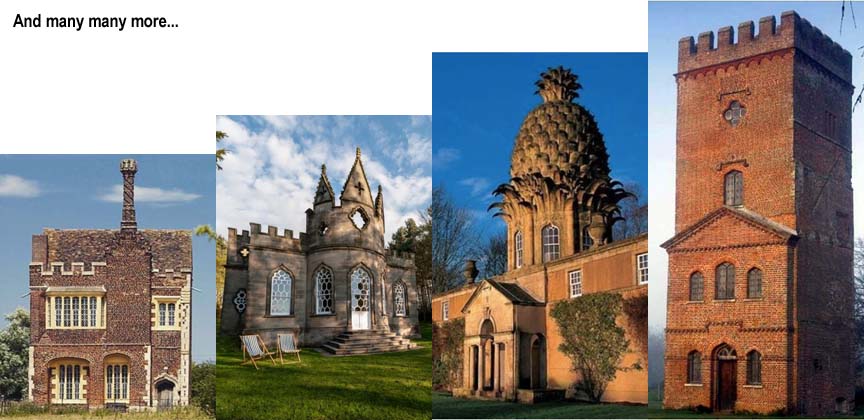 Quote:
The more history is accessible to the general public, the better the chances are of saving it. So please, for your next holiday, forget Booking.com or even Airbnb and tap into England's best-kept secret.
link
---

Griff Wednesday Feb 7 09:10 AM

gorgeous and cheap!

---

Carruthers Wednesday Feb 7 09:17 AM

Thanks for that, Bruce.

I'm ashamed to say that I knew nothing about the Landmark Trust other than the fact it actually existed.

It probably didn't crop up on my personal radar as it seems to be the only one of the UK's 185,000 charities that hasn't asked me for money.

---

Diaphone Jim Wednesday Feb 7 01:09 PM

As usual, Bruce's advice to look closer lead to spending the better part of an hour doing so, specifically to The Pineapple, Dunmore.
It is as old as the U.S. Revolution, one of the settings where the Earl of which caused no end of trouble.

The links from a Google search provide an unbelievable amount of info and images and that is just one of the "hotels."

---

xoxoxoBruce Wednesday Feb 7 06:39 PM

Hey don't set me up to be blamed when your boss fires you.

---

Carruthers Thursday Feb 8 10:51 AM

Serious thread drift follows.

Having clicked on the link provided by Bruce in his initial post, I found an article about the Royal Mail Post Bus service.



Quote:

Oh, to Have Ridden England's Forgotten Post Bus

I never knew the post bus existed. I grew up in England's capital, but never in my 25 years of living there did I ever see or hear of these delightful red buses that both delivered mail and served as the only public transport in some of the UK's most remote areas. Then again, until the other day, neither I had ever met anyone who had ever hitched a ride with the postman and lived to tell the tale…

For some, the Royal Mail Post bus was a lifeline; the only way to catch a ride into town or even receive news. Passing through sleepy villages, ancient hamlets and forgotten Victorian resorts, the post bus could have just as easily inspired the Night Mail poem by W.H. Auden…

Despite the use of 'England' in the title, I suspect that the service was a greater part of everyday life in Scotland than other parts of the UK hence...



Quote:

On remote Scottish isles, the post bus would not only bring mail (and people), it would also deliver newspapers, milk, food deliveries and parcels brought over on the ferry. While offering a lifeline to rural communities, it was also a great way to travel around remote parts of the country– and do it on a budget.

To illustrate 'remote Scottish isles' what could be better than a picture of a Post Bus on the Isle of Arran?

Attachment 63143

I Emailed limey, our well known Arran dwelling Dwellar and esteemed Moderator (That's enough grovelling- Ed) to see if she recognised the location of the picture.

Her first thoughts were that it was either near Kildonan on the southern tip of the isle, but more likely the NW coast, the close proximity of road and sea being the starting point in both cases.

I tried the NW coastal road on Street View but that didn't bear fruit so had a look at the road west of Kildonan. The overhead cables and road sign were a couple of clues which pinned it down to here:

Attachment 63144

Here's the Street View link. Kildonan coast road.

As limey said 'Even a couple of the rocks are the same if you look!'.

There's no concrete information as to when the photo was taken, but the 'R' suffix on the number plate denotes first registration in 1976.

'Windy, rattly Land Rovers', to quote limey, were latterly used on the service and a hunt on Google Images produced this:

Attachment 63145

This time limey did the detective work and pinpointed the location as Blackwaterfoot, fittingly enough just opposite the Post Office.

The house is called the Old Stables and appears to have been a vehicle workshop at the time the picture was taken.

Attachment 63146

Blackwaterfoot Street View.

Remind me. How did we get here?

---

glatt Thursday Feb 8 11:21 AM

Fantastic detective work, Carruthers. I'm impressed.

---

xoxoxoBruce Thursday Feb 8 01:36 PM

Well there goes my IOtD for tonight... Just kidding.


I did read that article but couldn't quite figure out how to use it because the information was so extensive. It covered a lot of ground, mainly in Scotland, Wales, and north England. Plus a long time frame starting with the horse drawn Royal Mail Coaches. It's interesting and well worth reading.
Nice job Carruthers and Limey.

---

Gravdigr Thursday Feb 8 02:51 PM

Velly intelesting.

---

Diaphone Jim Friday Feb 9 12:56 PM

"Hey don't set me up to be blamed when your boss fires you."
No mo' bosses, boss.

Curruthers' exploration is a common example of the IOTD experience.

---

xoxoxoBruce Friday Feb 9 04:28 PM

Yes, same for me except on the other side, I often go deeper in the rabbit hole than I post.

---

Griff Friday Feb 9 05:35 PM

Nice work all!

---

fargon Friday Feb 9 06:29 PM

Nice work to all those who research and post such interesting and informative articles. Thank You for all of your good work.

---
Your reply here?

The Cellar Image of the Day is just a section of a larger web community: a bunch of interesting folks talking about everything. Add your two cents to IotD by joining the Cellar.