xoxoxoBruce Wednesday Mar 14 11:02 PM

March 15, 2018: London Burning

The 1666 fire started in Thomas Farriner's bakery just after midnight on Sunday and burned till Wednesday, burning 13,200 houses,
87 parish churches, St Paul's Cathedral, and most of the buildings of the City authorities.
They thought the 18 ft (5.5 m) Roman Wall would stop it but didn't.





17th century firefighting…

Quote:
The methods available for this relied on demolition and water. By law, the tower of every parish church had to hold equipment for these efforts: long ladders, leather buckets, axes, and "firehooks" for pulling down buildings. Sometimes taller buildings were leveled to the ground quickly and effectively by means of controlled gunpowder explosions. This drastic method of creating firebreaks was increasingly used towards the end of the Great Fire, and modern historians believe that it was what finally won the struggle.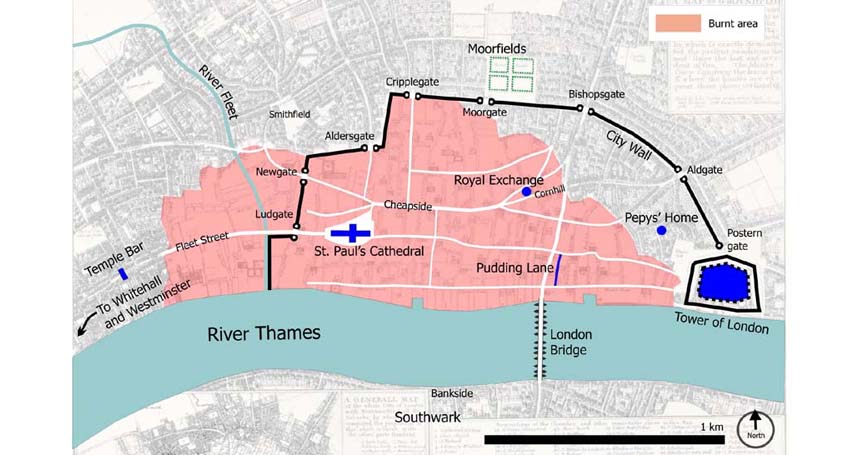 But to tear down a building they needed permission from the owner or Lord Mayor Bloodworth.


Quote:

When Bloodworth arrived, the flames were consuming the adjoining houses and creeping towards the paper warehouses and flammable stores on the river front. The more experienced firemen were clamouring for demolition, but Bloodworth refused on the grounds that most premises were rented and the owners could not be found. Bloodworth is generally thought to have been appointed to the office of Lord Mayor as a yes man, rather than by possessing requisite capabilities for the job. He panicked when faced with a sudden emergency and, when pressed, made the oft-quoted remark, "Pish! A woman could piss it out", and left.

In 2016 they decided to celebrate the 350th anniversary by doing it again, but this time with a replica built by an
American who was a star at the Burning Man Festival in Nevada.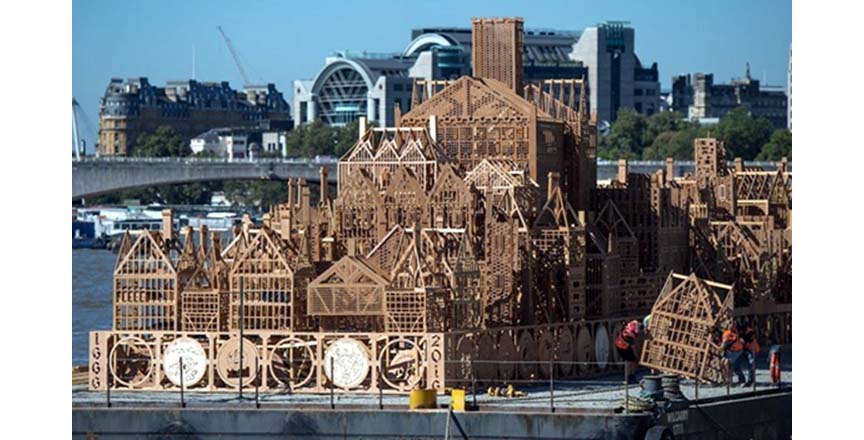 Burn baby burn…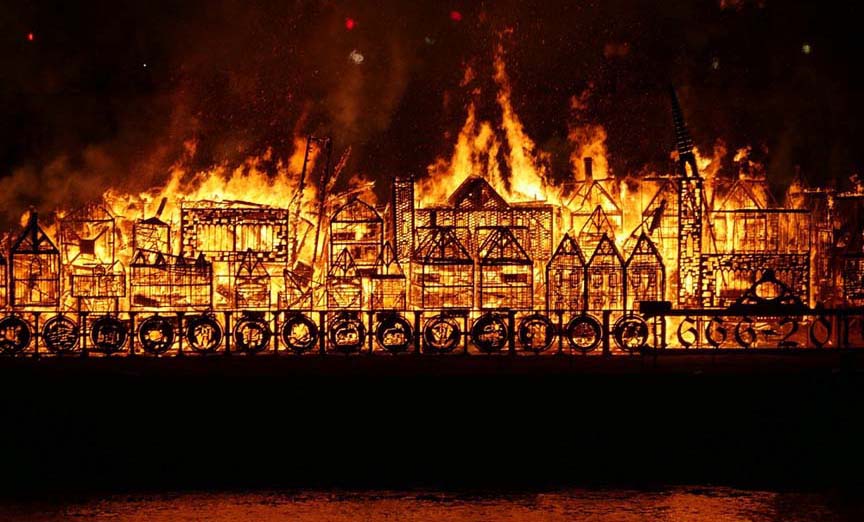 link
link
---

glatt Thursday Mar 15 08:22 AM

That looks surprisingly good with the real buildings in back all darkened so you can't see them.

---

Gravdigr Thursday Mar 15 05:22 PM

Quote:

It was a hot night in the old town last night.



---

newtimer Thursday Mar 15 08:17 PM

Who is Pepy? And why does his home warrant a special place on the map?

---

xoxoxoBruce Thursday Mar 15 08:24 PM

Much of the detailed information comes from Samual Pepy's diary.

---

DanaC Thursday Mar 15 08:27 PM

Quote:

Originally Posted by

xoxoxoBruce

Much of the detailed information comes from Samual Pepy's diary.

This.


Not Pepy - Pepys (pronounced 'peeps') - the apostrophe is after the s: Pepys' diary

---

xoxoxoBruce Thursday Mar 15 08:32 PM

Yes dear.

---

DanaC Thursday Mar 15 09:03 PM

ack - the first part was agreeing with your post - the second part was answering newcomer. Should have made that clearer :P

---

xoxoxoBruce Thursday Mar 15 09:07 PM

No problem, you are right I screwed that up. We colonists can never get British history right.

---
Your reply here?

The Cellar Image of the Day is just a section of a larger web community: a bunch of interesting folks talking about everything. Add your two cents to IotD by joining the Cellar.