xoxoxoBruce Thursday Apr 5 11:35 PM

April 6th, 2018: Lustron Homes

At the end of the big one, WW II, all these guys were coming home to their sweethearts with big plans.
These guys were trained killers who had waded ashore in Sicily, Normandy, and Iwo Jima.
Are YOU gonna tell them sorry guys, war's over, thank you for saving the country and the world, but the country has more
important shit to worry about than the fact you don't have a house to procreate in?



Quote:
In January 1947, the newly formed Lustron Corporation announced that it had received a $12.5-million Reconstruction Finance Corporation loan to manufacture mass-produced prefabricated homes that featured enamel-coated steel panels (U.S. Patent 2,416,240). Led by Chicago industrialist and inventor Carl Strandlund, who had worked with constructing prefabricated gas stations, Lustron offered a home that would "defy weather, wear, and time."

Strandlund's Lustron Corporation, a division of the Chicago Vitreous Enamel Corporation, set out to construct 15,000 homes in 1947 and 30,000 in 1948. From its plant in Columbus, Ohio (the former Curtiss-Wright factory), the corporation eventually constructed 2,498 Lustron homes between 1948 and 1950. The houses sold for between $8,500 and $9,500, according to a March 1949 article in the Columbus Dispatch—about 25 percent less than comparable conventional housing. By November 1949, however, a Lustron's average selling price had come up to $10,500.

Quote:
The Lustron factory had approximately eight miles of automated conveyor lines and included 11 enameling furnaces, each of which was more than 180 feet long. The plant equipment included presses for tubs and sinks. The bathtub press could stamp a tub in one draw and could produce 1000 tubs a day at capacity. Specially designed trailer trucks were used as the final assembling point where the manufactured parts came off the assembly line. There were approximately 3300 individual parts in a complete house loaded on a single trailer. The trucks then delivered the house package to the building site.

Lustron established builder-dealers, which in turn sold and erected the house package on a concrete foundation. In 20 months of production and sales, Lustron lost money on each house, and in turn, was not able to repay the RFC loan. RFC foreclosed on Lustron and production stopped on June 6, 1950. On the Lustron order book were contracts for more than 8000 housing units, which were never shipped.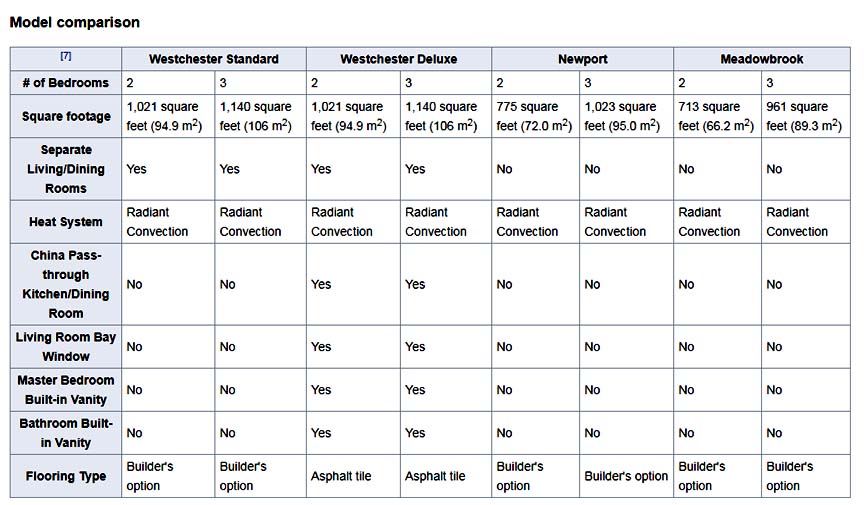 Quote:

Lustron homes were usually built on concrete slab foundations with no basement. However, about 40 Lustron homes have been reported to have basements. Their sturdy steel frame was constructed on-site and the house was assembled piece-by-piece from a special Lustron Corporation delivery truck. The assembly team, who worked for the local Lustron builder-dealer followed a special manual from Lustron, and were supposed to complete a house in 360 man-hours.

The interiors were designed with an eye toward the modern age, space-saving, and ease of cleaning. All Lustrons had metal-paneled interior walls that were most often gray. To maximize space, all interior rooms and closets featured pocket doors. All models featured metal cabinetry, a service and storage area, and metal ceiling tiles. In the Westchester Deluxe models, the living room and master bedrooms featured built-in wall units. As an added option, customers were presented with the unique Thor-brand combination clothes- and dish-washer, which incorporated the kitchen sink.

I guess Levittown worked out better.

link
---

Griff Friday Apr 6 07:47 AM

Cool.

The main building style in the Triple Cities was Foursquare, called EJ Houses locally because the company built them at cost for its workers.

https://www.pressconnects.com/story/...omes/90412364/

---

Undertoad Friday Apr 6 08:18 AM

I live in a house built 1950, brick on slab, and it's just solid. I believe this place would survive a nuke. I know it'll outlast the 1970s-80s McMansion constructions.

---

glatt Friday Apr 6 08:41 AM

According to inflation calculators, $10,500 in 1949 had the buying power of $109,848.97 today.

That's a pretty small house by today's standards, and you have to add the price of the land. These things were not all that cheap. Modest houses at modest prices. I see the quote saying these were 25% less expensive than a comparable conventional house. Of course a $109,848 building today would be rather shoddily built with the cheapest materials available.

I wonder how they were to live in? Metal houses. Any insulation?

---

Undertoad Friday Apr 6 09:31 AM

We lived smaller lives back then, and I am living that smaller life now.

---

Diaphone Jim Friday Apr 6 12:40 PM

Those metal cabinets purely sucked.

I love the tub maker.
It couldn't have been cheap, but at a thousand a day, it needed only 2 and a half days to supply the whole run of houses.

---
Your reply here?

The Cellar Image of the Day is just a section of a larger web community: a bunch of interesting folks talking about everything. Add your two cents to IotD by joining the Cellar.