What's IotD?

The interesting, amazing, or mind-boggling images of our days.
xoxoxoBruce Sunday Apr 8 09:11 PM

April 9th, 2019: New Beer's Eve

♫ Baby take off your coat
Real slow
♫ Tap that keg right now
One blow
♫ Baby, draw one with a head
Yes yes yes
♫ You can leave your hat on



Quote:

On March 22, 1933, the bill passed. Known as the Cullen-Harrison Act, it only decriminalized beverages below 3.2 percent alcohol by weight. Still, this detracted little from what would later become known unofficially as "New Beer's Eve." After 13 long years, alcohol would once again flow in Lake's hotel starting on April 7, at 12:01 a.m.

Actually it was 12:29 before the first keg got tapped and the first glass handed to Mencken.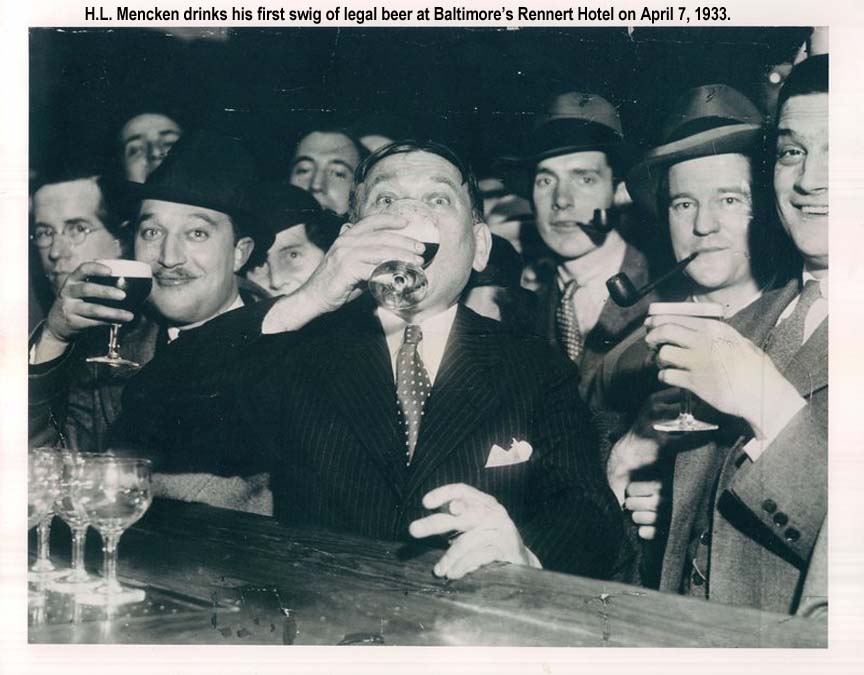 Quote:
Signed by President Franklin Roosevelt on March 22, 1933, the Cullen-Harrison Act came during the peak of the Great Depression. Viewing the 18th Amendment as a roadblock to recovery, the Roosevelt administration had already launched a repeal campaign weeks earlier. In the meantime, it saw the legalization of low-alcohol beer as a dry run for America's re-acclimatization to public drinking.

The importance of all of this was not lost on Mencken and the raucous crowd at Baltimore's Rennert Hotel in the early hours of April 7. As the writer roistered with old friends, and unhindered by prohibitory law, he realized the night had taken on added meaning. More than an inconvenience, he had always viewed Prohibition as an affront to personal liberty. In this way, he later told the Boston American, April 7 was more than a quick fix for a struggling economy or a fun night out on the town for old drunkards—it was "an epochal event in the onward march of humanity—perhaps the first time in history that any of the essential liberties of man has been gained without the wholesale emission of blood."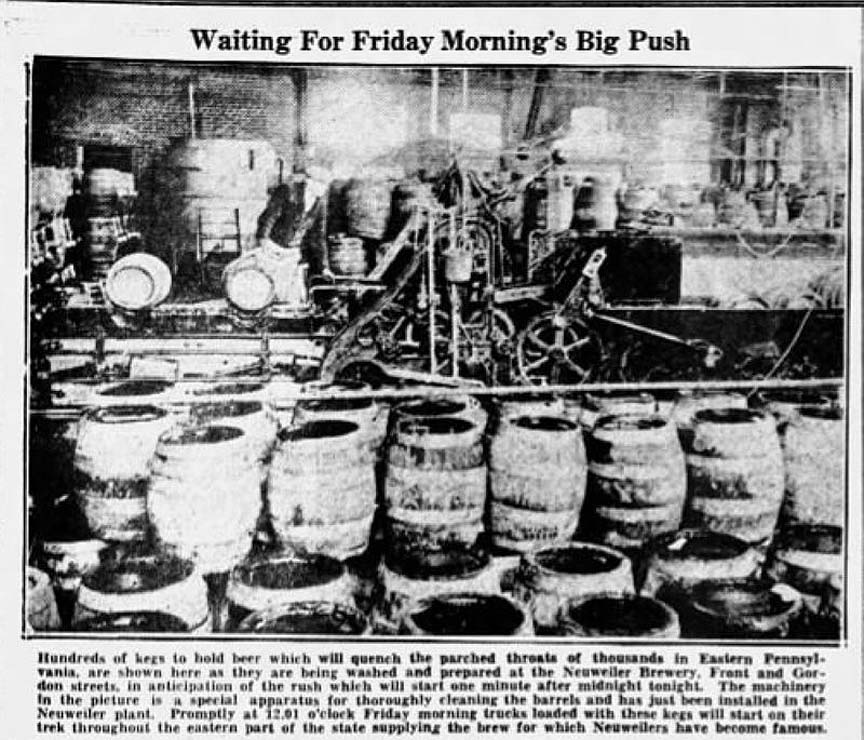 Quote:

As the Harrisburg Gazette described this mass intake the next morning, "Enough beer went down the hatch in the United States yesterday to float a battleship." By midday, pride in this accomplishment had already started to wane, as establishments quickly ran through initial provisions. The Times wrote the next morning that restaurants, beer gardens, soda fountains, and other dispensaries "reported in scores of cities that their supplies had been exhausted by early afternoon"—news the Post-Dispatch corroborated beneath what's now a classic front page headline: "St. Louis Drinks Breweries Dry in Less Than 24 Hours."

The real reason FDR pushed hard to get the 18th amendment repealed wasn't for himself or his pals.
The rich and famous had access to plenty of booze all through prohibition.



Quote:

Early estimates for April 7 beer sales sat between an astounding 1 and 1.5 million barrels. The Times reported that taxes on Friday sales alone had racked up $10 million for federal, state, and local governments (roughly $191 million in today's money). According to Daniel Okrent, author of Last Call: The Rise and Fall of Prohibition, one cannot overstate the importance of this haul. "The advent of the Depression and the precipitous collapse of federal revenues meant a replacement source of government income had to be found," Okrent says. "The tax on legalized alcohol was the obvious one."

Perhaps more important to politicians, the Cullen-Harrison Act also created thousands of jobs. New York breweries employed 2,000 people in the last two weeks of March alone. In St. Louis, August Busch Jr. told the Post-Dispatch that he had added 1,700 jobs at his brewery in a similar span—this at a time when national unemployment rates exceeded 20 percent. "Bringing back alcohol was a jobs program," Okrent says. "Brewers, distillers, bottle makers, truck drivers, taverns, liquor stores all needed to staff up. Before Prohibition, the industry as a whole, including all the ancillary businesses, was the sixth largest employer in the U.S."

Cheers

link
---

BigV Wednesday Apr 11 12:00 AM

CHEERS!!!

---
Your reply here?

The Cellar Image of the Day is just a section of a larger web community: a bunch of interesting folks talking about everything. Add your two cents to IotD by joining the Cellar.