What's IotD?

The interesting, amazing, or mind-boggling images of our days.
xoxoxoBruce Tuesday Jul 10 10:14 PM

July 11th, 2018: The British Alpine Hannibal Expedition

Every school kid has heard about Hannibal crossing the alps with elephants. But since it was 2200 years ago and wasn't written
about in any surviving documents except the description by the Greek Polybius 70 years later , and the Roman Livy 120 years
after that, details are pretty scant. The biggest detail missing is which route, which pass did Hannibal travel.

A bunch of people have been trying to figure that out and have established three viable routes and each has a number of experts
firmly in that camp. They're all still working on their theories, looking for evidence on the ground and in old literature about weather,
flora and geologic changes.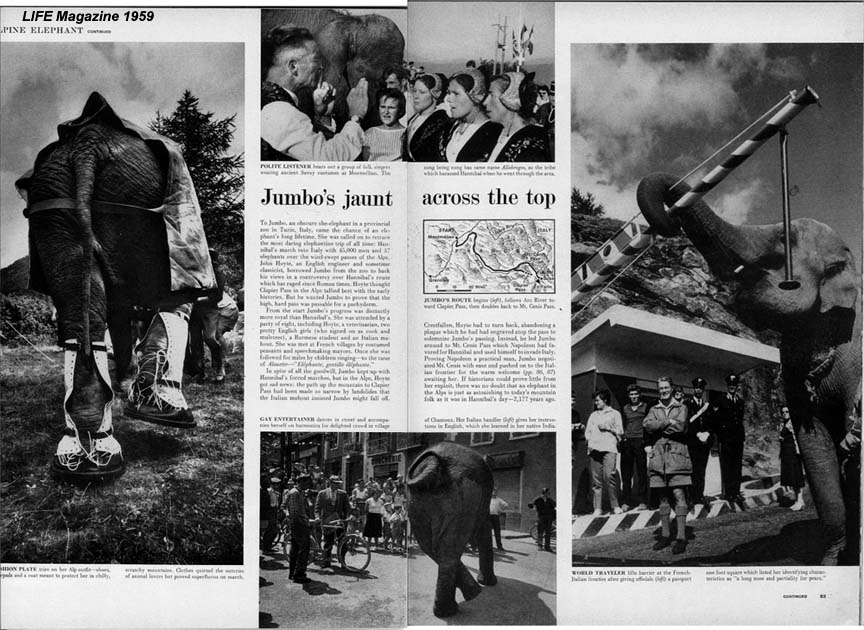 Quote:
In 1955, The Times published a debate about the route Hannibal might have taken over the Alps. This debate came to the attention of John Hoyte, then an engineering student at Cambridge University. Hoyte had an interest in both history and mountain climbing, and spent the summer of 1956 with friends hiking the Alps and comparing possible routes to the ancient descriptions. The group came to the conclusion that the Col de Clapier was the most likely pass, an opinion still supported by some modern historians.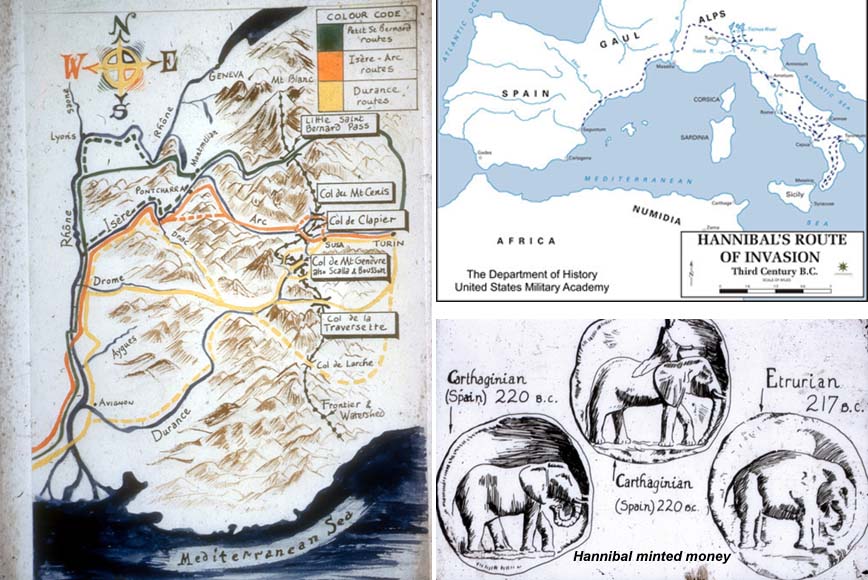 Quote:
A few years later, a friend suggested to test this theory with an actual elephant. Hoyte wrote letters to the British consuls in Lyon, France, Geneva, Switzerland, and Turin, enquiring about the possibility of obtaining an elephant for the experiment, but without a serious expectation of success. However, the Turin Zoo had just acquired a female Asian elephant, Jumbo, who was trained as a circus animal. The owner of the zoo volunteered Jumbo and became the first sponsor of the expedition. Hoyte put together a team of 8 people, including Richard Jolly as the expedition secretary and Cambridge professor of veterinary science John Hickman, who had gained experience with elephants during World War II in Burma. The group obtained insurance for Jumbo from Lloyd's of London and further sponsorship from Life magazine, which later published a 7 page photo report.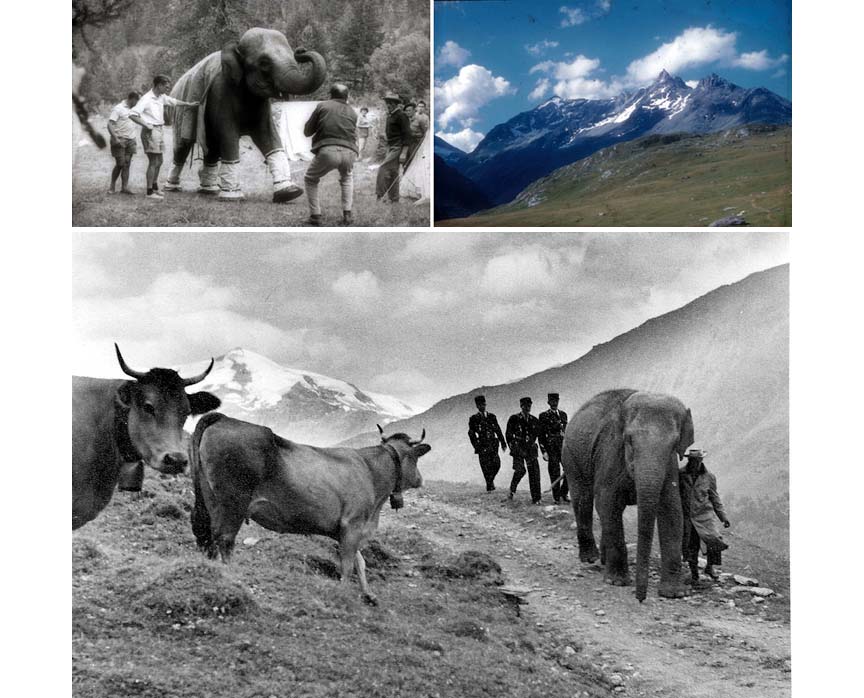 Quote:
The expedition started in late July 1959 in Montmelian, France. It followed the valley of the Arc river and then ascended towards the Col de Clapier. However, the route up to the pass had become narrowed and dangerous due to rockfall. The group retracted down into the valley and crossed the Col du Mont Cenis, another pass suggested for Hannibal's route by none less than French emperor Napoleon. After 10 days of travel, the expedition successfully "invaded" Susa in Italy.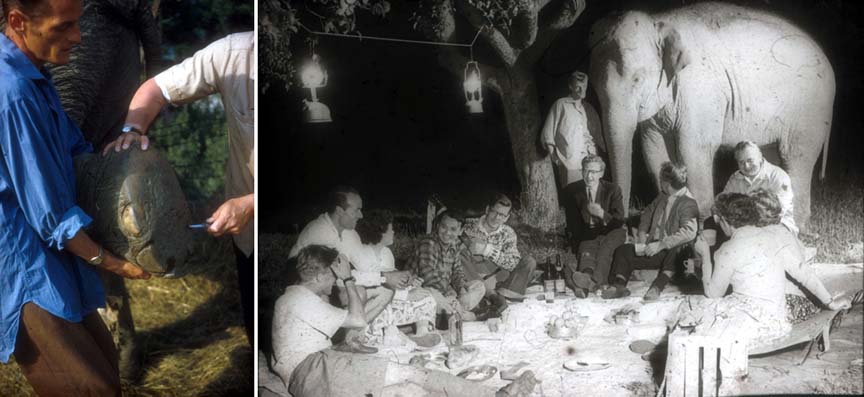 Quote:

The members of the expedition originally planned to call the 5,700 pound (2.6 t) elephant Hannibella, however, the animal could not be made to respond to the new name and thus remained Jumbo. Jumbo was 11 years old and equipped with leather boots and knee pads for the most treacherous passages. A specially made coat was provided to keep her warm. Despite a diet consisting of 150 pounds (68 kg) of hay, 50 pounds (23 kg) of apples, 40 pounds (18 kg) of bread, 20 pounds (9.1 kg) of carrots, and a vitamin B supplement per day, she lost an estimated 300 pounds (140 kg) during the first 4 days of the trip, and nearly 500 pounds (230 kg) in total. On arrival in Italy, she consumed cake and a Magnum bottle of Chianti.

That's chow for one Asian elephant, Hannibal had somewhere from 38 to over 80, depending on who you believe, African elephants.

link

---

Carruthers Wednesday Jul 11 06:00 AM

This has jogged my memory. I recalled an attempt by Ian Botham, former England cricketer, to recreate Hannibal's crossing of the Alps to raise funds for Leukaemia Research.
There's not a great deal online about the project which took place in 1988, but I've found a BBC archive article from 1999.



Quote:

Ian Botham holds a special place in the affections of English cricket.

His reputation for having the guts and ability to withstand hostile attack, with the nation's hopes riding on his efforts, stands alone.

But his gargantuan effort in raising money for leukaemia research over the last 15 years has earned him a respect no amount of centuries could.




Quote:

His walks have taken him all round the British Isles, and famously to the Alps, where he tried to recreate Hannibal's journey with elephants.

The elephants, which had come from a circus, could not keep up with Botham, and were retired from the bid after five miles.

His inspiration for the whole mammoth fund-raising effort was sparked by a visit to a Taunton hospital to receive treatment for an injured foot.

There he met children suffering from the disease.

"They were playing board games and looked pretty lively to me - so I was absolutely stunned when a doctor explained they were unlikely to survive," he said.

"Nothing prepares you for talking to a child who is going to die.

"I felt so helpless, yet I couldn't get these children out of my mind. I really wanted to do something for them.

I've always been a keen walker and, because so much money is needed for research, I knew I could raise a considerable amount by drumming up sponsorship for walks."


Attachment 64311 Attachment 64312 Attachment 64313

Link

He's raised a huge amount of money for Leukaemia Research over the years and I take my hat off to him.

---

Griff Wednesday Jul 11 07:22 AM

https://www.nytimes.com/1984/09/18/s...elephants.html

---

xoxoxoBruce Wednesday Jul 11 08:54 AM

Quote:

Originally Posted by

Griff

Quote:

Mr. De Beer, citing the story of Surus, concluded, ''It is therefore almost certain that Hannibal's elephants included at least one Indian.''

Well Custer's 7th Calvary contained at least one Indian and he lost.

---

Diaphone Jim Thursday Jul 12 12:13 PM

Enough about crossing the Alps, how the hell did he get 'em across the Sahara and the Mediterranean?

---

xoxoxoBruce Thursday Jul 12 12:18 PM

Das Boat.

---

Gravdigr Thursday Jul 12 04:47 PM

Quote:

Originally Posted by

xoxoxoBruce

Well Custer's 7th Calvary contained at least one Indian and he lost.

Scouts. And they sat on hill and watched.

---

xoxoxoBruce Thursday Jul 12 05:35 PM

Bloody Knife - Company QM – Guide - Born 1837 at Hunkpapa Res. D.T. - Sioux/Arikara - Enlistment March 13, 1876 - In valley fight-Killed - Died June 25, 1876 Little Big Horn

---
Your reply here?

The Cellar Image of the Day is just a section of a larger web community: a bunch of interesting folks talking about everything. Add your two cents to IotD by joining the Cellar.