xoxoxoBruce Saturday Aug 4 11:14 PM

August 5th, 2018: Packaging makeover of "K-Rations

In the latter part of World War II they spiffied up the packages as a moral booster.
They added color as a claimed moral booster, but with the shit getting heavy at that point made it easier to grab the right meal for the enemy's circadian rhythm.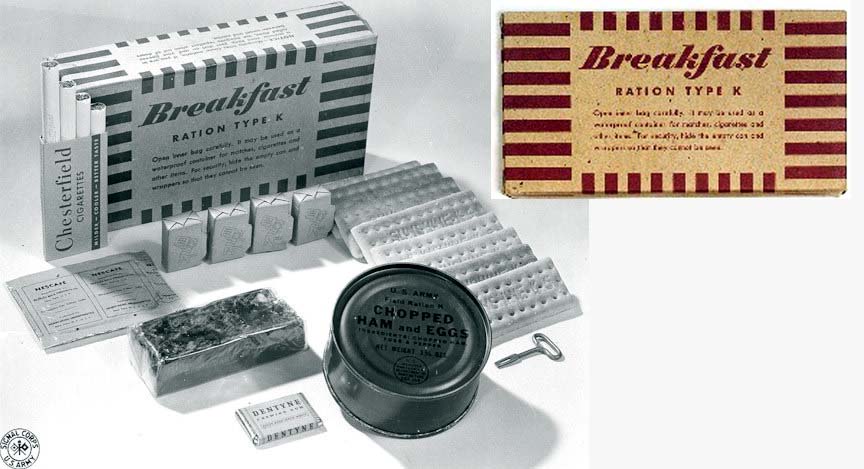 Quote:
"Rations Type K" were developed by inventor and public health scientist, Ancel Keys, which may (or may not) explain the "K" in K-Ration. (There is debate about that.) The boxes were manufactured by the Cracker Jack company and were similar in size and material to Cracker Jack boxes.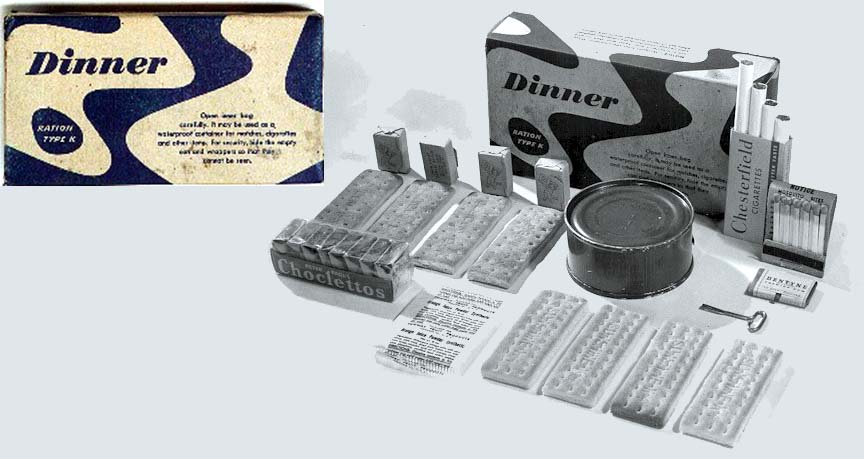 Quote:
Originally the packages were generically labeled: "Breakfast," "Dinner" and "Supper." Towards the end of the war they were redesigned (as part of a "morale" initiative) to make the three meals more easily distinguishable with 3 new color-coded / pattern-coded designs.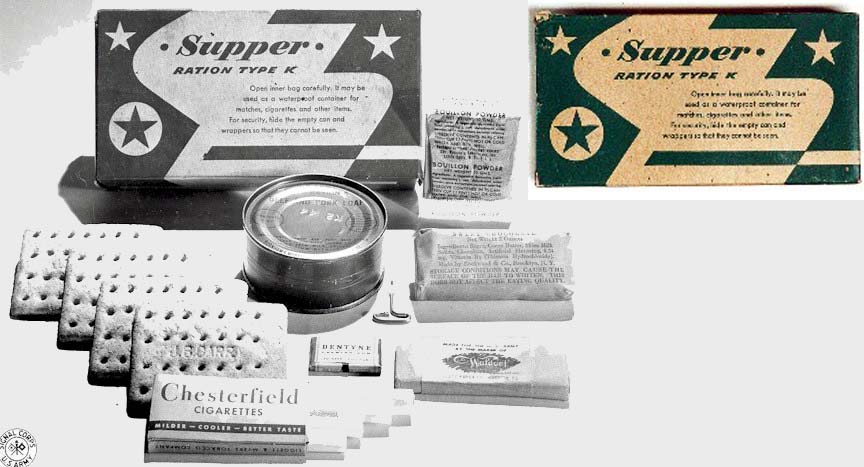 Quote:
Who handled the graphic design? Some anonymous, government-employed graphic designer? An advertising agency of the time? K-Ration boxes were featured in the Brooklyn Museum's 2001 exhibit, Vital Forms: American Art and Design in the Atomic Age, 1940-1960, as one of many examples illustrating the impact of organic form on graphic design.
link
---

captainhook455 Sunday Aug 5 08:34 AM

Canned chopped ham and eggs. Yuk. I bet the cardboard box tasted better than the meal.

---

sexobon Sunday Aug 5 10:10 AM

While not esthetically pleasing, it wasn't too bad after it was spiced up. Have some fruit cake:

Attachment 64491

---

captainhook455 Sunday Aug 5 10:37 AM

I have eaten the fruitcake. It was decent, but I was younger on a 3 week bike camping trip. I refer to motorcycles as bikes. Freeze dried food leaves a lot to be desired.

---

sexobon Sunday Aug 5 11:03 AM

Commercial freeze dried foods aren't that good; but, one of the makers produces them for the US Special Forces to SF specifications and those are a whole different ball game. They're called LRP or LRRP (pronounced lurp) and are the longest continually issued field ration in the US military. The Long Range Patrol/Long Range Reconnaissance Patrol rations weren't available through commercial channels until just a few years ago when the producer got permission from the FDA to apply civilian nutritional labeling to their military contract overruns and sell them to a commercial outlet. The supply is limited and they're expensive. Ten dollars for a single entrée (add shipping to that); but, they're far better than anything else in the category. They come only as entrées which give you three squares a day.

---

xoxoxoBruce Sunday Aug 5 03:08 PM

I remember a discussion a couple years back about those high end LRPs, with a supplier link and pictures. It was likely here in the Cellar.

---

sexobon Sunday Aug 5 03:34 PM

I've mentioned them in the Camping thread here and here; but, didn't therein address the labeling change which made them available commercially.

---
Your reply here?

The Cellar Image of the Day is just a section of a larger web community: a bunch of interesting folks talking about everything. Add your two cents to IotD by joining the Cellar.