xoxoxoBruce Sunday Dec 2 12:55 AM

Dec 2nd, 2018 : Junker to Junk

The Junker Ju 52/3m is the tri-motor version of the transport plane built from 1931 to 1952 in Germany.
It was used by a dozen airlines and the Luftwaffe as a troop/cargo carrier and a bomber.
They mostly retired in the 1980s but some were still used for tourist sightseeing flights. In August one of the last ones crashed.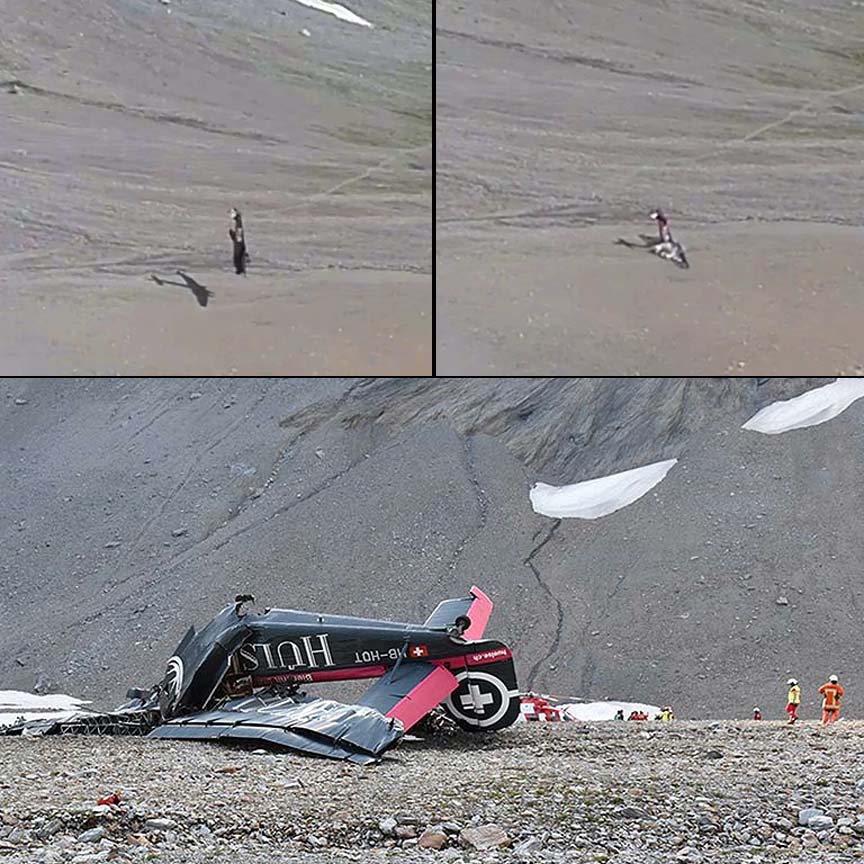 The Google translating of the site seems a little wonky but it works.


Quote:

Droning, the Ju-52 drops vertically from the sky. The proud "Auntie Ju" hits the Sardona basin above Flims GR with enormous force. Tons of metal and aluminum crash on unyielding rock. A loud bang. The three BMW engines are silenced. Within a split second, 17 passengers and three crew members on board are dead. They have no chance.
Several people watched the drama on 4 August from the Piz Segnas pass. Unwanted they are so from the crete at 2625 meters to important eyewitnesses of the tragedy. Because: You have a clear view of the crashing Ju-Air machine, which had started three quarters of an hour earlier in Locarno TI.

"I happened to have my cell phone in my hand. The aircraft came to me surprisingly close and big, "says the woman to LOOK. First, she shoots a photo of the Ju-52, as it comes flying from the southern direction of the boiler.
"Immediately after the photo, the plane somehow came flying in our direction in a weird way. That's when I realized something was wrong and pressed <Video>, "she continues.
Crash occurred at the end of a left turn
HB-HOT is in its final, disastrous left turn at this point. In the course of which a "stall", a stall, is most likely to occur. This with the tragic effect that the machine is initially spiral, but in the end practically perpendicular to the ground. Aviation expert Hansjörg Egger explained shortly after the crash: "If the air is no longer on the wing, there is a stall. If you are in the spiral, you have no chance.

She only caught the last 8 seconds before impact because it took time for her phone to switch modes. The video is at the link.

link

---

Gravdigr Sunday Dec 2 05:17 AMI don't necessarily need to see 20 ppl die.

Good find, though.

---

Diaphone Jim Sunday Dec 2 12:27 PM

That rock looks unyielding alright.
I have been interested in airplanes for a long time and BMW since I bought one in 1968 (also had a BMW-based Bristol engined car) but never knew there sere so many BMW aircraft engines.
Google them for some beauts.

---

xoxoxoBruce Sunday Dec 2 05:05 PM

Attachment 65715See that emblem? It's a propeller, aircraft engines are their roots.

---

Gravdigr Sunday Dec 2 06:02 PM

It's a roundel, you know.

---

Diaphone Jim Sunday Dec 2 08:37 PM

Bruce: I think I like it better when you tell me things I don't know.

---

xoxoxoBruce Monday Dec 3 12:07 AM

That may be, but there are plenty of people out there that don't know.

---

Gravdigr Monday Dec 3 04:08 PM

Like those people on that island off India...

---

xoxoxoBruce Tuesday Dec 4 01:15 AM

Like people in every town and city in America. They know it's the BMW emblem but no clue it represents a propeller, or even there's a BMW aircraft connection.

---

Gravdigr Tuesday Dec 4 04:56 AM

Who? The train?

---
Your reply here?

The Cellar Image of the Day is just a section of a larger web community: a bunch of interesting folks talking about everything. Add your two cents to IotD by joining the Cellar.