Undertoad Monday May 19 03:20 PM

5/19/2003: Shipping container back-up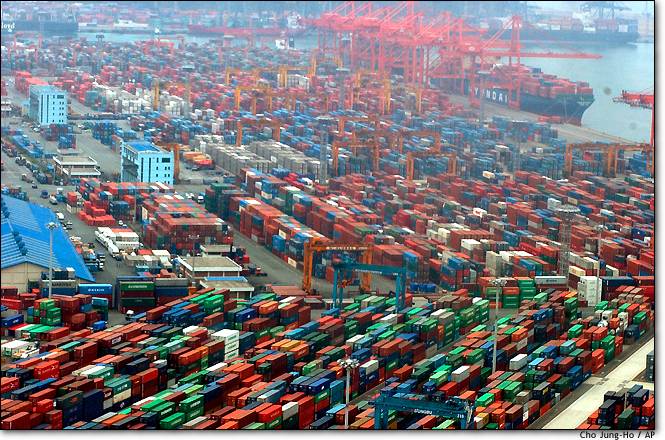 Another MSNBC image, this time showing you Kamman Pier in Busan, South Korea. At the time of this image there had been a truckers strike for five days.

This shot says a lot about the world and not so much about the strike. I don't know about you, but when I looked at it my first thought was that these containers were full. But they're probably empty. If it's the truckers who aren't on the job, the empty containers would be the ones to sit idle at the port.

How the standard shipping container dominates this world we know so little about. Imagine a port without standard shipping containers, and how much work it would take to get all the goods to their rightful owners. Imagine the amount of labor just to load and unload the ship. Instead, these massive standard containers go from ship to rail to truck throughout the entire planet, all moved with standard cranes and locked in place with standard locks.

Next, imagine the amount of STUFF that could fit into all those shipping containers. This virtual river of goods is South Korea's economy. So if you could imagine how hard it would be to move all that stuff without the standardized shipping container, you see how just standardizing on that container creates massive amounts of wealth. Just being able to move it all efficiently decreases the cost of everything in every container.

And the shot itself is a wonder of colors.

---

Griff Monday May 19 03:29 PM

I'd like to build a self contained apartment in a shipping container and travel the world... of course, I am a nut job.

---

xoxoxoBruce Monday May 19 04:24 PM

I'd like a nickel for everyone of those containers that's on the bottom of the ocean.

---

Uryoces Monday May 19 05:00 PM

Like this, Griff?

---

Griff Monday May 19 05:11 PM

Yep. I think I could do better though. Friend of yours?

---

Griff Monday May 19 05:16 PM

Oops, just went to the next page. He has been thinking about this.

---

Uryoces Monday May 19 05:29 PM

No, just did a quick Google and found it. Someone had passed through our Kinko's with many cool plans for storage container housing. I'm a single guy with no bills; and a setup like this guy had would definetly keep it that way.

---

Griff Monday May 19 05:58 PM

The single part or the bills part?

---

Tobiasly Monday May 19 06:32 PM

Sorry, but the Army has both of you beaten. They've been housing people in shipping containers for a long time. Look closely again at the "walls" behind my living area in this picture. These particular shipping containers housed some of the higher-ranking Czechoslovakian chemical recon unit that shared a warehouse with us. Yes, living space was pretty tight at Camp Doha.

Having standard-sized containers also allows them to build these huge trucks with massive arms that are just the right size to pick up one of those bad boys, swing it around like a suitcase, and then set it down.

---

Uryoces Monday May 19 06:43 PM

Quote:

Originally posted by Griff
The single part or the bills part?

[Crow T. Robot]Owee! Stingee![/Crow T. Robot]No, the ones this fellow in Kinko's was hawking looked fairly nice.

---

bjlhct Monday May 19 09:30 PM

Living in one

Or maybe like this Griff?

---

Scred Monday May 19 10:05 PM

Re: Living in one

or maybe like this Griff?

---

bjlhct Monday May 19 11:04 PM

Wow, Camp Doha!

Was it like this and this or were you thinking like this or maybe even this?

---

Whit Monday May 19 11:29 PM

     12 responses and not one Raider of the Lost Ark reference?!? What the hell is wrong with you people?

---

Tobiasly Monday May 19 11:35 PM

The 2nd Pvt. Murphy strip is prolly the closest. <I>Light</I> infantry my ass!

---

bjlhct Tuesday May 20 01:27 AM

Heh, just point and shoot, anyone can do it, right?

Of course, the guys loading hellfires and big mortars are probably pretty buff too.

Couldn't they get you guys bikes or something? I heard about some guys in Afghanistan using mules. Camels might work to for terrain that's impassable except by foot.

Although the big heavy gun isn't complained about as much once the fighting starts. I heard that there's a new 6.8mm round for the m16 - just replace the barrel and receiver on it, I think.

It could be worse, you could be carrying a Dragon, right? I have a feeling 100lb land warrior suits are going to be found in a ditch somewhere in a couple decades.

---

xoxoxoBruce Tuesday May 20 05:46 AM

Or eliminate the warrior. OK, I spelled unmanned wrong,:p

---

elSicomoro Tuesday May 20 10:37 PM

Has anyone ever seen the video for MC 900 Ft. Jesus's "If I Only Had a Brain"? Griff and that other guy are just ramping it up to another level.

The various colors remind me of the collages on the walls at Market East Station.

You're not a nut, Griff, you're ummm...unique. There we go.

---

Tobiasly Wednesday May 21 02:11 AM

The inability of the army to get good, reliable electronic equipment down to the squad and team level never ceases to amaze me. In this day and age, I can't understand why we're still using those godawful 126 radios with about a 1-km range in the field, buggy handmike, etc. Everyone just goes to Radio Shack or Wal Mart and buys a Motorola FRS radio instead. It's ridiculous. I won't even start in on the 20-year old MILES system (the "laser tag" gear we use in training).

So my faith in them getting the Land Warrior system right on the first try is pretty low. Guess we'll see.

---

mitheral Wednesday May 21 10:43 AM

Container advatages

One of the big advantages of containers is the realised massive reduction in shrinkage. The actual goods in a container are only handled by interested parties (the manufacturer and the buyer). All the shipping employees along the way only touch the container, an amazingly hard object to smuggle out in your lunch box.

---

bjlhct Thursday May 22 12:36 AM

Been playing Trogdor again Bruce?

---

bjlhct Thursday May 22 01:54 AM

A lot of people don't realize the enormous infrastructure that exists for "everyday things." You're groceries have probably been in a truck for a couple thousand miles, your oil comes from halfway across the globe, etc. The fact that it holds together as well as it does is a testament to all the planning that gets done for these things. The shipping container is one of the glues that hold an industrial, globalizing society together.

They're also really cheap, often below cost because of the way it's set up (don't want to ship 'em back) so they lend themselves to all sorts of nifty uses for us mortals.

---

warch Thursday May 22 04:42 PM

Legos.

---

xoxoxoBruce Thursday May 22 05:21 PM

Quote:

Been playing Trogdor again Bruce?

Damn good at it too! But that picture I posted came from an official Boeing publication. All unmanned systems.


Quote:

You're groceries have probably been in a truck for a couple thousand miles,

I recently saw some Dole peaches that were grown in Greece, packed in Thailand, for Dole in California then sold in Philly.

---
Your reply here?

The Cellar Image of the Day is just a section of a larger web community: a bunch of interesting folks talking about everything. Add your two cents to IotD by joining the Cellar.