What's IotD?

The interesting, amazing, or mind-boggling images of our days.
xoxoxoBruce Tuesday Feb 5 04:41 AM

Feb 5th, 2019 : Moqui Marbles ~ Martian Blueberries

We're exploring the things outside our atmosphere, our solar system and our galaxy.
Peering further with more powerful conventional and radio telescopes, on Earth and in space.
Sending more sophisticated robots to explore, photograph, analyze and in some cases bring or send back samples.
It's all exciting because it's all new, all different from what we have here on Earth.
Or is it?


Quote:

Across many places in southern Utah, in the western United States, where the orange-colored sandstone gives way to the spectacular white- and pink-colored cliffs and bluffs of Navajo Sandstone, one can find hundreds of iron spheres either embedded in the rock or gathered loosely into "puddles" on the ground. They range in size from fraction of an inch to several inches in diameter. They are called moqui marbles.
According to a recent study, the moqui marbles are no more than 25 million years old, while those found on Arizona's Paria Plateau are as young as 300,000 years old.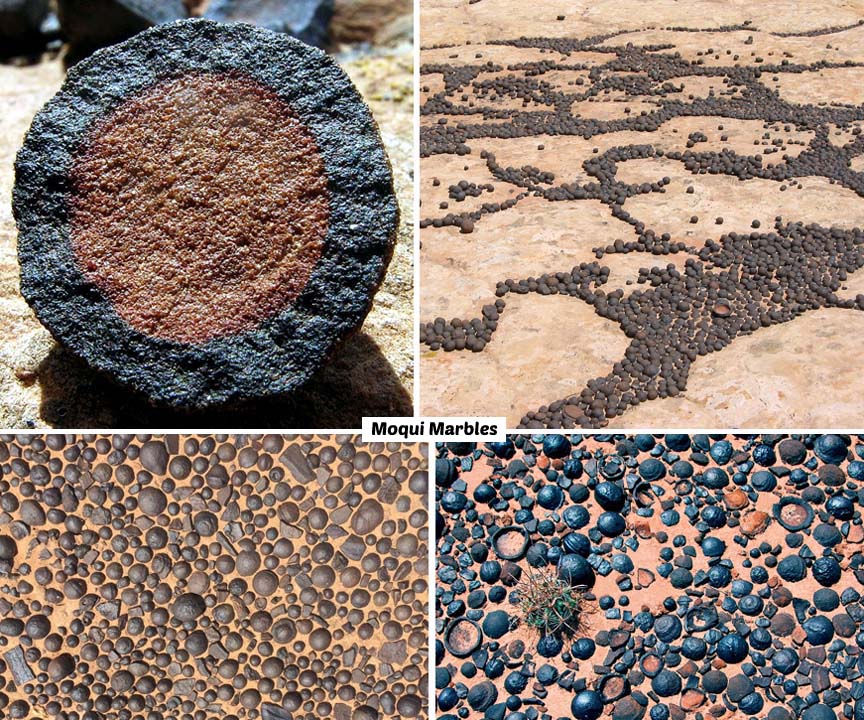 Quote:
Moqui marbles are composed of sandstone cemented together by hematite, an oxide of iron, and usually surrounded by a hard shell of iron oxide minerals. The sandstone was originally deposited around 180 to 190 million years ago as a huge sand dune field, similar to the Sahara, that covered parts of Utah, Arizona, Colorado, Wyoming, Idaho, Nevada, and New Mexico. Flakes of iron-rich minerals blew in from the surrounding and became buried along with the quartz sand. Eons later, the iron fused with the grain sands giving the Navajo Sandstone its amazing colors and patterns.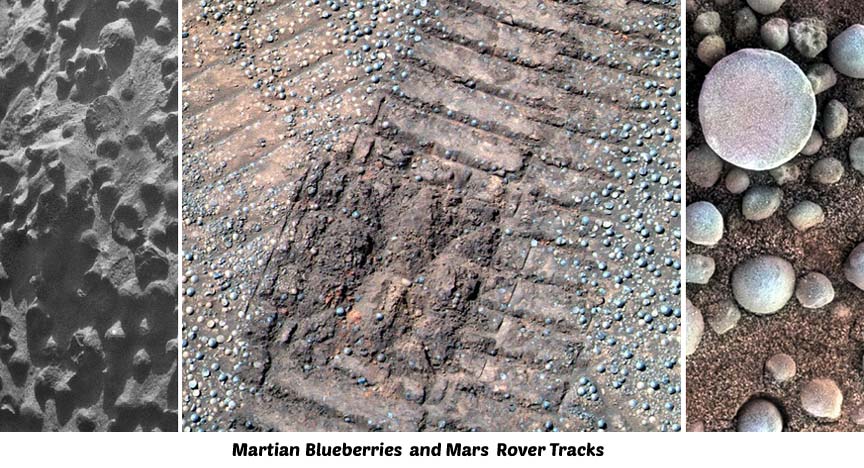 Quote:
Concretions are found all over the world, and even beyond this planet. In 2004, NASA's Mars Rover found concretion in Mars, which scientists have named Martian blueberries. It is thought that the Martian variety formed in a similar manner as their terrestrial counterpart, providing evidence that Mars once had a wet surface. There is also evidence that certain bacteria and microorganisms can help precipated iron to form concretaion—a fact that will certainly bear on the search for evidence of past life on Mars.
To boldly go where no split infinitive has gone before.
link
---

Happy Monkey Tuesday Feb 5 12:06 PM

Quote:

There is also evidence that certain bacteria and microorganisms can help precipated iron to form concretaion

The "primitive technology" YouTube guy is smelting iron from iron-rich bacterial colonies.

---

xoxoxoBruce Tuesday Feb 5 07:51 PM

Stuck together by microbe poop.

---

Gravdigr Wednesday Feb 6 11:14 AM

Martian blueberries would not make a good pie.

---
Your reply here?

The Cellar Image of the Day is just a section of a larger web community: a bunch of interesting folks talking about everything. Add your two cents to IotD by joining the Cellar.