What's IotD?

The interesting, amazing, or mind-boggling images of our days.
xoxoxoBruce Friday Feb 8 11:53 PM

Feb 8th, 2019: Welcome Stranger

For some reason the largest gold nuggets are given names, as the largest precious stones are.
In 1869 two Brits were prospecting in Australia when they found a whopper gold nugget.
As a matter of fact the largest ever found... make that the largest ever reported/recorded.
Who knows what evil lurks in the hearts and minds of gold fever crazed seekers.



Quote:

Deason and Oates discussed the find excitedly, but in hushed tones. The nugget had to be safely put away before word got out. They waited until sunset, and under the cover of darkness, Deason and Oates dug out the gold and carried it to Deason's hut where it was placed in the fire to burn away the debris and break the black quartz that coated the gold. The nugget was fired all weekend, and on Monday morning, about 70 lbs. of the black quartz that had broken away from the main nugget was taken to be treated at a local stamper, and 60 ounces of gold was recovered from this crushing. The remaining nugget was taken to Dunolly, 9 miles away, on a cart hidden under Mrs. Deasons skirt.

Replica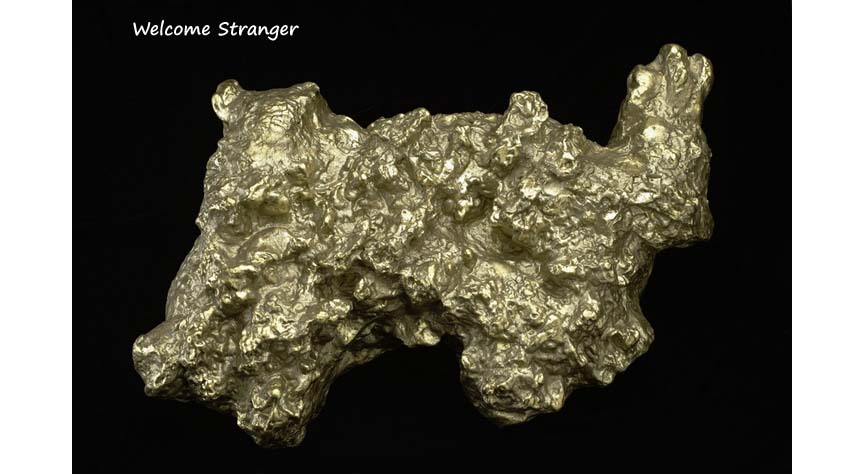 72 kg
72,000 grams
158.7 avoirdupois lbs
2539.7 avoirdupois oz
192.9 Troy lbs
2314.9 Troy oz
1,111,129.8 grains
46,297.08 pennyweight



Quote:

In Dunolly, Deason and Oates took the nugget straight to the bank; they wanted to get it off their hands as soon as possible before they got robbed by bushrangers. Unfortunately, the nugget—now called "Welcome Stranger"— was too large to weigh on the banks scales, and had to taken in a wheelbarrow to the local blacksmith where it was broken down into three manageable chunks. Sixty-six kilograms were sold to the bank, and the rest Deason and Oates kept for themselves. There are different reports on the nugget's actual weight, but the most commonly citied figure is 72 kg.

Souvenir picture taken after the fact with Deason and Oates, their kin, and neighbors.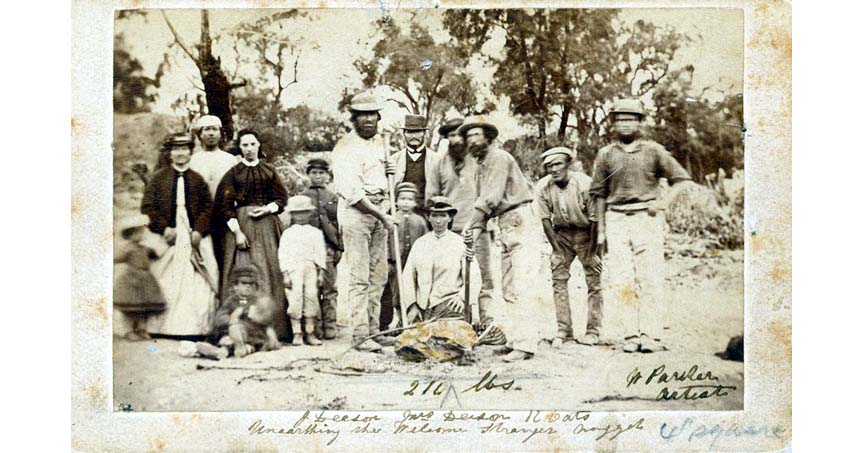 Quote:

The bank paid £9,563 pounds for the nugget, which according to John Tully, president of the Goldfields Historical and Arts Society at Dunolly, was equivalent to an average working man's wages for 43 years.
After the find, Deason continued with gold mining and eventually became a store keeper at Moliagal. He lost most of his wealth due to bad investment. He bought a small farm near Moliagal, and spent his last days as a farmer. Oates, meanwhile, returned to England and got married. He came back to Australia, had four children, and passed the rest of his life in his 800-acre farm until his death.

Like so many athletes, lottery winners, entertainers, and rich quick people today, Deason lost most of his share.

link

---

Gravdigr Saturday Feb 9 04:47 PM

Ooh, shiny!

---

BigV Saturday Feb 9 09:55 PM

Ohhh, heavy!

---

xoxoxoBruce Saturday Feb 9 11:50 PM

We probably wouldn't recognize what it was if we dug it up, all covered with black quartz and dirt.

---

sexobon Sunday Feb 10 12:02 AM

Like other countries, Australia sells gold bullion coins. They had a Gold Nugget series. Guess what made an appearance in 1988:

Attachment 66376

---

xoxoxoBruce Sunday Feb 10 12:06 AM

Dog poop?

---

sexobon Sunday Feb 10 12:22 AM

Reminds me of a corny old joke: What's the heaviest substance in the World? … Gold? No. Lead? No. … it's Poop! Not even Superman can pick it up.

---

xoxoxoBruce Sunday Feb 10 08:10 AM

Then who picks up after Krypto?

---

Gravdigr Sunday Feb 10 11:41 AM

He shits in space.

---
Your reply here?

The Cellar Image of the Day is just a section of a larger web community: a bunch of interesting folks talking about everything. Add your two cents to IotD by joining the Cellar.