xoxoxoBruce Saturday Apr 20 12:39 AM

August 20th, 2019: KATE SMITH

WTF!!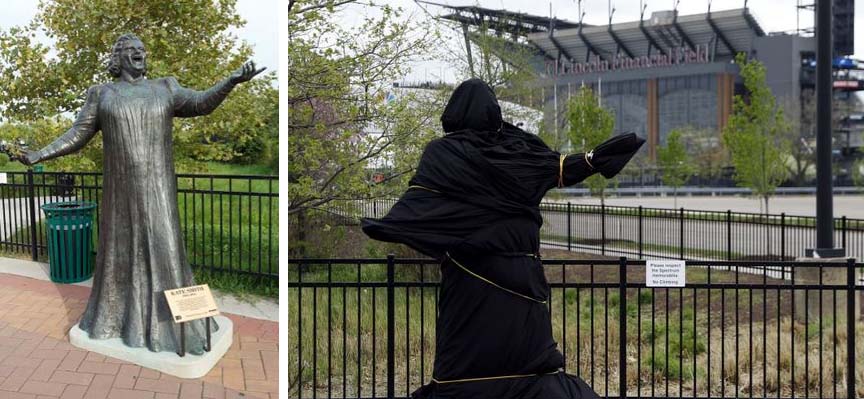 From the LA Times


Quote:

The Philadelphia Flyers have draped a black cloth over a statue of singer Kate Smith that sits outside the Wells Fargo Center in Philadelphia after unearthing songs with racially insensitive lyrics by Smith in the 1930s.
This comes a day after the New York Yankees announced they will suspend the playing of Smith's rendition of "God Bless America" during the seventh-inning stretch at Yankee Stadium. The club had been playing the song since 2001 in the wake of 9/11.
The Flyers began playing Smith's version of "God Bless America" in place of "The Star Spangled Banner" in 1969. Smith performed the song throughout the 1970s at Flyers' games, which led to the team erecting a statue of her in 1987.
Flyers officials said in a statement, "We have recently become aware that several songs performed by Kate Smith contain offensive lyrics that do not reflect our values as an organization.
"As we continue to look into this serious matter, we are removing Kate Smith's recording of 'God Bless America' from our library and covering up the statue that stands outside of our

From the NY Daily News


Quote:

The Yankees have taken a stand against racism for their seventh-inning stretch.
For 18 years, Yankee Stadium regularly used Kate Smith's 1939 recording of "God Bless America" in the middle of the seventh inning. But they ditched it altogether this season, replacing Smith's rendition with different versions of the song. Why? As the Daily News learned, the Yankees were made aware of Smith's history of potential racism.
Smith was a famous singer before and during WWII who recorded the offensive jingle, "Pickaninny Heaven," which she directed at "colored children" who should fantasize about an amazing place with "great big watermelons," among other treats. She shot a video for that song that takes place in an orphanage for black children, and much of the imagery is startlingly racist. She also recorded, "That's Why Darkies Were Born," which included the lyrics, "Someone had to pick the cotton. … That's why darkies were born."



The reason Kate Smith was the highest paid performer($3000 a week) in radio days was not because she was a hot babe,
it was because she sang so well. Probably should have done opera, the horns and brass bra would be perfect.
Listening to "That's Why Darkies...", it sounds to me like a slave/sharecropper's lament. Probably why Paul Robson recorded it too.

I think Pickaninny Heaven was from her one and only shot at a movie.


And she endorsed a Mammy Dollin doll. tsk tsk it looked like Aunt Jemima who is still around, although updated in the '60s.

The Yankees said, "The Yankees take social, racial and cultural insensitivities very seriously."
Probably the Yankees wouldn't hire any black players before 1950, 20 years after Kate had a hit with "That's Why Darkies...", is because they didn't think it would be sportsman like to siphon off talent from the Negro League. But they would let them clean up the stadium after the white folks went home.
You can't stamp out racism by denying it ever happened or pulling bullshit stunts like this.

But the Flyers took a different tact, they put Kate in a black Burqa. Nuff said.

---

Undertoad Saturday Apr 20 10:31 AM

On the bright side, racism is over now that this has been dealt with.

---

sexobon Saturday Apr 20 11:30 AM

Categorized: #Et tu, Brute?

---

xoxoxoBruce Saturday Apr 20 12:01 PM

Boycott Elton John, he used the racist term "honky cat" in a song.
But but Bernie Taupin wrote it that way, Elton just sang it.
Smear Taupin and nobody knows what you're talking about.

---

Undertoad Saturday Apr 20 12:59 PM

You don't suppose the Yankees did this to troll the Flyers...?

The lyrics Google coughs up, suggest the first bit of the YouTube above is an introduction. And, wildly, the YouTube cuts off in the middle of the song, in exactly the wrong place.

~

Someone had to pick the cotton,
Someone had to pick the corn,
Someone had to slave and be able to sing,
That's why darkies were born;

Someone had to laugh at trouble,
Though he was tired and worn,
Had to be contented with any old thing,
That's why darkies were born; <---- YouTube video cuts off here !!

Sing, sing, sing when you're weary and
Sing when you're blue,
Sing, sing, that's what you taught
All the white folks to do;

Someone had to fight the Devil,
Shout about Gabriel's Horn,
Someone had to stoke the train
That would bring God's children to green pastures,
That's why darkies were born.

~

So. I think the song is using the word "darkies" in a satirical sense. The song is sympathetic to black people, and that is the only way Robeson can sing it too.

I think in 1930s culture it is a celebration of black people. Especially if it's a white woman who is actually singing the line that says black people taught white people to sing. You taught us how to do that, and look, I am doing it now, she is saying, in effect. That is a very interesting artistic statement.

But, I could be wrong!

---

Gravdigr Saturday Apr 20 03:10 PM

Quote:

Originally Posted by

Undertoad

On the bright side, racism is over now that this has been dealt with.

Yep. Had a black president, no more Kate Smith songs.

Yeah, I think we're prolly done here.

---
Your reply here?

The Cellar Image of the Day is just a section of a larger web community: a bunch of interesting folks talking about everything. Add your two cents to IotD by joining the Cellar.