What's IotD?

The interesting, amazing, or mind-boggling images of our days.
xoxoxoBruce Wednesday May 8 11:59 PM

May 9th, 2019 : Faces

Betty Everett said it's in his kiss, but Neural Networks and people agree, it's in his/her kisser.
Faces are how we identify people, and it's how we read their emotions, their moods.
I saw two artists who use faces to do the same thing, convey states of human emotion.
First Samuel Salcedo in Barcelona. His characteristic face sculptures show extreme emotions.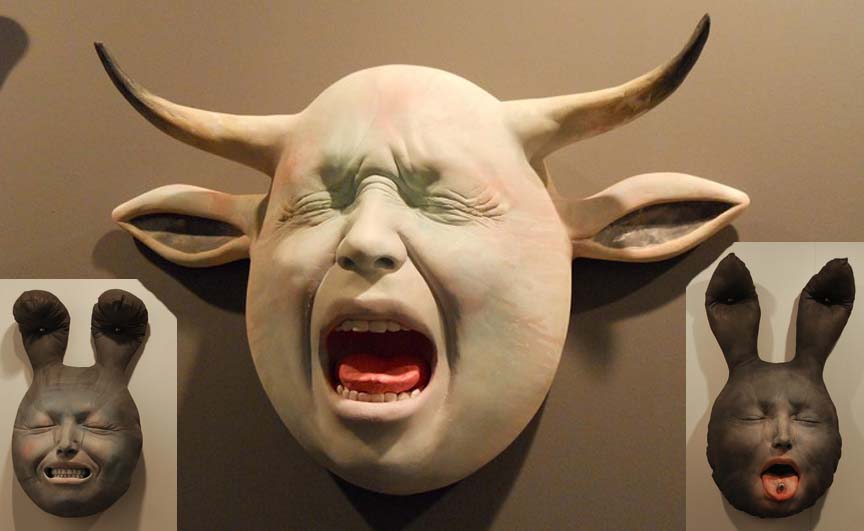 Quote:
Since 1998 he exhibits in galleries and participates in international Art Fairs with 3 Punts Galeria. Since then he has had numerous exhibitions in 3 Punts Galeria, Galerie Robert Drees from Hannover (Germany), Osnova Gallery in Moscow, Soda Gallery in Istanbul or Can Sisteré Center for Contemporary Art, among others.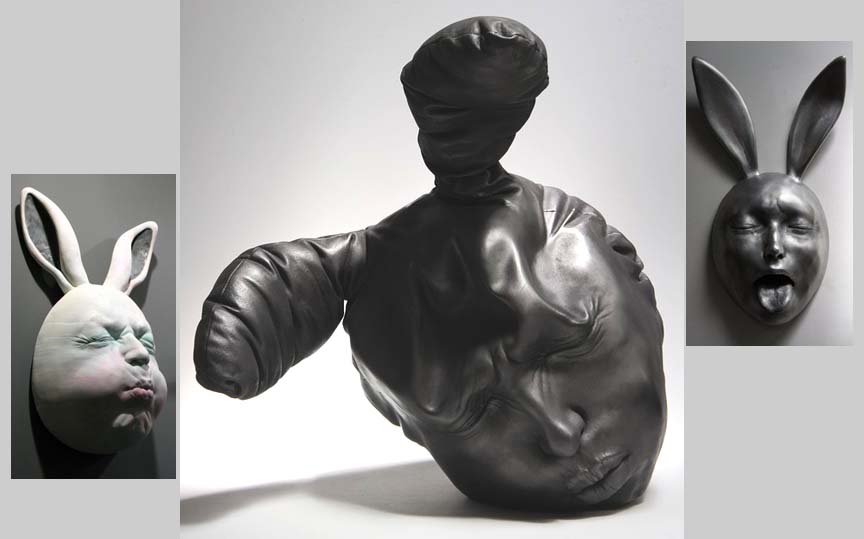 Quote:
Salcedo's sculptural work is characterized by technical excellence. One can see his mastery in the diversity of the materials he uses (resin, wood, aluminum) and which integrate painting, the discipline with which he began his career. His sculptures and characters always question the viewer with their subtle irony and vulnerability.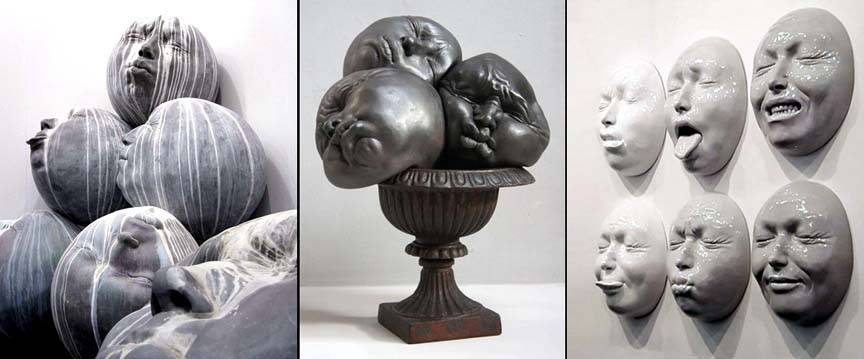 Quote:

Francisco Esnayra works consists mainly of sculptures that seek to externalize, through plastic creation, the feelings contained in people, expressing different emotion faces in an artistic way.
Esnayra has developed throughout his production, multiple self-portraits that explore the emotions evidenced in the anatomical gesticulation of the face; Has also produced different visual metaphors with the representation of everyday objects that seek to formulate new strategies of introspective reflection from the three-dimensional format. His work raises the question of the interconnection between mind, emotions and body in an imaginary way: his concern is to discover in a formal way the implications of the feeling of pain that acts on the body; Their practice is a way of making conscious different emotional states.

Whew, say that three times fast! In other words he's doing the same thing as Salcedo, but through his own vision.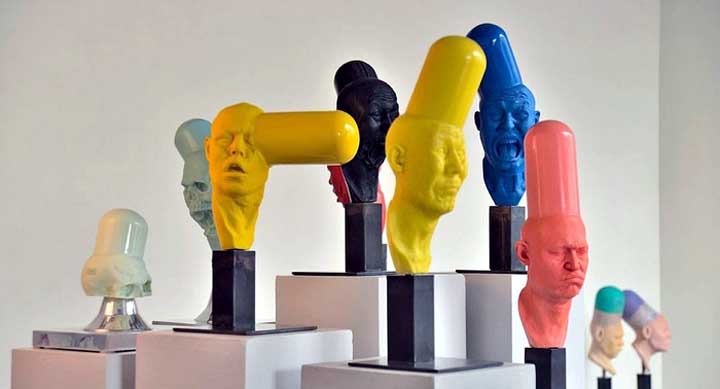 Quote:
He is one of Mexico's most significant emerging artists. Born in Chihuahua, Esnayra studied Fine Arts at the Universidad Autónoma de Chihuahua and the Universidad Autónoma de México. In 2013 he also completed the sculpture workshop at the Washington University Center in Rome. Drawing on classical sculpture, Freudian psychoanalysis and Messerschmidt's character heads, along with commonplace objects such as teddy bears or pill capsules, Esnayra produces compelling portrayals of human emotion, rich in texture and colour. His figures address the subjectivity with which we relate to others, the role of medicines in our mental and physical well being or the basic human need for introspection.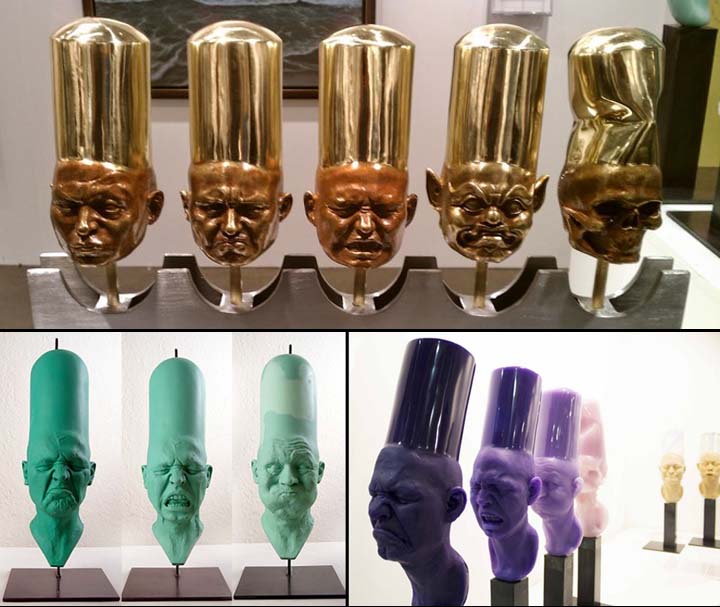 link
link
---

Carruthers Friday May 10 05:32 AM

Fizzogs would appear to be flavour of the month...

Attachment 67737



Quote:

A series of works called Faces by Gregos are on show at Xin Art Galerie at the Affordable Art Fair in Hampstead Heath.
The show runs until May 12.

I suspect that the gallery's definition of affordable and mine might differ somewhat.


Thread drift follows.

I'm reminded of the Sun Fire Insurance plaque that still adorns older buildings in parts of the UK

Attachment 67738

Plaques were supplied to the owners of insured buildings and the insurers also owned the fire brigade, so if you didn't have the appropriate plaque your building was left to burn!



Quote:

In the event of a fire, all brigades from the individual insurance companies would rush to the fire in case it was one of their buildings.
If the fire wasn't in one of their properties then they would either leave or stand and watch.
However, for a fee other companies would put out the fire of a someone who had a different insurance policy and eventually they would also put out fires of non-subscribers as the fire could spread easily to one of their properties on their own insurance policy.

However, this was not a practical situation. There needed to be a quicker way for companies to know the buildings they represented.
Firemarks were created and issued to all policyholders.
Originally they were made out of tin and would be fixed to the outer wall of the house or under the eaves.
As they evolved they were also made of iron, lead and brass and bore the symbol of the insurance company and often a serial number as well. ​

The fire marks were used during the eighteenth and nineteenth centuries until there the municipal fire brigades were established.

There's one on a house just down the road from me.
I happened to pass it about half an hour ago and checked to make sure it was still there.

Link

---

xoxoxoBruce Friday May 10 11:54 AM

We had them too, from wiki...


Quote:

On January 27, 1678 the first fire engine company went into service with its captain (foreman) Thomas Atkins. In 1736 Benjamin Franklin established the Union Fire Company in Philadelphia.

The United States did not have government-run fire departments until around the time of the American Civil War. Prior to this time, private fire brigades competed with one another to be the first to respond to a fire because insurance companies paid brigades to save buildings. Underwriters also employed their own Salvage Corps in some cities.

Some of the Philly Fire Marks...

---

SPUCK Saturday May 18 09:55 PM

They still have that in the US. Private fire insurance for rural properties. The company will only respond to the insured.

---

xoxoxoBruce Saturday May 18 11:26 PM

I saw that in those CA fires, private companies protecting high rent homes. They might of been tied to insurance policies, I hadn't thought of that, just thought it was people who could afford private help.

---

Gravdigr Sunday May 19 11:26 AM

Quote:

Nice house ya got here on the side of Fire Mtn...Be a shame if something were to happen to it...



---

Carruthers Sunday May 19 01:55 PM

Quote:

Be a shame if something were to happen to it...

One of the Piranha brothers, perhaps?

---
Your reply here?

The Cellar Image of the Day is just a section of a larger web community: a bunch of interesting folks talking about everything. Add your two cents to IotD by joining the Cellar.