xoxoxoBruce Tuesday May 14 11:44 PM

May 15th, 2019: Puzzle Stone

Why would you beat yourself up with a NY Times Sunday Puzzle or any word games when you can collect €2,000 for solving this one?
That's $2,240 in 'Murican.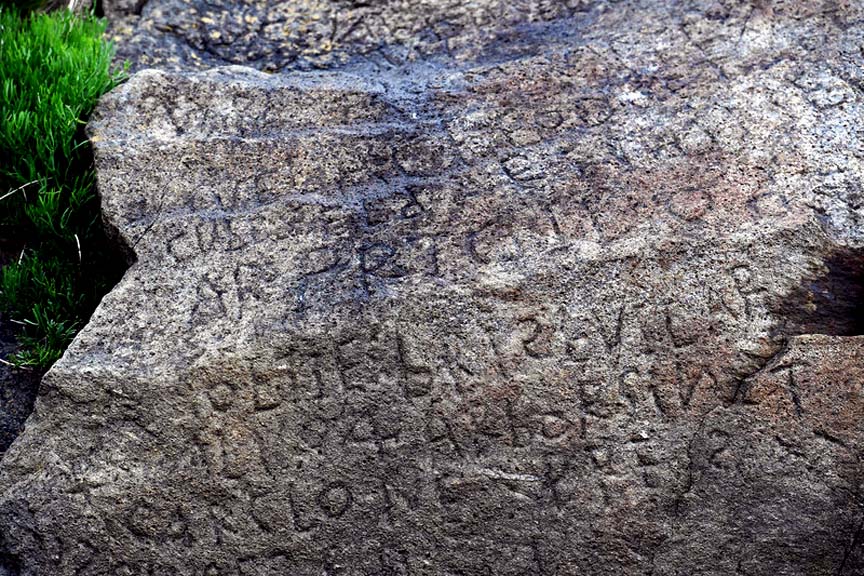 Plougastel-Daoulas, near Brest, in Brittany, France, has this stone which appears at low tide. On this stone is a drawing of a sailboat,
the dates 1786 and 1787 which are the years they were building artillery batteries to protect Brest.

There is also a bunch of letters, all of them being from the French alphabet.

"ROC AR B…DRE AR GRIO SE EVELOH AR VIRIONES BAOAVEL."

Nobody has been able to figure out what it means since the rock was first discovered 4 or 5 years ago.
This coming fall(autumn) the town will vote on the submitted solutions and the money awarded to the winner.

Sleep on it, why don't you sleep on it, and you can give 'em your answer in the morning.

---

Diaphone Jim Wednesday May 15 12:43 PM

Before I get started, I need to know what the French alphabet is.

---

Gravdigr Wednesday May 15 02:09 PM

The French Alphabet

Now get after it.

---

Carruthers Wednesday May 15 02:32 PM

It's probably something rude about the English.

It usually is.

---

Gravdigr Wednesday May 15 02:39 PM

Could be a lost treatise on personal hygiene. That would explain some stuff.

---

Carruthers Wednesday May 15 02:44 PM

Or a beginner's guide to the Gallic shrug.

---

Happy Monkey Wednesday May 15 02:57 PM

On a somewhat related note, someone may have decyphered the Voynich Manuscript.

---

Flint Wednesday May 15 03:14 PM

big, if true

Quote:

The manuscript is written in proto-Romance—ancestral to today's Romance languages including Portuguese, Spanish, French, Italian, Romanian, Catalan and Galician. The language used was ubiquitous in the Mediterranean during the Medieval period, but it was seldom written in official or important documents because Latin was the language of royalty, church and government. As a result, proto-Romance was lost from the record, until now.



---

xoxoxoBruce Thursday May 16 02:48 PM

Quote:

So case closed, right? After all, headlines are already trumpeting that the "Voynich manuscript is solved," decoded by a "UK genius." Not so fast. There's a long, checkered history of people making similar claims. None of them have proved convincing to date, and medievalists are justly skeptical of Cheshire's conclusions as well.

link
---

Flint Thursday May 16 04:34 PM

Had a good ring to it, though.

---
Your reply here?

The Cellar Image of the Day is just a section of a larger web community: a bunch of interesting folks talking about everything. Add your two cents to IotD by joining the Cellar.