xoxoxoBruce Tuesday Jun 11 12:53 AM

June 11th, 2019: Polaroid

During the Big One, WW II, US manufacturers threw their expertise into supporting the
lucrative contracts of the war effort. They just knew in their hearts Truth, Justice,
and The American Way would defeat the Evil Axis, so they were using this hiatus in
commerce to plan their post war strategy. The research boom funded by the War
Department was finding all sorts of things the public could be convinced they needed.
Big corporation ran ads during the war touting their efforts for the cause, and adding a
tag line alluding to, or outright promising, bigger and better ways to spend those War Bonds.

After the Victory people believed most anything was now possible, they had seen and
heard what science could do, so a Popular Science article in May of 1947 promising a
camera which would give you a finished picture in a minute, was easy to believe it
would come someday, along with flying cars and self cleaning houses.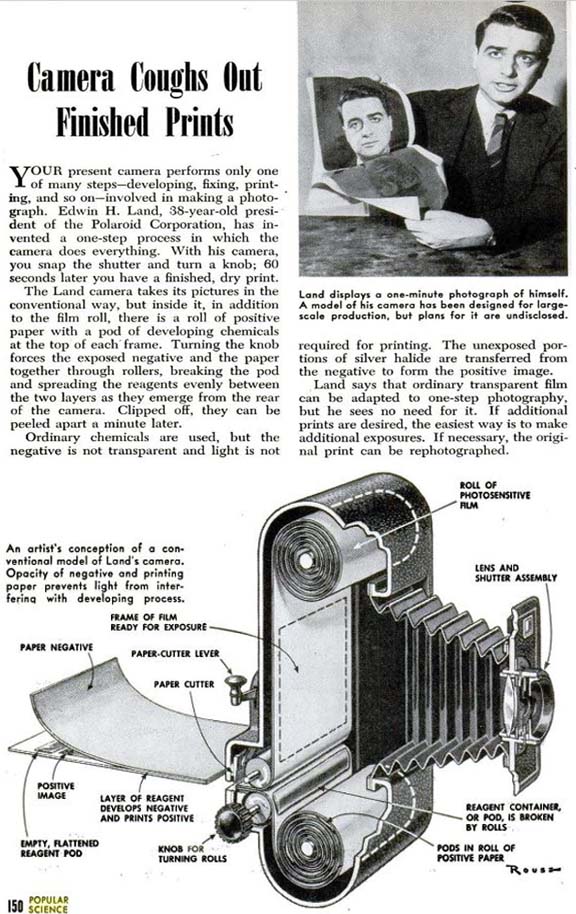 We're still waiting for the flying cars, and self cleaning houses, but in February of 1949
there it was, the Polaroid Land Camera with a picture in one minute.
Now it's hard to fathom what a miracle it was, not having to wait for the drugstore to
send out the film and hope the pictures came out. You could have god-like powers for
less than $100, of course that's almost $1,100 in today's money.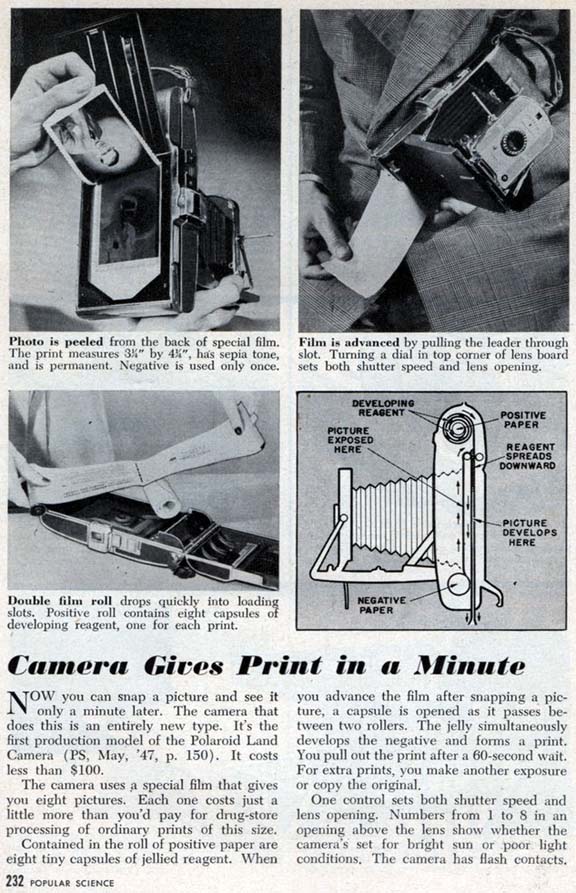 The other thing about the normal system was if you snapped a picture showing a little
too much skin, it would likely be added to the photo lab's extensive collection while
you had to assumed it had been censored, and if you bitched they'd let the police decide.
Polaroid let everyone become a pornographer.
The couple that moved into the apartment across the hall on returning from their
honeymoon, had bought a Polaroid at the hotel gift shop in the Poconos. They were
nice enough to lend it to us so we could make pornography too.
I didn't buy one because I could take better pictures with the Nikon, and the Lesbian who
owned the one hour photo service would develop anything for me because she wanted
to see them. Probably kept copies too.
Digital made everything moot but during that 50 year interim it was a wonderful
help to the impatient and the horny.
Ed Land was given the Presidential Medal of Freedom in 1963, a medal created by
JFK who knew a thing or two about pornography.

---

fargon Tuesday Jun 11 11:27 AM

I used to have one of those, it even worked.

---

Gravdigr Tuesday Jun 11 12:50 PM

One of the skin magazines used to feature a section of mailed-in Polaroids, anyone remember which one it was?

Hustler, maybe?

---

Diaphone Jim Tuesday Jun 11 01:05 PM

In the old days, the guy that developed your photos could keep copies of the "good" ones or turn you in to the cops. Or both.
Now days you need to look out for bluenosed computer repair folks.
Someone gave a Polaroid to my mother, who gave it to me. It worked fairly well, but was cumbersome and expensive.
Good article xo.

---

Gravdigr Tuesday Jun 11 01:21 PM

---

Undertoad Tuesday Jun 11 01:51 PM

it was Hustler, I'm sure, thanks formative youth


can't remember the name of the feature though... something about amateurs?

---

BigV Tuesday Jun 11 09:25 PM

I gifted one to my daughter last year. Fuji still makes the film packs, but they're kinda expensive.

She had to modify the camera slightly to accept the non Polaroid film packs.

She loves it!

---

fargon Tuesday Jun 11 10:06 PM

I carried a Polaroid One Step for years. It was so simple take a picture of what ever it was and put it in my Trip Pak and my dispatcher had it the next day.

---

xoxoxoBruce Wednesday Jun 12 01:17 AM

The pictures were on the small side and you needed a safe spot to carry the shots if you were moving around, but by the end they got very good.

---

Gravdigr Wednesday Jun 12 01:39 PM

Quote:

Originally Posted by

Undertoad

it was Hustler, I'm sure, thanks formative youth


can't remember the name of the feature though... something about amateurs?

Beaver Hunt.

---

Undertoad Wednesday Jun 12 03:26 PM

'ere ya go

---

DanaC Wednesday Jun 12 03:34 PM

My main Christmas present when I was 7 was a Polaroid Instagram as big as my head. I loved it. It hung round my neck like a reporter and you had to stick flash cubes on top.

there was something brilliantly mechanical about it that I only truly appreciated later, when things got less clunky.

Looks like fucking steampunk tech now.

---

Gravdigr Saturday Jun 15 01:49 PM

I used to have an instant camera. I believe it was called the Smile. I Googled for a minute, but couldn't find one. I maybe misremembering the name...

---

DanaC Saturday Jun 15 02:20 PM

Was it an Instamatic, not instagram ? I can;t remember now.

---

sexobon Saturday Jun 15 02:33 PM

If it was a Polaroid, maybe it was one of these:

https://en.wikipedia.org/wiki/List_o...nstant_cameras

---

DanaC Saturday Jun 15 03:11 PM

I think it might have been one of the colourpacks - which means I was probably 6 not 7

---

Griff Saturday Jun 22 12:57 PMWhich one was stolen from Hawkeye Pierce?

---
Your reply here?

The Cellar Image of the Day is just a section of a larger web community: a bunch of interesting folks talking about everything. Add your two cents to IotD by joining the Cellar.