xoxoxoBruce Saturday Jul 6 12:59 AM

July 6th, 2019 : Wooden You Want a Shield?

In England they dug up a shield from the iron age... again. But this one is made of tree bark.


Quote:

An "astonishing and unparalleled" 2,300-year-old shield made of tree bark has been discovered in Leicestershire, the only example of its kind ever found in Europe.
Archaeologists say the discovery of the shield, made between 395 and 250 BC, has completely overturned assumptions about the weapons used in the ironage, sparking breathless reactions among experts of the period.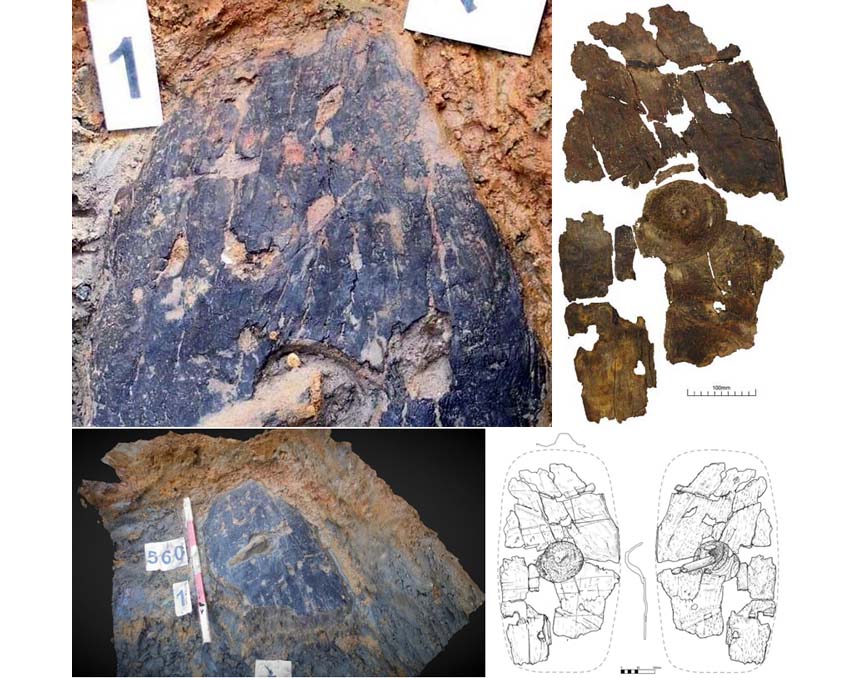 Quote:
The shield was discovered in 2015 by archaeologists from the University of Leicester Archaeological Service in a site close to the River Soar. Organic objects from the period very rarely survive, but the shield was preserved in waterlogged soil and may have been deposited in a water-filled pit, according to Matt Beamish, the lead archaeologist for the service.

Bark shields of the period were entirely unknown in the northern hemisphere, he told the Guardian, and the assumption was that the material may have been too flimsy for use in war. However experiments to remake the weapon in alder and willow showed the 3mm-thick shield would have been tough enough for battle but incredibly light. Just had to try to make one to test what in would withstand. It was likely that, contrary to assumptions, similar weapons were widespread, Beamish said. The shield is made from green bark that has been stiffened with internal wooden laths, described by Beamish as "like a whalebone corset of split hardwood", and surrounded by a rim of hazel, with a twisted willow boss. "This is a lost technology. It has not been seen before as far as we are aware, but presumably it is a technique that was used in many ways for making bark items." The malleable green wood would then tighten as it dried, giving the shield its strength and forming the rounded rectangles into a slightly "waisted" shape, like a subtle figure of eight.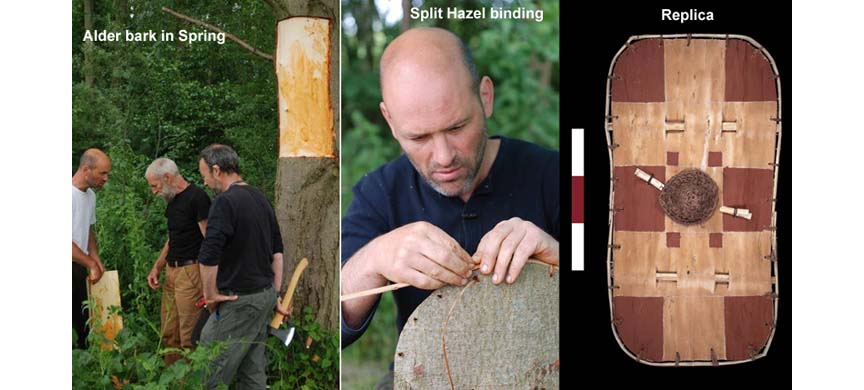 Quote:

That was significant, said Farley, because it was exactly the shape of the ornate Battersea shield, which was dredged from the Thames in the mid-19th century and dates from the same period.
"So it is possible this incredibly rare organic object is giving us some little hints about why we see what we see when we look at the metal objects. The Battersea shield might be pretending to be a shield like this."

This turns their thinking about the iron age people upside down. What they have been writing, what they've been teaching, must be reexamined in detail. They could have just ignored those scraps of bark in the ground, just shovel them off to Buffalo, and not have to explain why they've been wrong. But that's what Breitbart does, not what real scientists do.

link
link
---

Griff Saturday Jul 6 07:20 AM

I'm pretty surprised that they are surprised.

---

xoxoxoBruce Saturday Jul 6 07:49 AM

I'm not. At that time, long and short swords, iron tipped pikes and arrows were pretty well developed. Stopping any of them with bark sounds like a fools errand.

---

Gravdigr Saturday Jul 6 08:42 AM

Quote:

Wooden You Want a Shield?

Meh, it wood be oakay, I guess.



---

sexobon Saturday Jul 6 09:25 AM

Quote:

Originally Posted by

xoxoxoBruce

I'm not. At that time, long and short swords, iron tipped pikes and arrows were pretty well developed. Stopping any of them with bark sounds like a fools errand.

Turns out that their bite wasn't always worse than their bark.

Probably surprised some people at the time too.

---

monster Saturday Jul 6 10:40 AM

---

BigV Wednesday Jul 10 12:18 AM

Aspen some time cherry picking apple easing response so you think I give a fig and avoid a fight.


Chestnut now.

---

Gravdigr Wednesday Jul 10 07:42 PM

I do what I want.

Acacia ya didn't know.

---

monster Thursday Jul 11 05:35 PM

Sounds like Grav is sycamore censorship.

---

Gravdigr Thursday Jul 11 10:29 PM

Well, of copse I am...

...seems to be a poplar position...

---

Glinda Friday Jul 12 12:04 AM

Thanks xoxoxo. Very intreeguing subject and a treemendous edyewcation. I can now cedar forest for the trees.

I'll leave now. Just wanted to opine on the outstanding repartree.

---

Gravdigr Friday Jul 12 12:26 PM

The day they found that shield wood have been a good subject for the This Day In Hickory thread.

---

monster Friday Jul 12 10:39 PM

I should probably leaf this thread well alone, It's the root of all trEvil

---

Gravdigr Saturday Jul 13 11:57 AM

Ima stop barking, too.

---
Your reply here?

The Cellar Image of the Day is just a section of a larger web community: a bunch of interesting folks talking about everything. Add your two cents to IotD by joining the Cellar.