Undertoad Monday May 26 12:32 PM

5/26/2003: Elephant killed without trial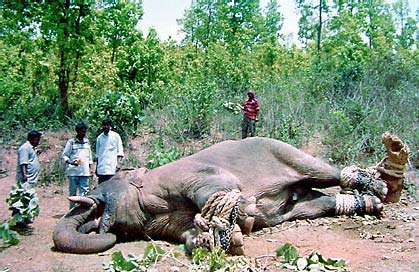 We actually had a case like this on IotD before. This wild elephant was believed to have killed Bangladeshi villagers in the Bero junles near the Jharkhand state capital Ranchi. He was captured and killed by forest officials.

I guess they feel that if an elephant kills he's more likely to kill again; or they have some sort of tribalish attitude towards these things.

But the tying-up part is really too much. Seems almost like they felt there had to be a kind of payback involved. They had to kill him "execution style".

(Ed. note: I didn't really mean to skip the holiday. I'm just lazy.)

---

OnyxCougar Monday May 26 12:56 PM

While I'm not an "environmentalist" per se, this still pisses me off.

I hope all his elephant friends go slaughter the entire village as payback. Elephants unite!!

---

Torrere Monday May 26 01:58 PM

That's probably how the villagers felt.

---

Plec Monday May 26 04:36 PM

I wonder what the Bangladeshi villagers did to the elephant in the first place....

---

And Monday May 26 06:09 PM

Not to sound like I'm sympathizing with the executioners (I'm not, really) if I were going to try to take down an elephant, I would want him bound up, too. There's no telling what it would do if you didn't kill it the first shot or after the poison begins taking effect or whatever they used. If it panicked or convulsed or had a secondary nervous reaction, it could go thundering off into someone or into a house or whatnot.

I have only heard third-hand why they kill an elephant that has killed people. It has something to do with the elephant not being intimidated by people or not holding them in respect anymore. Of course, I'd imagine the poor creature was probably abused or overworked to get to the point where it would feel threatened or angry and kill people. Or, heck, maybe it just snapped. People get alzheimer's, maybe elephants can crack mentally, too...

---

xoxoxoBruce Monday May 26 10:08 PM

Not overworked. Wild elephant. He might have been pissed about being chased out of their fields.
I used to work with a guy from India that told me the natives are allowed to have guns but not bullets. They can requisition them from the government a couple at a time but have to justify every shot.
I'd believe that an elephant that doesn't believe humans are all powerful could be quite dangerous. Hell, dogs are.
Besides they sent all the great white hunters packing.

---
Your reply here?

The Cellar Image of the Day is just a section of a larger web community: a bunch of interesting folks talking about everything. Add your two cents to IotD by joining the Cellar.