xoxoxoBruce Saturday Oct 5 12:21 AM

Oct 5th, 2019: Gold Reward

You're driving down a back road of a freezing cold night. The road is blocked as they are cleaning up an accident.
While you wait you notice the car is a limo, and the two bodies were dressed as a chauffeur and a nurse.
Everyone leaves and as you start up you hear something, sounds like a child, sure enough a very young child was thrown
from the wreck so you take hims along. He is the son and sole heir of Mr Mitsubishi. Your reward is this gold bar.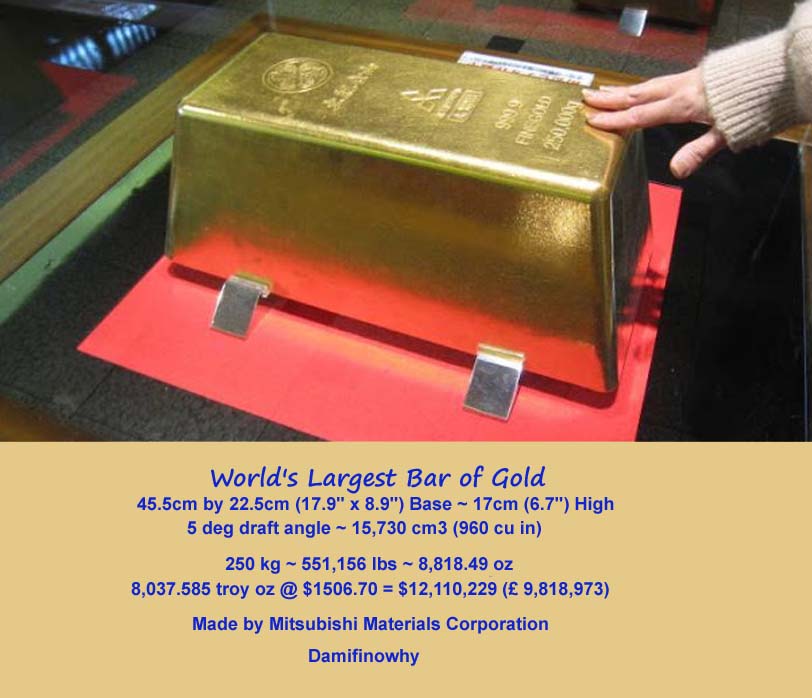 That's great, but now what?
How are you going to move it?
Where will you move it to?
How will you protect it in transit?
How will you pay for all that?
Cut a piece off like a savage?
Use it as collateral for a loan?

This could be an expensive reward.

---

sexobon Saturday Oct 5 11:47 AM

"551,156"

Shouldn't that be a period rather than a comma?

Fake news.

---

Diaphone Jim Saturday Oct 5 01:15 PM

For some reason this story makes me think of Jack Benny.

---

Gravdigr Saturday Oct 5 01:15 PM

---

Undertoad Saturday Oct 5 02:25 PM

Question is now different, but still.

I would eBay it, buyer must pick up

That way, most of those questions are answered by someone with better logistics skills or different motives etc.

---

sexobon Saturday Oct 5 04:30 PM

According to Wikipedia, the gold sculptured toilet "America" was made of 103 kilos of gold; so, 250 kilos should be enough to make TWO toilets and let Italian artist Maurizio Cattelan keep the remainder as payment. That way, one could have their own golden throne and sell the other one on eBay (buyer pays shipping and insurance). A practical solution for practical times.

---

xoxoxoBruce Saturday Oct 5 11:14 PM

You're assuming once the ingot was given to you Mitsubishi would continue to foot the bill for housing and security.

How many bidders would you expect on ebay for a twelve million dollar ingot with this many logistic and security concerns?

Making them responsible for logistics/security how high do you think anyone would they bid ?

---

Undertoad Sunday Oct 6 10:47 AM

I think I could get 11M from someone who mines gold and can sell it as raw material. I only need two bidders but three would make it safer. I think I might attract potential buyers by investigating mining companies and inviting them to bid. I'd expect someone would make a private offer to get me to cancel the auction, avoiding eBay fees.

I think I could put it on a portable forklift in a box truck in a garage and protect it myself until the bidding was over. Security can be hired.

How'd I do

---

sexobon Sunday Oct 6 12:14 PM

Depends on how well you've vetted Security. This has the makings of an easy inside job:

it's the lure of easy money
it's gotta very strong appeal

The floor of your bank's safety deposit vault could be less risky.

I'd see if I could get one of the major auction houses to auction it off above bullion value, with a buyer's premium, as a novelty/collectable. DanaC could insure it.

---

xoxoxoBruce Sunday Oct 6 12:30 PM


My point was some gift horses need a dental exam.



---
Your reply here?

The Cellar Image of the Day is just a section of a larger web community: a bunch of interesting folks talking about everything. Add your two cents to IotD by joining the Cellar.