xoxoxoBruce Monday Nov 25 12:32 AM

Nov 25th, 2019 : St Edward's Crown

When Queen Elizabeth II took over the empire in 1953 she wore St Edwardís Crown for the coronation.
When Parliament abolished the monarchy in 1649 the crown, which was kept at Westminster Abbey, then poof she was gone.
Anyway a new crown was created to coronate Charles II in 1661 but kept the old name. I guess because they couldnít think of
a better one, but it wasnít used again until 1911.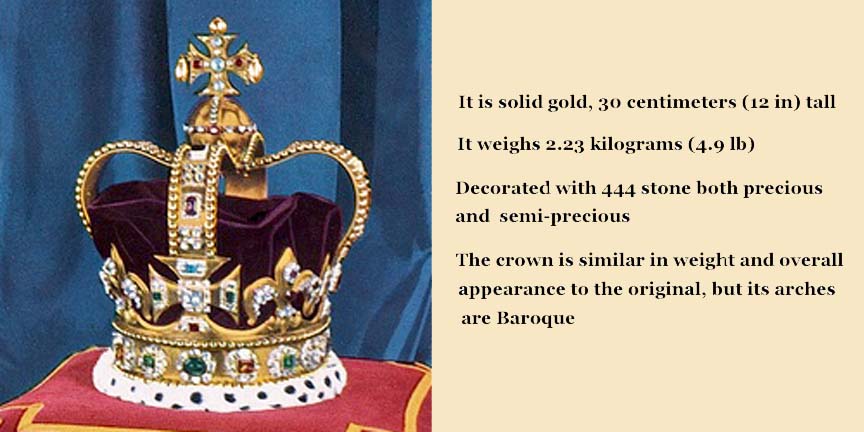 Itís a beauty, center of the crown jewels, priceless, uninsured, so they make sure to lock the door at night.



Want to start your own kingdom? No, you canít borrow the crown but mentalfloss had a breakdown of what you need to build
your own... start with £ 3,658,373($4,698,812).
Of course you couldnít really duplicate the crown because it has several unique stones you couldnít duplicate.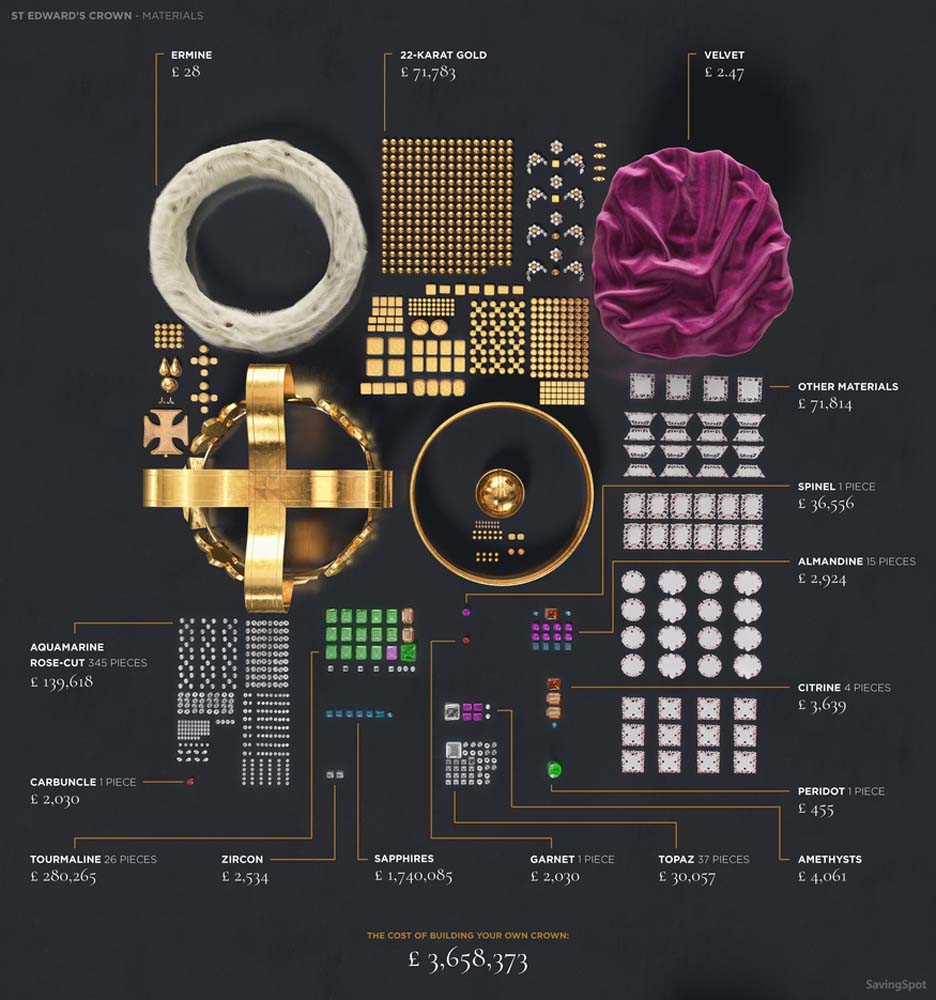 Looking at that breakdown it struck me there are four types of stone that were only used once, and one that was only used twice.
I wonder why. Could be because in 1660 it took a little longer to find and fetch things from far off places.

1 piece of Spinel £ 36,556
Spinel is the magnesium/aluminum member of the larger spinel group of minerals.
Spinel is a single refractive gemstone that can be red, pink, blue, colorless and violet.
Some of the most vivid stones come from Mahenge in Tanzania.

1 piece Peridot £ 455
Peridot is gem-quality olivine and a silicate mineral and is a magnesium-rich variety of olivine. Peridot is one of the few gemstones
that occur in only one color: an olive-green. The intensity and tint of the green, however, depends on the percentage of iron in the
crystal structure. A peridot formed as a result of volcanic activity tends to contain higher concentrations of lithium, nickel and zinc
than those found in meteorites

1 piece Garnet £ 2,030
Garnets are a group of silicate minerals that have been used since the Bronze Age as gemstones and abrasives. All species of garnets
possess similar physical properties and crystal forms, but differ in chemical composition. The different species are pyrope, almandine,
spessartine, grossular (varieties of which are hessonite or cinnamon-stone and tsavorite), uvarovite and andradite. The garnets make
up two solid solution series: pyrope-almandine-spessartine and uvarovite-grossular-andradite.

1 piece Carbuncle £ 2,030
A carbuncle is any red gemstone, most often a red garnet. A carbuncle can also be a stone with magical properties, usually capable
of providing its own illumination to an otherwise dark interior.

2 pieces Zircon £ 2,534
Zircon is a mineral belonging to the group of nesosilicates. Its chemical name is zirconium silicate. Zircon forms in silicate melts
with large proportions of high field strength incompatible elements. For example, hafnium is almost always present in quantities
ranging from 1 to 4%. The crystal structure of zircon is tetragonal crystal system. The natural color of zircon varies between
colorless, yellow-golden, red, brown, blue and green. Colorless specimens that show gem quality are a popular substitute for
diamond and are also known as "Matura diamond".

---

Diaphone Jim Monday Nov 25 01:15 PM

Carbuncle? I had one in the Army. Would have gladly sold it.

---

xoxoxoBruce Monday Nov 25 01:29 PM

Yes, that's the #1 definition in the dictionary.
Gem stone is #2.

---
Your reply here?

The Cellar Image of the Day is just a section of a larger web community: a bunch of interesting folks talking about everything. Add your two cents to IotD by joining the Cellar.