xoxoxoBruce Friday Nov 29 11:57 PM

Nov 30th, 2019: Permafrost Pooch

Permafrost isn't so perma anymore. The rate it's melting we'll have to find a new name like tempafrost or formerfrost.
This accelerating melt has revealed a bonanza for paleontologists, archaeologists, treasure hunters, and scavengers.



Quote:

A mysterious prehistoric pup is causing scientists to scratch their heads after being recovered from the depths of Siberia's permafrost.
The puppy, believed to be just two months old when it died, was named "Dogor" which means "Friend" in the Yakut language spoken in the area. It was discovered in the vicinity of the Indigirka River in Siberia, north-east of Yakutsk, and has recently been studied at the Swedish Centre for Palaeogenetics (CPG).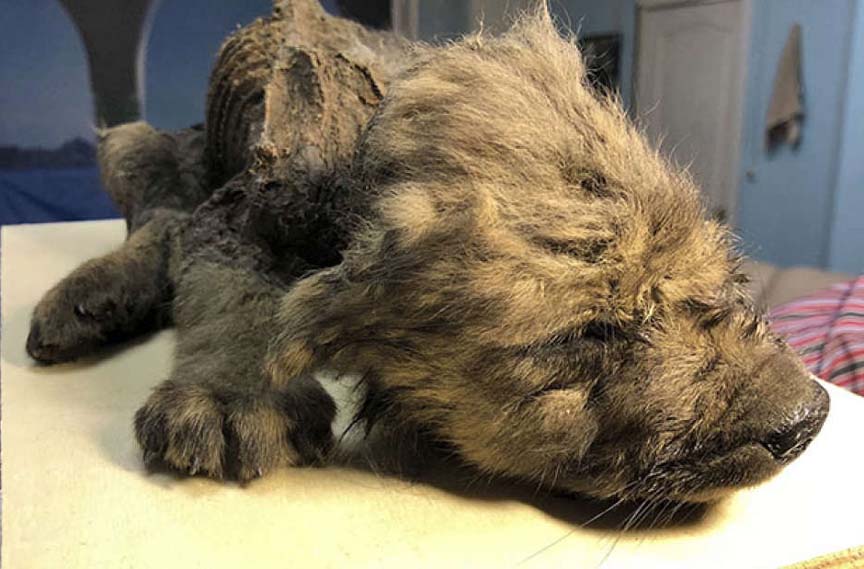 Quote:
Like a natural refrigerator, the permafrost has kept the ancient canine in remarkably good condition – complete with fur, whiskers, and teeth – but the researchers are still unsure what species this curious specimen once belonged to. While the work has managed to discover the specimen is male and approximately 18,000 years old, preliminary genome sequencing was unable to tell whether it is a wolf, a dog, or perhaps a proto-dog common ancestor of the two. "The Centre has Europe's largest DNA bank of all canines from around the globe, yet in this case they couldn't identify it from the first try," Love Dalén, professor of evolutionary genetics at the CPG, told The Siberian Times.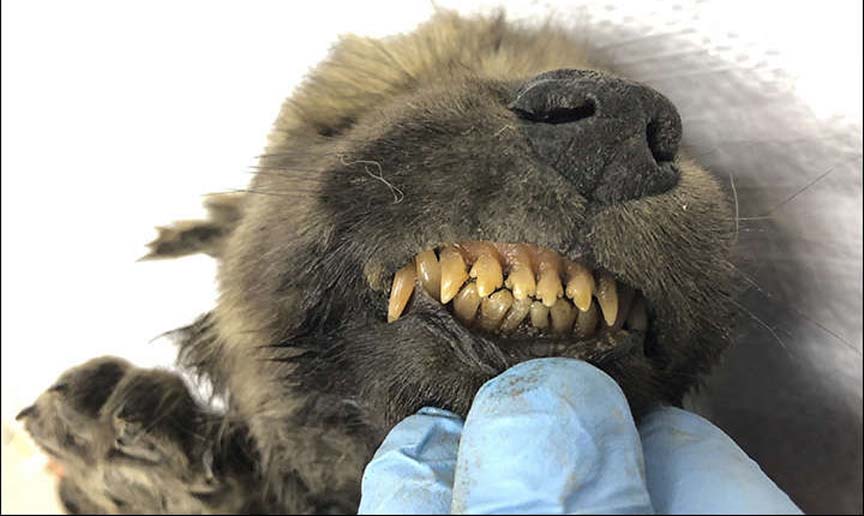 I noticed the threepoint upper incisors and remember seeing something similar in some prehistoric nightmare of a fish or lizard.
All I can find is the Teiidae lizards of the Americas.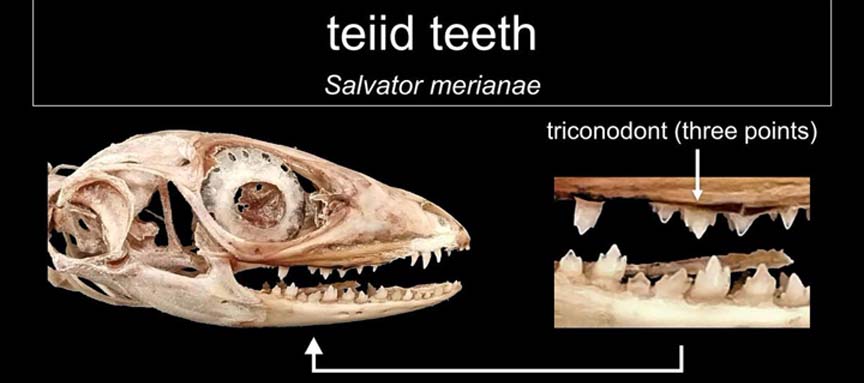 link
---

fargon Saturday Nov 30 10:11 AM

Puppeh.

---

glatt Saturday Nov 30 10:18 AM

Baby human teeth look very similar when they first come in.

---

footfootfoot Saturday Nov 30 10:39 AM

---

Diaphone Jim Saturday Nov 30 01:08 PM

I can't seem to separate the pic of a young German Shepherd's teeth from this page, way down on right.

https://www.louisdonald.com/theteeth...nshepherd.html

On the order of Bruce's recent cat page for way too much info.

---

xoxoxoBruce Saturday Nov 30 03:11 PM

Lot of pictures there, so I guessed.

---

Gravdigr Saturday Nov 30 04:49 PM

Quote:

...named "Dogor" which means "Friend"...

Is that where 'dawg' came from, ya reckon?

As in "Yo, dawg...I heard you like three-pointed teeth and dogs. So I got you a dog with three-pointed teeth."?
Attachment 69183




I'm waiting for the life-on-Earth-ending virus/bug to melt out of some eleventy-five million year old permafrost.

What? I don't wanna die alone.

---

xoxoxoBruce Saturday Nov 30 10:37 PM

Anthrax has already melted out.

---

Griff Sunday Dec 1 11:13 AM

C'mon science, grow me ancient pup!

---

xoxoxoBruce Saturday Dec 7 12:51 AM

Things melting out of the permafrost...

---

Diaphone Jim Saturday Dec 7 12:48 PM

Tough little buggers. Think what happens when PG&E turns the power for your refrigerator off.

---

Happy Monkey Saturday Dec 7 01:47 PM

"Things" you say...

---

xoxoxoBruce Saturday Dec 7 10:51 PM

I thought the picture of the Lamprey Eels was a nice touch by whoever created that.

---
Your reply here?

The Cellar Image of the Day is just a section of a larger web community: a bunch of interesting folks talking about everything. Add your two cents to IotD by joining the Cellar.