Undertoad Saturday May 31 01:39 PM

5/31/2003: Sculpture: Hell Bent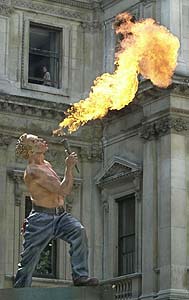 Tip o the hat to xoxoxoBruce for this one. It's a fibreglass and steel sculpture called "Hell Bent" by David Mach in the courtyard at London's Royal Academy.

We really need a wider shot here to put it in context. And to see whether the flames are continuous (unlikely?) or if they happen on cue (which could be interesting: what cue?) or at specific times or such.

Curious - I wonder how much actual fire has been used in actual art. And it makes you think about technology and art, too, and how technology has given artists more and more tools to work with.

Not that it necessarily makes for better art. In Vegas, for a while at the Caesar's Palace shopping area there were "living" sculptures that would play some worked-out routine involving lots of fire and smoke. But it was one of those things that you see once and say "interesting", and then see again and say "actually, kinda lame."

That's the difference, I suppose, between good art and mere spectacle; the good art will strike you at a deeper place in your soul.

---

Slight Saturday May 31 03:59 PM
---

That Guy Saturday May 31 04:02 PM

I was in Berlin about 2 years ago, staying in a hostel on the eastern side. Several people there recommended checking out a bar just up the block that occupied the first floor of a squatters' complex. They talked about all the art deco in the bar being crafted by the squatters, and that the place was actually run by them, paying to keep the building from being vacated/torn down/etc. The only thing they warned me about was, "Just watch out for the dragon."

So I'm in the bar one night, enjoying a frothy brew of some sort, listening to a DJ spin some records while a guy played a muffled trumpet in the backgroud (Herbie Jones meets Magic Mike), and chatting it up with some Canuks and an Aussie from Adelaide. I have my back to the bar, keeping an eye on the DJ, who happens to be doing some wicked shit, and watching the steady flow of people order drinks. One of my new Canadian friends is facing me when suddenly I feel this mass of hot air heat up the top of my head, and see his face light up in a wide-eyed orange glow. I look back over my shoulder and see the dragon, which happens to be a 15 foot- (or so) long welded steel sculpture hanging from the ceiling, whose body ran the length of the bar with the head just over me. The flame was about 10 feet long at full burst, and was initiated everytime someone tipped the bartenders. I later found out that all the chairs, tables and even the bar were made by the same welder, who supposedly lived in one of the upper floors of the building. Quite cool, nay very hot.

---

xoxoxoBruce Saturday May 31 06:18 PM

Slight, thanks for the link. Funny, I'd been to that sight to check out the "Dont Give A F*ck Bears" and the Match Head sculptures, but never made the connection to this picture.



That Guy, do you have an address or vicinity for that bar?

---

That Guy Monday Jun 2 01:26 PM

Quote:

Originally posted by xoxoxoBruce
That Guy, do you have an address or vicinity for that bar?

Yikes! I'll have to look in my collection of Germany stuff.

/e -
I remember that I stayed in Mitte's Backpacker resort, so it must be a few blocks from there. I'll see if I can dig up more details.

---

xoxoxoBruce Monday Jun 2 06:14 PM

Cool. thanks.

---
Your reply here?

The Cellar Image of the Day is just a section of a larger web community: a bunch of interesting folks talking about everything. Add your two cents to IotD by joining the Cellar.