xoxoxoBruce Wednesday Jan 8 11:53 PM

Jan 9th, 2020 : Pomme Queen

William Mullan photographs and writes about apples, both in books and as the Pomme Queen on instagram.
OK, but if for some dumb reason you wanted to do that too, if you head down to the supermarket, or even the farm stands, youíd
run out of material real fast. Believe it or not there are over 7000 varieties of apples in the world an astonishing amount of diversity.
But Apple growers and sellers arenít interested in 99.99% of them, only the ones that look good, grow reliably, travel well, store well,
and produce most profit per acre... if they taste ok thatís a plus.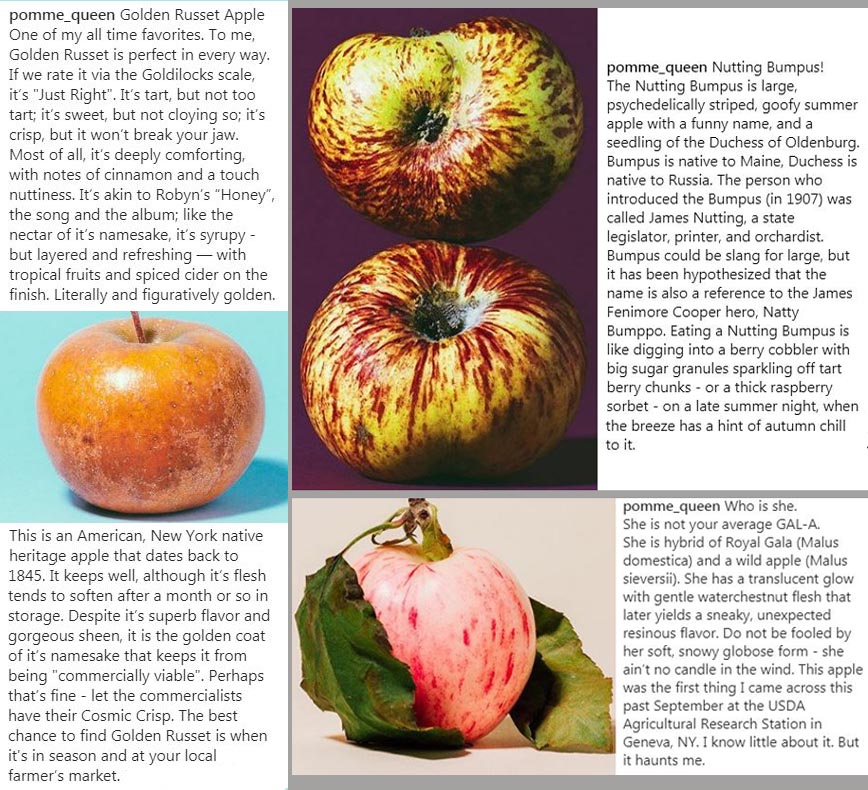 Some aren't pretty and some aren't tasty but they all fill a niche somewhere.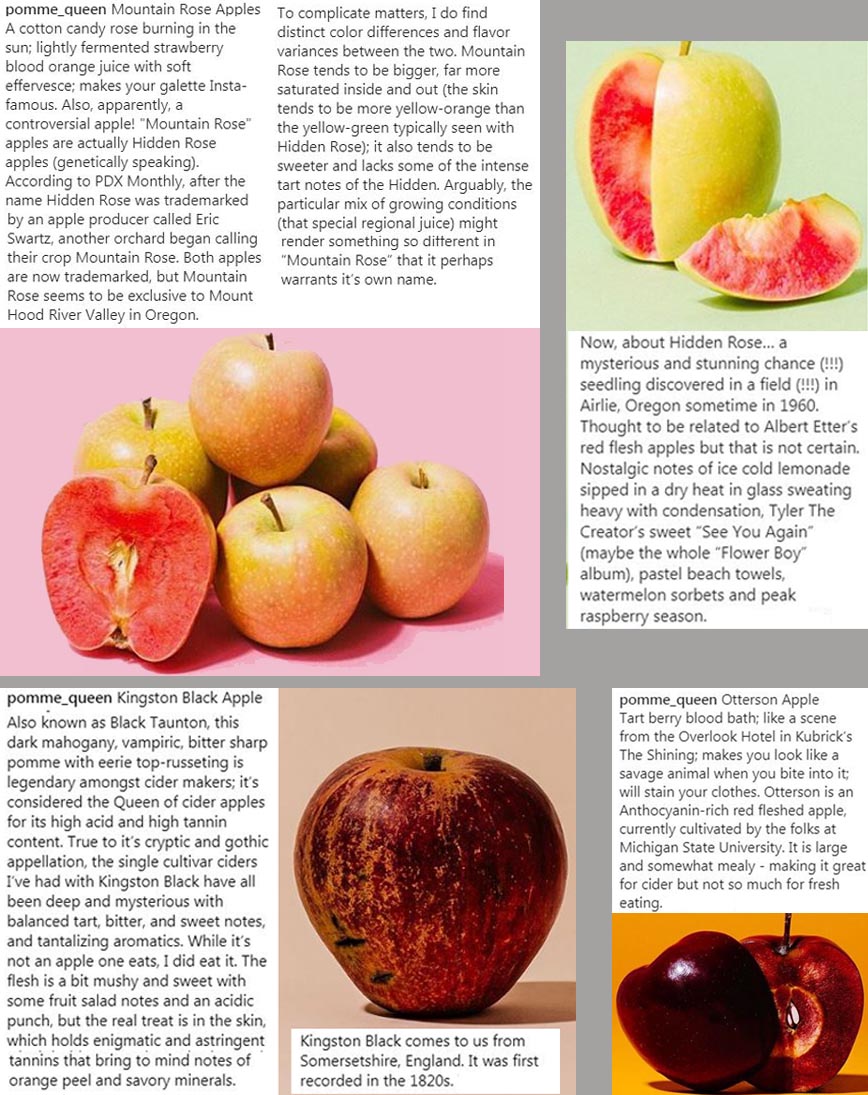 Modern day Frankensteins can use these as lab fodder or give to unliked teachers.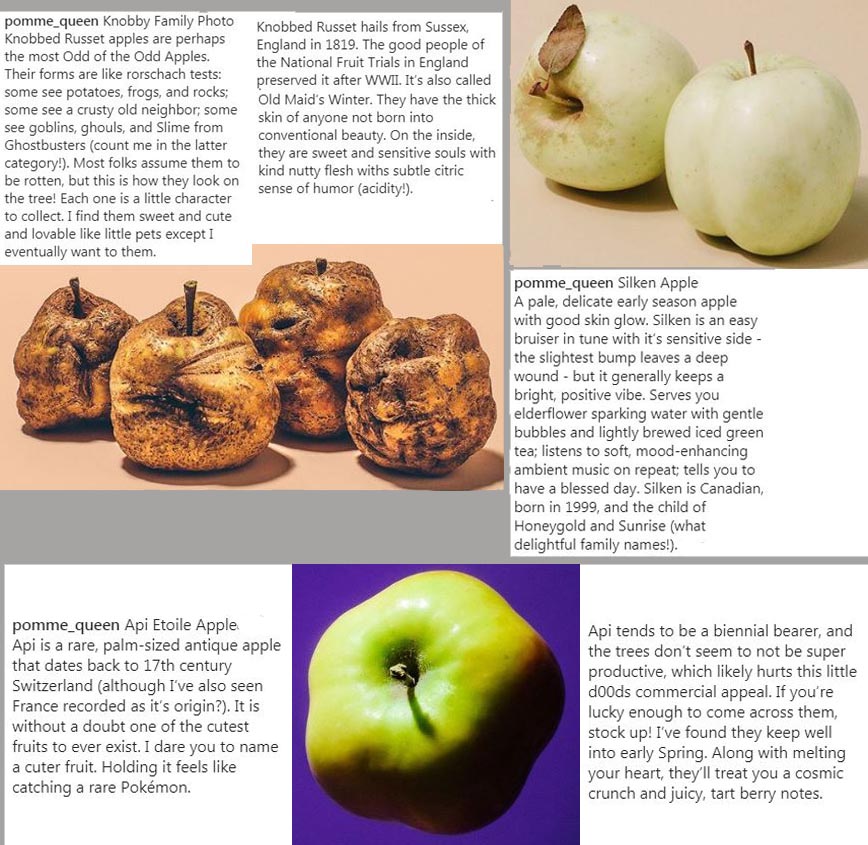 link

---

Carruthers Thursday Jan 9 05:10 AM

Whatever happened to the Canadian Winesap?

The Winesap sticks in my memory as everything an apple should be.
It was large, bright red, sweet and straight out of a children's picture book.
I haven't seen one in years.

Choice at the market this morning was Braeburn, Royal Gala and Cox's.
Russetts put in a seasonal appearance and French Golden Delicious are usually there somewhere but I pay that variety scant attention.

My old horse was quite partial to a Golden Delicious - was anything ever more deceitfully described? - but he was also a voracious consumer of carrots in industrial quantities so was not to be relied upon in matters of good taste.

---

Griff Thursday Jan 9 07:08 AM

Stark Bros have a pretty good selection if you have space.
https://www.starkbros.com/products/f...es/apple-trees

There are a number of over-grown orchards around here probably dating from the turn of the century (no the other century). I should probably be working on those trees to see if there's anything of interest. There seems to be a lot of yellow apples here.

Winesap trees: https://www.willisorchards.com/produ...E#.XhcXhPxOlPY

---

fargon Thursday Jan 9 08:44 AM

"My old horse was quite partial to a Golden Delicious" Your old Horse had good taste.

---

xoxoxoBruce Thursday Jan 9 10:58 AM

---

Clodfobble Thursday Jan 9 12:33 PM

Our local mom-n-pop health food store stocks their apples on a seemingly random basis, and they always have at least one or two I've never heard of. I can't taste (or maybe just tune out because I don't care) the difference between most of them--Granny Smiths being the obvious exception--but the kids fairly obsess over them. The Zestar apple is their favorite so far, but of course it's never come back after that first miraculous encounter.

---

xoxoxoBruce Thursday Jan 9 11:37 PM

---

Carruthers Saturday Jan 11 07:32 AM
Our neighbours, who have a bit more space, have a couple so it would appear that the soil is good enough.
But could I deal with the import hassle?

---
Your reply here?

The Cellar Image of the Day is just a section of a larger web community: a bunch of interesting folks talking about everything. Add your two cents to IotD by joining the Cellar.