Undertoad Sunday Jun 8 02:08 PM

6/8/2003: Earth at night from the north pole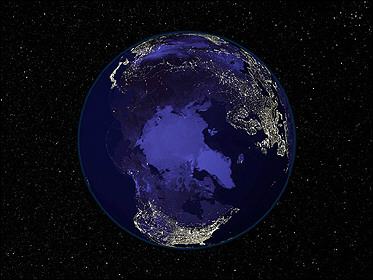 A regular Cellar favorite is the "earth at night" image which showed up about two years ago or so. This is the same sort of thing, only from the perspective of the North Pole.

There's not much to say about it, except of course... there we all are on that big ball in space.

---

xoxoxoBruce Sunday Jun 8 02:40 PM

Japan is so bright! The reason is that single white dot on Alaska's north shore next to the lighter colored ice field. That's Prudhoe Bay.

---

Katkeeper Sunday Jun 8 07:23 PM

Totally fascinating.

Can we get an image from the South Pole??

---

Pie Sunday Jun 8 11:40 PM

Badger (my husband) is currently somewhere in that very bright swath of light known as Japan...

Was that star field simulated (or shot seperately and pasted in later?)
Can you point us to the source of that pic?

Thanks!

- Pie

---

Beletseri Monday Jun 9 08:35 AM

Is this a composite image? It looks like everywhere is in darkness at once. How did that happen?

---

Undertoad Monday Jun 9 08:56 AM

I don't know, I don't know and I don't know. Howzat for service!

---

Katkeeper Monday Jun 9 10:47 AM

Okay. Okay. Okay.

So we are getting demanding...

---

Tanalia Monday Jun 9 05:23 PM

Two clues that this isn't a "real" image; as pointed out, it's dark everywhere, and no storms/clouds anywhere.

This appears to be a reprocessing of the image known as "The Brilliant Earth" (there is a daytime counterpart "The Living Earth"). These images are composites of satellite photos chosen and blended to elliminate weather obscuration. The image is simply mapped onto a sphere and a view from the top shown.

I'm not sure about the background. There is a corresponding composite image called "The Starry Sky" which might have been similarly mapped, though it could be almost any simple starfield or even a set of randomly generated dots that "looks about right".

More info on the sources can be seen at http://livingearth.com

---

chrisinhouston Tuesday Jun 10 10:29 AM

Along time ago in a galaxy far, far away...

---

gossard187 Tuesday Jun 17 01:06 AM

Quote:

Originally posted by Katkeeper
Totally fascinating.

Can we get an image from the South Pole??

you got it.

from http://www.coolantarctica.com/

---

Katkeeper Tuesday Jun 17 07:18 AM

Thanks! Interesting site also. I ended up buying a book

---

gossard187 Wednesday Jun 18 11:52 PM

Quote:

Originally posted by Katkeeper
Thanks! Interesting site also. I ended up buying a book

No Problem! I came across that site randomly and remembered your comment. Though, actually I remembered it because I thought it was funny. Figured there wouldn't be one since there's not much to see down there at night

---

Katkeeper Thursday Jun 19 08:06 AM

And there wasn't much to see. But that in itself is interesting.

I had an art teacher in college who would not let us use the word interesting in describing a painting because it was too vague.

---
Your reply here?

The Cellar Image of the Day is just a section of a larger web community: a bunch of interesting folks talking about everything. Add your two cents to IotD by joining the Cellar.