Undertoad Tuesday Jul 15 01:35 PM

7/15/2003: Buggyrollin'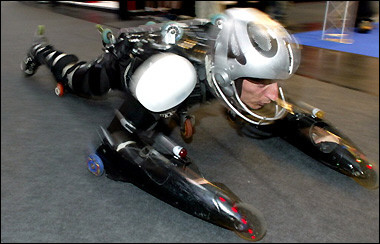 French Designer Jean-Yves Blondeau demonstrates his "buggy rollin" suit at Munich's Ispo 03 Summer sports fair.

Blondeau created the suit some years ago and his looking to commercialize it.

Lawyers everywhere are salivating.

---

hot_pastrami Tuesday Jul 15 01:54 PM

Actually, this is a shot of Johnny Depp on the set of the sequel to Edward Scissorhands...

Hmm, wasn't as funny as I hoped it would be. Story of my life.

---

bjlhct Tuesday Jul 15 03:08 PM

Pothole...

---

xoxoxoBruce Tuesday Jul 15 06:38 PM

Looks like it would take as much time as a matador to get ready. Maybe more dangerous too.

---

richlevy Tuesday Jul 15 10:44 PM

I first thought that anyone using a regular luge was nuts. Then came 'street luge', which is lying down feet first on an oversized skateboard and going 80+ mph on asphalt.

Now someone raises (lowers) the bar with a rolling bodysuit.

At least the thing looks like its made of some ABS plastic. All they have to do is lock the suits joints when it comes time for traction.

---

bjlhct Wednesday Jul 16 01:01 AM

Why are there wheels on the back? Is he that stupid?

---

bmgb Wednesday Jul 16 01:34 AM

I wonder how he stands up.

---

Torrere Wednesday Jul 16 04:52 AM

This begs for parallels from some insanely stupid French history.

Like making personal tanks (shells that people crawled under) during World War I.

---

gem8936 Wednesday Jul 16 11:32 AM

Patent

Makes a great Patent of the Week, too.

Here's Blondeau's:

And if you want to do it in the snow:

---

And Tuesday Jul 22 01:14 PM

RollerSuit=Fail.

All you have to do is hit a good bump with one arm or leg, and instead of rolling, you're sliding, possibly out of control. God help the schtoopnegle that tries to jump with it (and you know someone would).

---

quzah Tuesday Jul 22 09:34 PM

Quote:

Originally posted by bjlhct
Why are there wheels on the back? Is he that stupid?

See the above post for the street luge. The wheels on the back, I assume, are for people who don't feel like going face first. (Which incidently seems vastly safer.)

Quzah.

---

tjennings Tuesday Jul 29 11:35 AM

I would hope the ride isn't too exciting. Wouldn't want the central kickstand to lower itself too much during a run.

---

russotto Tuesday Jul 29 11:46 AM

I beleive I met this guy (with a slightly different suit) during the Lausanne World Inline Festival about three years ago.

If it wasn't him, someone has a heck of a claim on prior art, anyway.

---

gossard187 Friday Sep 5 11:06 PM

interesting
http://www.chez.com/buggyrollin/

---
Your reply here?

The Cellar Image of the Day is just a section of a larger web community: a bunch of interesting folks talking about everything. Add your two cents to IotD by joining the Cellar.