Tony Shepps Wednesday Jul 18 09:01 AM

7/18: Redneck belly flop contest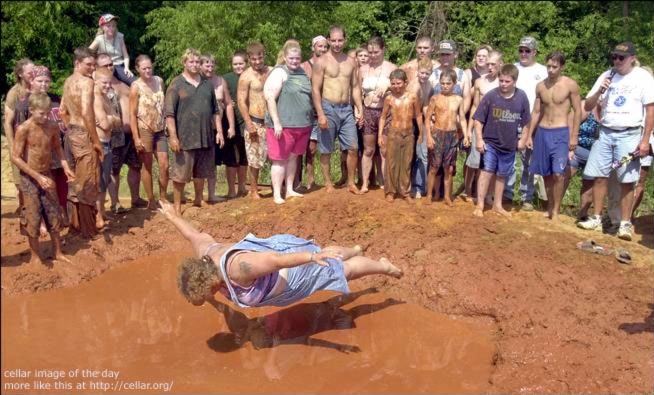 I hear they offer a scholarship in this sport at certain southern universities.

---

Count Zero Wednesday Jul 18 09:34 AM

There should be an after shot.... Or maybe not. :p

Would there be any mud left ?

---

dave Wednesday Jul 18 02:26 PM

my god

my god.
<p>
i think that's the most awful thing i've ever seen.
<p>
but who am i to judge, right?

---

dynamo Wednesday Jul 18 03:48 PM

That is just a really cool photograph. She (I think it's a she) is perfectly parrallel to the water's surface, and beneath her you can see the reflection of the crowd in the water. Kudos Tony.

dynamo

---

TheDollyLlama Wednesday Jul 18 04:14 PM

Forget the bellyflopping, who is that hottie in the pink shorts and where can i get her phone number! Whoo hoo!

I think I am going to to be ill.

---

Hubris Boy Wednesday Jul 18 05:23 PM

"Accused of witchcraft and consorting with demons, Edna-May Parks of Chugwater, Mississippi was tested by her accusers today. In a surprise result, Edna-May's body was rejected by the waters. A public burning is scheduled for Friday evening."

---

ChrisD Thursday Jul 19 01:13 PM

In other news:

Remake/sequel of urbanite 'Mission: Impossible', 'Mishun Rilly Hard, Part Tree' flopped (no pun intended) in theaters this week, scoring well in only one demographic segment, 0-2 people per square mile, commonly classified as 'redneck

---

elSicomoro Thursday Jul 19 06:28 PM

Memories of home

The headline would read, "Local residents take the plunge at Marquette Park in South St. Louis."

(Okay, maybe not really...but they WOULD do this sort of thing outside of St. Louis County.)

---

jaguar Thursday Jul 19 08:23 PM

Wow......real live rednecks in their natual enviroment!

---

alphageek31337 Friday Jul 20 02:16 AM

I can see the Crocodile Hunter now, with that super-accent that makes all Austrailians wish he would die: "Crikey! Lookadem! These here are real live American rednecks in their natural environment. They're beautiful buggers, aren't they. Look at this one....you're a fat one, aren't you, girl? Ah, you're fiesty too, you little devil. relax, I'm not gonna hurt ya, I just wanna have a lookatcha real fast. see that coloration? When the redneck is in heat, about 14 months out of the year, the tops of their legs turn neon. All right, now I'm gonna leave you alone...off you go."

---

ChrisD Friday Jul 20 09:23 AM

You forgot his token phrase, repeated to the point of silliness: "Yoire all raight, yoire all raight"...

---

dynamo Friday Jul 20 09:41 AM

Hey guys, this is serious stuff, can't you see the guy on the right with the microphone and trophy?

---

jaguar Friday Jul 20 11:21 PM

*laughz...Alphageek - i lived in britan for a year - everyone thought i was real tough to fight off all the crocs, spiders, snakes and anyhtign else that obviosuly kilsl most people. The dammage that bloody movie did will enver be undone....My favorite: during the Sydney olympics a woman posted a msg on the olympics webside FAQ asking if we had running water downunder...."no, but we'll lend oyu the bucket and gun to keep off the crocs for free"

We have rednecks in australia too, we contain them in a small prison called tasmania and a wasteland called queensland.

If that man ever wanders into urban australia were gonna lynch him with his own whip.

---

Tony Shepps Friday Jul 20 11:51 PM

Jag, I *think* you guys are talking about two different things.

The most popular Aussie in the US right now is not Paul Hogan, but Steve Irwin. But everything you said goes for the both of them!

---

jaguar Saturday Jul 21 08:04 PM

I was generally refering to anyone who had anyhtign to do with TV and crocs in general - there should be laws about this.

---

elSicomoro Saturday Jul 21 10:33 PM

And in other exciting redneck news...

This could actually go in politics, but since this is about rednecks...and it stirred up memories of home for me...

I've heard of filibusters before, but this is ridiculous.

---

backpacker Thursday Aug 16 06:19 PM

As I should know, for living here in the south, anyone here knows what a redneck says before doing something stupid... "Hey ya'll, watch this!"

---

Tony Shepps Friday Aug 17 11:41 PM

Oh. My. Gawd.

I told the fark.com folks to stop by the Image of the Day for fodder for Photoshop images they create. I get a few images of the day from their links. Well somebody took it upon themselves to submit THIS image, the redneck belly flop, for Photoshopping.

Photoshopping, for those who weren't aware, is now the practice of using Photoshop (or some similar image processing program that doesn't cost $600) to modify the image, usually by taking bits from other images and sticking them into the original, usually to hilarious effect.

And this time it's just brilliant, so everyone MUST go see:

<a href="http://www.fark.com/cgi/fark/comments.pl?IDLink=37552">The fark.com photoshopping of the belly flop contest</a>

(WARNING: there are a ton of these images on that page, so it will load pretty slowly for modemers. Click on the link and go get a cuppa coffee or something. When you get back, make sure you aren't drinking the coffee while viewing the page, or you'll have a nasty accident.)

---

Whit Saturday Aug 18 11:11 AM

Let's be careful with those coments. After all, this does come from an area where 'Deliverance' is considered a romance.

---
Your reply here?

The Cellar Image of the Day is just a section of a larger web community: a bunch of interesting folks talking about everything. Add your two cents to IotD by joining the Cellar.