Tony Shepps Thursday Jul 19 12:34 PM

7/19: Elephant tried and hung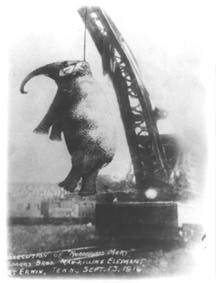 In the year 1916, the above elephant killed a man in Johnson City, TN. And killing a man ain't allowed. So they up and hung the elephant. Details of the story are HERE.

This story comes to us via the wonderful weblog Everlasting Blort.

---

TheDollyLlama Thursday Jul 19 01:31 PM

Hung Like an Elephant

Remind me when i get my three wishes from a genie...I no longer wish to be hung like an elephant.

---

jaguar Thursday Jul 19 08:14 PM

lol.........
Thinking very analiticaly...you wouldn't want to be anyway, you'd be too big so the only thing you'd be able to fuck is farm animals...yes, iv'e had far too mcuh coffee and its only 10am

---

Slight Friday Jul 20 05:55 AM

I do think the reference to being hung like an elephant is funny Dollyllama.

However this picture makes me feel sad for some strange reason. I think it is because someone spent the time to take the picture (which was no easy task back then) assuming that people would want to see this kind of photograph. So while the photo in and of itself is disturbing, the fact that someone took the picture disturbs me more.

This rationalization makes sense since as a 'guy' I am not s'pose ta feel emotions. Tony, keep up the good work.

---

tweek Wednesday Jun 12 10:29 PM

The photo preserved a record of this event so that we could all see it 80 years later. Why would you have a problem with something like this being photographed?

Unless you were a dummy...

---

MaggieL Wednesday Jun 12 10:56 PM

I beleve the Kama Sutra has some commentary about the special sexual challenges of men hung like elephants....

Be that as it may, I think we can all agreethat still photography of an elephant hanging is inhumane. Therefore, please follow this link for video of an elephant being electrocuted (film courtesy Thomas Edison, 1903).

http://www.theelectricchair.com/videos.htm

Story of Topsy the Elephant:

http://www.roadsideamerica.com/pet/topsy.html

---

trev0006 Saturday Mar 27 09:22 PM

so sad, hope this stuff doesn't happen ever again.








---

monster Saturday Mar 27 09:53 PM

WHOA!

major blast from the past

is 8 years the record for thread ressurection?

---

monster Saturday Mar 27 09:54 PM

....and one wonders what trev was searching for when s/he stumbled across it

---

classicman Saturday Mar 27 10:01 PM

trev snuck a few added links to the quote - very sneaky ...
Mod needed in isle 3 for cleanup please

---

monster Saturday Mar 27 10:48 PM

yebbut, why not just pick the most recent post... or at least the most recent one about being hung like an elephant.....

---

DanaC Sunday Mar 28 07:33 AM

I wasn't here when this thread was live. I really wish it hadn't been resurrected. I just read the story at the link and it's really upsetting.

It's going to play on my mind, I know it.

Saw a picture in the paper the other day that upset me, and that keeps coming back to me every so often. Some dickhead has been convicted of attempted murder using a dog as a weapon. The dog, trained for violence and most likely ruined beyond rescue, was in police custody and most likely will be put down. There was a photo of the dog being handled into a cage or something. It was doing that thing dogs sometimes do, when they don't want to go somewhere, or they don't want to get into the bath, just letting his back end drop down like a dead weight. Looked really frightened and confused.

---

Sundae Sunday Mar 28 08:17 AM

Just a point of order - "elephant hanged" surely?

Bet the inhabitants of Hartlepool were super-jealous, being only monkey-hangers themselves.

Dana, I've had to stop watching Animal Rescue in the mornings. I'm not as much of an animal lover as many people here - I still eat them after all - but I was fed up of being reduced to tears every morning. It was that cats that got me the most (oh! the amount of lovely cats with eye infections! Blind or half-blind and never taken to the vet!) but like you say, the posture of the poor dogs, that only ever wanted to be accepted as part of the pack. Hard to believe that people can be that ignorant.

---

ZenGum Sunday Mar 28 06:48 PM

I think if you are enough of a dumb ass to lynch an elephant, you don't care much for the finer points of grammar.

That is one of the most stupid, brutal, and generally fucked up things I have seen in a long time.

---

Gravdigr Sunday Mar 28 08:50 PM

[paraphrasing 'O, Brother Where Art Thou'] ...and so we gonna hang us a nelephant. [/paraphrasing 'O Brother Where Art Thou]

---

Sundae Thursday Apr 15 03:56 PM

Bit of synchronicity here - I just read a book set in TN where one of the protagonists took a photo of the hanged elephant.

The book itself was a bit meh. See my reviewing skills?!
I will write it up properly in the Books thread. If I can find the damned ticket from the library telling me what I had out (That collection of books has already gone back).

---

toranokaze Friday Apr 16 02:07 AM

The whole idea of hanging an elephant is crazy. Honestly, I'm surprised that the crane didn't tip over. Still hanging...not a spike to the skull as most execution of elephants; I just don't get it.

---

xoxoxoBruce Friday Apr 16 02:20 AM

It was Johnson City, TN, in 1916. What the hell did they know about killing elephants.

---
Your reply here?

The Cellar Image of the Day is just a section of a larger web community: a bunch of interesting folks talking about everything. Add your two cents to IotD by joining the Cellar.