Undertoad Tuesday Aug 5 12:43 PM

8/5/2003: Burqa band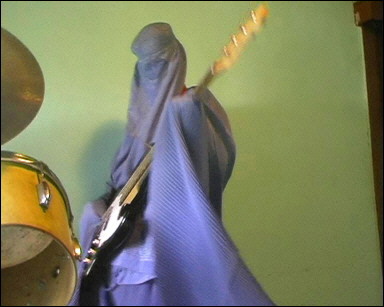 Can't possibly be true, I figured. But it is!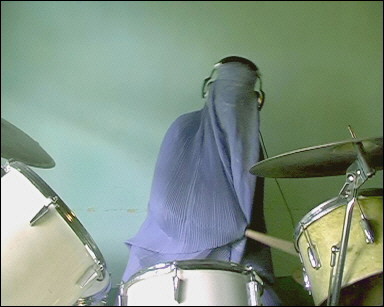 These shots are of three Afghan girls (the singer isn't shown) who are collectively known as the "Burqa Band". German musician Kurt Dahlke was in Kabul, running a music workshop, and along the way the female trio – a translator and two tea ladies – recorded the song and made their own video.

Back in Germany, Berlin DJ Barbara Morgenstern did a remix of the song, and now it's a club hit in that country.

This story gives more of the details. The reason Dahlke was there in the first place: "There is almost nothing left of the traditional musical culture from before the Taliban. The instruments and infrastructure was all destroyed."

To be replaced with this? The story mentions some of the lyrics: ""You give me all your love, you give me all your kisses, and then you touch my burqa, and don't know who it is... Burqa bluuueee... my mother wears blue jeans now, things are changing faster, I don't know if it's good."

One hopes it's authentic, even if instructed by Dahlke. It says so much about the mix of cultures. The ideal result here is that the west teaches them to express themselves through art, even western art -- and they, in return, show us their soul in that art, and deepen the western experience and understanding of the world.


---

xoxoxoBruce Tuesday Aug 5 01:26 PM

From the link:


Quote:

Recorded western music is tolerated but concerts are unheard of. While Kurt and his colleagues were in Afghanistan, fundamentalist gunmen burst in on a party and fired on the band, killing two musicians.

That would discourage a lot of wannabe's.

---

Happy Monkey Tuesday Aug 5 01:40 PM

On the plus side...

There's no need for conspiracies, should something happen...

---

juju Tuesday Aug 5 01:52 PM

I wouldn't say this is a sign of change at all. It was all set up by the Germans, and no one in Afghanistan has even seen or heard any of it. If they did see the video, they'd probably be outraged. I'm sure social change probably will come for them, but it will surely take longer than a few years.

---

arz Tuesday Aug 5 01:53 PM

So, the infrastructure has crumbled but Kabul has a nice Fender Jazz bass for this woman to play?

I'm... skeptical.

---

warch Tuesday Aug 5 02:28 PM

I saw part of a TV report, a few weeks back, about traditional Afghani musicians that fled to Pakistan. Music was used to rally the rebels against the Soviet attack, but then as the Taliban grew in power, they used it to crack down on any other Afghan groups. Sufis were targeted, as music is a main part of their religious practice. Musicians targeted, instruments destroyed. There was this one guy, on fleeing to Pakistan, dismantled his lute-like instrument, that had been in his family for generations. It was discovered and destroyed, but he made it over the boarder and a sort of satelite culture exists. They are returning with caution. This one famous female singer, she apparently danced in a film, still has had attempts on her life. But the Tape/CD sellers were hopping.

Hey look! I found a link to the program
Afghan Music: Breaking the Silence on World Link.

---

Guey Tuesday Aug 5 03:07 PM

So I guess there is no way to see if the lead singer is a total babe. Unless you marry her, then find out she is in need of a dermatologist. 8P


Well at least they wont have trashy attire in their bands. unless you maybe tie dye the robes, then they would wind up on Jerahab Spinghalb.


p.s. a friend of mine is of arabic descent and he thinks this band is funny schtuff.

---

Torrere Tuesday Aug 5 05:19 PM

Oh man, I want to see that video.

---

goethean Tuesday Aug 5 05:50 PM

Quote:

things are changing faster, I don't know if it's good.

I can't sum up the world any better than that.

---

xoxoxoBruce Tuesday Aug 5 06:56 PM Hmmmm...Now that's interesting!

---

Elspode Tuesday Aug 5 11:10 PM

You know, I can barely play the bass wearing shorts, a tank top, and with two free hands. How the hell does this woman play it covered from head to toe, with her hands swaddled in cloth?!!

---

tokenidiot Wednesday Aug 6 01:54 AM

Germany will create the Fourth Reich using women dressed as ghosts. It's all falling into place now.

---

arrowtouch Saturday Aug 23 05:42 PM

god have mercy!

Listen for yourself... ugh... horrible crap.

http://swen.antville.org/stories/471139/

---

xoxoxoBruce Saturday Aug 23 05:49 PM

Wow, thanks Arrow. I feel much better about my kazoo playing now.

---

bjlhct Friday Aug 29 01:06 AM

Look at it this way.

Are they worse than Britney?

---

xoxoxoBruce Friday Aug 29 07:12 PM

Yes! Maybe not musically, but Britney has other qualities.

---
Your reply here?

The Cellar Image of the Day is just a section of a larger web community: a bunch of interesting folks talking about everything. Add your two cents to IotD by joining the Cellar.