Tony Shepps Tuesday Jul 24 11:36 AM

7/24: Spencer Tunick in Switzerland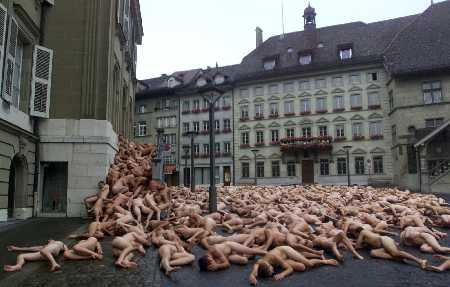 Artist Spencer Tunick was profiled here before (he's a photographer who takes shots of large numbers of naked people, generally in a public setting). Tunick continues his project country by country, and this is a picture of his setup in Switzerland. Quite remarkable.

---

ndetroit Tuesday Jul 24 12:46 PM

heh... nekid ppl are cool..... ;p


But seriously, from an artistic point of view, he's doing some really cool things with perspective in that shot. Notice how the mass of people seem to be pouring out of the crack between the 2 buildings, being densely packed at the top left frame, and then fairly spread out at the bottom?

also, notice how there are 2 or 3 distinct horizontal lines in the picture? (One at the mid left, one in the lower 3/4, and one down near the bottom) That is a technique called "linear perspective". you see it in a lot of renaissance paintings... It was basically how they were able to convey distance and size in their paintings..

Its cool that he is doing this with a photo, something that has a perspective already built in.

---

Tony Shepps Tuesday Jul 24 01:04 PM

I agree all around, but we have to be careful; I think the above image is not the artist's, but a news service photo, so we only get an idea of what he is driving at. I hope that Tunick puts a good number of the images online so we can take a look at them as he intends -- without having to visit a Manhattan gallery. (Or maybe that's an idea for a Cellar roadtrip GTG?) The other Tunick images that I've seen are just outstanding, IMO.

---

Tony Shepps Tuesday Jul 24 01:17 PM

Erm, but now having typed that and entered it, I don't mean to take anything away from your analysis, ndetroit... good stuff. I would guess that even if the angle is different, what you've pointed out is surely part of his whole thinking!

---

ndetroit Wednesday Jul 25 12:46 PM

*sigh*...

one man's art is another man's press photo.....

---

kjm Thursday Jul 26 09:18 AM

hbo link

http://www.hbo.com/nakedstates/cmp/main.html

The interface on this page is a little awkward, but there are more of Spencer's images and some related information.

---

min-ra Friday Aug 17 10:55 AM

Negative Associations

I don't mean to a fount of negative emotion, but am I the only one here who is reminded of - well - piles of <I>dead</I> people? Maybe I've seen too many photos of mass-graves.

Well. At least these folks look well-fed.

---

Count Zero Friday Aug 17 12:07 PM

I saw dead people too... And I thought it was pretty cool. ;-)

---
Your reply here?

The Cellar Image of the Day is just a section of a larger web community: a bunch of interesting folks talking about everything. Add your two cents to IotD by joining the Cellar.