Undertoad Monday Sep 1 01:04 PM

9/1/2003: Dormant dormouse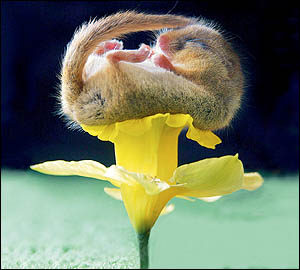 Someone sent this to me about four months ago, and I never used it for a Friday image. It's a fine picture, but it's entirely posed and therefore a bit fake. And a bit too sweet. And it's from the Sun (UK tabloid newspaper).

But the mouse is real; it's sleeping, in hibernation. It's also a dormouse - that's the species - so named because of its habit of going into hibernation, or in other words, going dormant.

---

Stonan Monday Sep 1 01:49 PM

Looks damn comfy tho!

---

Leah Monday Sep 1 09:12 PM

Reminds me of the Anne Geddyes photos of human babies.
Cute

---

russotto Monday Sep 1 09:13 PM

Apparently a delicacy during the Roman Empire. Easy to catch, too.

---

blase Monday Sep 1 09:15 PM

The Dormouse is one of Britain's most endangered mammals. This is because much of its habitat of deciduous woodland and hedgerows has been lost. Competition by Grey Squirrels for food may also be a contributing factor.

This small attractive woodland rodent is mainly nocturnal. It is arboreal, spending its active time in shrubs and trees where it searches for food. Its diet consists mainly of fruit, berries, flowers and insects. In the autumn hazelnuts can be a very important source of food as they have to build up their fat reserves as they hibernate overwinter. In fact the Dormouse can hibernate for as much as three quarters of a year if the weather is bad. They hibernate on the ground, rolled tightly into a ball in a nest of leaves and grass. Their body temperature and heart rate are lowered and they become torpid and cold to the touch. Hibernating enables them to survive by "shutting down" during cold weather and they can even do this in spring or summer. Thus they have long periods of inactivity which probably contributes to the long life span of 5 years.

Dormice breed once or twice a year usually producing 4 young which are independent in about 2 months. Their nest are often built of grass interwoven with honeysuckle. The nests can be anywhere from a few feet above the ground in brambles to high up in the forest canopy. Their colour is light brown with furry long tail and prominant beady eyes.

Dormice are found mainly in the south of England particularly in Devon and Somerset. Other favoured areas include Kent and Sussex with sporadic populations elsewhere. They are largely absent in the north of England.

Dormice are protected by law and you may not even handle one without a licence which is available from English Nature.

Another Couple Pictures, and info on how they eat

---

blase Monday Sep 1 09:17 PM

And information on getting your mouse handling license

---

xoxoxoBruce Monday Sep 1 10:38 PM

Quote:

Originally posted by Stonan
Looks damn comfy tho!

I don't know? He looks like a pole sitter to me.


Cool Picture, UT.

---

dar512 Wednesday Sep 3 10:55 AM

`Very uncomfortable for the Dormouse,' thought Alice; `only, as it's asleep, I suppose it doesn't mind.'
-- Alice in Wonderland

Mebbe 'cause I'm from the US, but I can't hear about dormice, without thinking of the mad tea party.

---

xoxoxoBruce Wednesday Sep 3 12:48 PM

Know what you mean Dar. Every time I hear dorm ice, I think about college drinking.

---
Your reply here?

The Cellar Image of the Day is just a section of a larger web community: a bunch of interesting folks talking about everything. Add your two cents to IotD by joining the Cellar.