Undertoad Wednesday Oct 1 02:24 PM

10/1/2003: PA National Guard in Afghanistan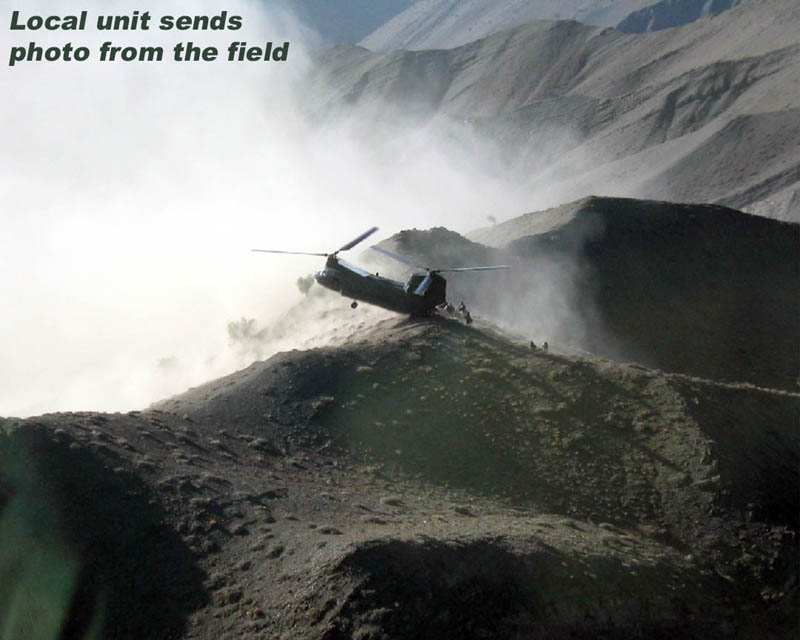 xoxoxoBruce has really been finding 'em recently, and he sent along
this huge image of a Pennsylvania Nat'l Guard helicopter offloading some
troops on, as he puts it, "some god forsaken hill. Doesn't look like tourism
is going to be a viable option there."

In the past, I've reduced the size of things like this for our consumption.
But as we have increasingly better connections and bigger monitors,
why not just show the whole big thing? Except for the fact that it
throws off the width of the table for text, but I can just put line
breaks in by hand... it still breaks the blog view, but what're ya gonna do.

---

Elspode Wednesday Oct 1 03:04 PM

That's both a great photograph *and* an impressive piece of helicopter piloting.

---

EdZachary Wednesday Oct 1 04:08 PM

I'm surprised..with the back end in the air like that the rotors must be in motion, but the shot froze them in place from what looks to be a pretty good distance.

---

zippyt Wednesday Oct 1 04:24 PM

EZ that is the front of the helocopter in the air .

---

glatt Wednesday Oct 1 04:40 PM

EZ, I saw two of these helicopters land on the Ellipse in D.C. a week or two ago. (Dropping off some sort of mid level VIPs outside the rose garden fence.) I was surprised at how slowly the blades rotate. With the naked eye, I could follow the rotation of the blades. I think it's because they are so big, they can rotate a little more slowly. Normally the props on helicopter are a blur to me, but these weren't. So I'm not at all surprised that the camera froze these blades in this picture.

---

EdZachary Wednesday Oct 1 04:40 PM

Quote:

Originally posted by zippyt
EZ that is the front of the helocopter in the air .

I'm surprised..with the front end in the air like that the rotors must be in motion, but the shot froze them in place from what looks to be a pretty good distance.

Happy now?

---

Undertoad Wednesday Oct 1 06:29 PM

I'm just glad they're keeping Pennsylvania safe!

---

Leah Wednesday Oct 1 06:37 PM

What The!
Never seen anything like that before Bruce.

---

Elspode Wednesday Oct 1 10:49 PM

Chinooks are awesome. Real workhorses, and surprisingly high performance to boot. And *loud*. They rumble the ground when they fly over at low altitude. I saw one flying over my neighborhood once carrying an A4 Skyhawk slung underneath it with giant web straps. I was impressed.

---

xoxoxoBruce Thursday Oct 2 12:24 AM

They sling about 26,000 pounds of external load from the center cargo hook underneath. The rotor speed is 225 rpm and each rotor is 60 feet in diameter. The rotors spin in opposite directions and overlap so the total rotor coverage is 99 feet long.
They carry 44 troops in folding canvas seats or 24 liters.
two engines rated at 7500 shaft horsepower maximum, each.
They get a whopping 3 gallons per mile.
They are particularly well suited for Afghanistan because they will handle the altitudes under load and as the picture shows they don't need to land. To unload just open the rear ramp then squat and poop troops.
You might have seen the Army commercial where they set it down far enough in the water for a Zodiac rubber boat with half a dozen rangers to scoot right in the rear ramp. If they close it up it becomes a 27,000 pound boat.

---

Nothing But Net Thursday Oct 2 02:43 AM

Can you imagine what the EPA might say about MilOps?

Let's remove the spent bullets from this firefight scene, men! And clean up that blood, it's a biohazard!

---

glatt Thursday Oct 2 09:58 AM

Thanks for that info Bruce. 225 RPM is pretty slow but jives with what I saw recently. That works out to just 3.75 revolutions per second. I think figure skaters spin faster than that. Pretty amazing.

---

xoxoxoBruce Thursday Oct 2 06:32 PM

225 RPM sounds pretty slow but on a 60 foot rotor the tip of the blade is traveling at 482 miles per hour. That be honkin'.

---

lhand Thursday Oct 2 07:53 PM

Big Pictures

I like the big picture, but why not just have the old smaller pictures link to the biggest available picture? That way there'd sometimes be much bigger pics available and the current table sizes could stay the same.

---

And Friday Oct 3 01:32 PM

Quote:

Originally posted by Elspode
Chinooks are awesome... And *loud*.

My older brother once told me they got their name from the sound of the rotors. (I know, it's an Native American name, right?) I grew up in Savannah, GA, with an airfield there, we would see all kinds of aircraft tooling around over our neighborhood, including plenty of Chinooks. When one would pass overhead, my brother and I would brandish "air machineguns" and fire them at each other, with the Chinook supplying the sound effects. More often than not, we would both then die horrible, languishing, dramatic deaths. Aaah, childhood...

---

xoxoxoBruce Saturday Oct 4 12:36 AM

All US military helicopters are named for Indian tribes. If they were named for the sound they make they'd be Italian. wop wop wop wop wop
I'm sorry, I couldn't resist. I'm sorry, I really am, Godfather.

---

zippyt Saturday Oct 4 01:31 AM

Quote:

bruce said "To unload just open the rear ramp then squat and poop troops. "

I can tell you from personal experence that i would much rather get "pooped" from a chinook than any other helocopter because of the tail rotor (or lack there of ). When ever we got "pooped" from any thing other than a chinook there was ALLWAYS some "airdale" or "zoomie" pointing the way to go ( like we couldn't see the tail rotor ) . I did see a chinook almost go down once , they were trying to land on a flight deck of a LPD in rough seas , the flight deck was pithcing and rolling , the piolet tryed to match the rais and fall of the ship but didn't quite get it right . the helocopter and the ship hit so hard it knocked most of us off our feet . I as usual had gotten stuck on loaders platoon , helos were bringing equipment back from land ( jeeps and the such ) . We would wait for the jeep to hit the deck , bust the rigging loose then drive the jeep below decks . This was fun untill a jeep didn't start when it was suposed to , the driver didn't put the parking brake on , the jeep rolled accross the flight deck untill one wheel was hanging off the edge , Damn good thing I got that jeep going or else i would have been sleeping with the fishes !!!!!



---

xoxoxoBruce Saturday Oct 4 01:53 AM

Was it a Chinook or the smaller Ch-46 (painted grey, Navy, Marines) on the ship? I have a clip of a marine pilot trying to land on a ship. She missed her mark and one rear wheel missed the deck. Went reverse half gainer into the ocean.

---

zippyt Saturday Oct 4 02:06 AM

it may have been a ch-46, all i know was that it had 2 rotors on top . I have seen the clip of the helo doing the half gainer in the sea , that would have SUCKED !!!! This helo hit squarley in the middle of the landing zone HARD!!!!! We all said "DAMN that must have hurt !!!" as we got back to our feet .

---

xoxoxoBruce Sunday Oct 19 02:47 AM

This week I was talking to a Major with B company, 159th Air out of Georgia. He said in Afghanistan they would fly 14k to 16k feet and 140 knots at max gross weight (54k lbs). The Apache and Cobra pilots that were flying escort, bitched because they couldn't keep up.



Oh BTW, he also said they were told to get ready for Iraq, the first week of October '02.

---

zippyt Sunday Oct 19 07:07 PM

max gross weight (54k lbs).

They can carry 54k or total weight is 54k ????

---

xoxoxoBruce Sunday Oct 19 09:15 PM

Zip the MH-47E Chinook is 26,918 lbs empty and 54k max loaded.
The H-46 Sea Knight (Navy) is 15,537 lbs empty and 24,300 max loaded.

---

xoxoxoBruce Wednesday Dec 3 06:09 PM

Used to be if you went to the PanAm building in NY, they would pick you up from "their" roof. Now they'll pick you up from "your" roof.


Check out the log ladder to the roof.

---

zippyt Thursday Dec 4 12:09 AM

Hell those guys have all the conforts of home !!! A cabin in the mountins , a camp fire (??) , and they can catch a commuter flight from their roof


---

xoxoxoBruce Thursday Dec 4 09:09 PM

"Those guys" are "suspects" being snatched up for interrogation. They had to hear them coming.

---

xoxoxoBruce Monday Mar 15 09:24 PM

The latest and most advanced Special Operations Chinook completed its first flight Friday in Philadelphia. After a series of system checks, the aircraft, an MH-47G, performed basic aerial maneuvers for more than an hour. The aircraft is one of three reconstituted Chinooks being upgraded from the U.S. Army CH-47D configuration to meet immediate customer needs. Currently, the U.S. Army's Special Operations Chinook inventory consists of 34 MH-47Ds and MH-47Es, but is expected to double in size over the next decade due to growing operational requirements. Boeing will deliver its first G-model Chinook in May and 36 more by 2007.
That's official blurb on the first flight of the G-Mod. It really doesn't look much different than the the D-mod shown at the beginning of this thread, except it's still in primer and the refueling boom. Even though it's the same size and just a little heavier, the carrying capcity is now 54,000 lbs which is almost twice the weight of the empty ship. Of course that hurts the fuel mileage which is about 3 gallons per mile. Yes, gallons per mile.


---
Your reply here?

The Cellar Image of the Day is just a section of a larger web community: a bunch of interesting folks talking about everything. Add your two cents to IotD by joining the Cellar.