Tony Shepps Saturday Aug 4 11:53 AM

8/4: Flossing world record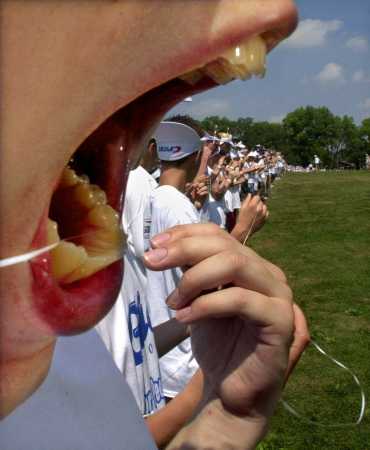 It's important to floss, and important to set world records. So this week a group of 307 people set the world record for Most People Flossing Simultaneously, with a single strand of floss 1,300 feet long.

Now, I have this Public Service Announcement. I do not floss, as I consider it to be roughly as irritating an activity as pouring sand into your eye. However, my dental hygenist routinely reports that the State of My Gums is in the top 5%. I have achieved this by brushing without toothpaste. Once a day at most.

Y'see, I run my life by assuming that everything we know is wrong. Toothpaste is a fine polish, with tiny bits of grit to help rough away the crap on your teeth. It's similar to Comet. It's an abrasive cleanser. So it helps to get the stuff off your teeth, but to the plaque that accumulates under the gum, toothpaste acts as a lubricant. So if you brush without it, with just water, firmly enough to be effective without doing damage, you can get that crap outta there without flossing. The brush strokes have to be such that the bristles can get under the gum, but it's not hard to do at all.

Hope this helps. End of PSA.

---

jaguar Saturday Aug 4 06:34 PM

tony.....in future please put a *disturbing pic* warning on things like this, celler is one of the site i go to while sipping my morning coffee about 2 minutes after getting up - i'm now not going to be able to eat breakfast

---

Slight Monday Aug 6 05:26 PM

I would think it would be unsanitary to use the same piece of floss that 306 other people also used. And if I were the photographer I would have chosen a pretty girl with white teeth for the main subject not this mouthful of plaque.

Tony, I thought about what you said about toothpaste, but you are forgetting 2 qualities about toothpaste that are benificial. First is the flouride which "supposedly" strengthens your teeth, believe who you want. But also remember that toothpaste is basic (ie. higher pH than water) and therefore prevents tooth decay. And I forgot to mention that minty fresh feeling you get when you kiss your super-model girlfriend.

Also, I too hate flossing, mostly because I did not do it enough when I was young. But I think it is benificial and gets places no toothbrush can reach (even your's Tony.) But if you don't believe me, floss (i know, i know) after you brush and tell me you did not find anything in there.

I tried brushing my teeth with no tootpaste last night, and it felt kind of wierd. I have done it before but forgoten what it was like. With my toothbrush though it does not matter if you use paste or not. I use a Sonicare autobrush that purportedly removes biological infestations by humming at the resonant frequency of the cilia that the buggers use to hold on to my teeth, causing them to let go.

Put that in you pipe and smoke it.

---

dynamo Monday Aug 6 05:59 PM

there's flouride in the water (at least here in the states) so there's no need to get it from toothpaste.

---

Tony Shepps Monday Aug 6 06:16 PM

Resonant frequency of the cilia! Well I never.

I had never heard that about the basic property of toothpaste. I drink a lotta milk so maybe that's part of the equation.

I do use the toothpaste, only about every other time, and not before first brushing with just water. I forgot about that detail... yeah, you gotta have the brush wet by something. Maybe the answer is to use those fluoride-containing mouthwashes.

---

elSicomoro Monday Aug 6 09:14 PM

Quote:

Originally posted by dynamo
there's flouride in the water (at least here in the states) so there's no need to get it from toothpaste.

Most major cities in the US use it, but not everyone. In fact, some towns seem to look at fluoride as some sort of conspiracy.

---

lisa Tuesday Aug 7 08:07 AM

Quote:

Originally posted by sycamore


Most major cities in the US use it, but not everyone. In fact, some towns seem to look at fluoride as some sort of conspiracy.

Believe it or not, a LOT of the cities in Silicon Valley do not have floridated water. On one of my daughter's first visits to the pediatrician, he gave me a prescription for floride and I asked him about the water. He told me that they never instituted its use in that area for some reason -- he had no idea why.

---

dynamo Tuesday Aug 7 09:51 AM

Yeah, I've heard the conspiracies, it's pretty ridiculous though. The British are the best example of the benefits of flouride, they had horrible decay going on, finally added flouride to their water after we did it here without any tragedy and now it's not a problem there.

---
Your reply here?

The Cellar Image of the Day is just a section of a larger web community: a bunch of interesting folks talking about everything. Add your two cents to IotD by joining the Cellar.