Tony Shepps Sunday Aug 5 12:18 PM

8/5: Papua New Guinea tribesman encourages family values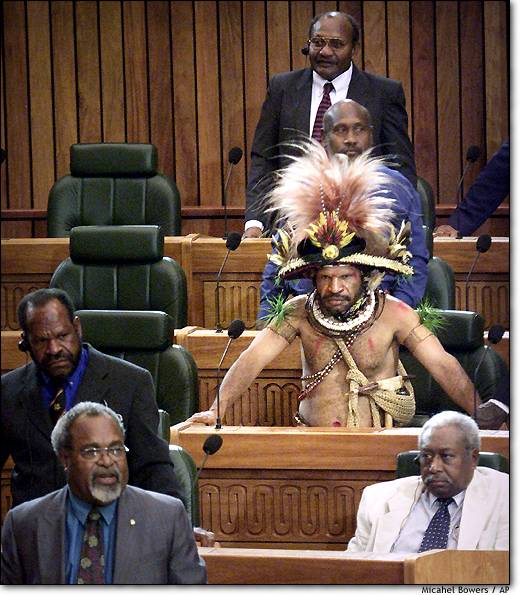 His name is Alfred Kaibe, and he's a member of Papua New Guinea's parliament. He got dudded up in the traditional garb here, which includes plumes, possum fur (!) and the wielding of a stone axe. He did so because the prime minister of P-N-G has admitted that many members of the government are corrupt. He wants his fellow parliamentarians to return to their roots and "traditional values".

And so it goes, everywhere...

---

Hubris Boy Sunday Aug 5 03:05 PM

February 4, 2002: After narrowly winning an irregular off-year election, newly-elected member SYCAMORE addresses the Philadelphia City Council. Citing the need to return to traditional family values, Councilman Sycamore attended the meeting dressed as a mummer.

---

elSicomoro Sunday Aug 5 09:44 PM

*laughs*

You know, I COULD replace Angelo "Buddha" Lutz, except for the fact that I weigh about 140 lbs. less than he does. Also, I'm not a convicted felon, do not gamble heavily, and do not associate with Joey Merlino.



(For non-Philadelphians, or those unfamiliar with Angelo Lutz, click <A HREF="http://www.kyw1060.com/news_archives_detail.cfm?newsitemid=15236" target="_blank">here</A>.)

I'd show up to my swearing in sporting a t-shirt, pair of Dockers, my Orioles cap on, and my sandals on. It might disturb Phillies fans, but I could always switch hats...no pun intended. I'd encourage more usage of the word "youse." I'd scrap the healthy-living ideals of John Street and encourage residents to eat one cheesesteak a day. South 2nd St. between South and Reed would officially be renamed "Two Street." Torresdale would be renamed Sycamoreland...or the better-sounding Sycamore Meadows. South St. would be closed to vehicle traffic between Front and 11th Streets. A competitor to Rita's Water Ice would be welcomed as good-spirited competition. And Dunkin Donuts would be encouraged to put shops on every corner in the city of Philadelphia.

Whoops...going too far into my pipe dream here.

---

tw Sunday Aug 5 10:02 PM

Re: 8/5: Papua New Guinea tribesman encourages family values

Quote:

Originally posted by Tony Shepps
His name is Alfred Kaibe, and he's a member of Papua New Guinea's parliament. ...

Did I read it right? He was a dressing parliament?

---

Tony Shepps Sunday Aug 5 10:26 PM

tw: Yes, that's right.

syc: what, no Krispy Kreme?

---

jaguar Monday Aug 6 02:43 AM

Sycamore meadows....sounds liek one of those instant suburb developments going up every week here.....you've spent a few hours thinking about this haven't you? King Sycamore has a certain ring too =P

By the look on this guys head if you mentioned campaign donations he'd cleft your head in two. Should stick this guy in the republican policy room - pity the cleaner though.

---

serge Monday Aug 6 06:31 AM

OT

Those two words.. "family values".. they've been so twisted and abused when referring to U.S. that their mention always seems to trigger a response of disgust in me.

In U.S., people who tout it, have an agenda—"power over the intellectually weak, emotionally immature, and ethically deficient Americans who are incapable of critical thinking and independent decision-making, and who are easily manipulated by the basest of human emotions—fear and the desire for revenge".

I think much more (and improved) education is needed.. especially more history courses on U.S. in 1950's. (how soon we forget)

---

elSicomoro Monday Aug 6 09:10 PM

Quote:

Originally posted by Tony Shepps
what, no Krispy Kreme?

Shit! You got me on that one. Okay okay...hmmm...compromise. Okay, Acme is the exclusive seller of Krispy Kremes in Philadelphia if I understand correctly. So, we could settle this two ways:

--Scenario one: A battle royale between the CEOs of Dunkin Donuts and Krispy Kreme. (I love Dunkin Donuts, but I cannot resist the glazed Krispy Kreme.) Whoever wins gets to takeover or hold onto Philadelphia.

--Scenario two: Since Acme is already opening Starbucks in some of their stores, make ALL Acmes in the greater Philadephia areas have Starbucks in them that sell Krispy Kremes...at a reasonable price to boot.

Jag: I actually do believe that suburbs CAN have character. They generally tend to be the older burbs, but some of them can have character. As examples:

--Webster Groves, MO (suburb of St. Louis)
--Cicero, IL (suburb of Chicago)
--Essex, MD (suburb of Baltimore...I wonder if Hubris Boy will attest to this one...certainly he wouldn't deny that Essex has character)
--College Park, MD (suburb of Washington, DC)

I didn't say they were the BEST suburbs, but they DO have character. About the closest I can say that about here in Philadelphia are the Delaware County suburbs in PA or the Burlington County suburbs in NJ.

Unfortunately, newer suburbs have been plopped in the middle of nowhere, and tend to forego the "towny" feeling. In addition, there were the little podunk outposts that are now being overrun by people trying to escape the city (e.g. Tysons Corner, VA). But if planned properly, a suburb can be a good thing. Given that Torresdale is actually part of the city of Philadelphia, it still retains some city character, although it is almost 20 miles from Center City. And if anything, I would be the character.



*turns off delusions of grandeur*

Papua New Guinea is actually a fascinating country. Apparently, there are over 600 languages spoken there, and it can take months to figure out elections.

---

Hubris Boy Monday Aug 6 11:49 PM

Quote:

Originally posted by sycamore
--Essex, MD (suburb of Baltimore...I wonder if Hubris Boy will attest to this one...certainly he wouldn't deny that Essex has character)

MmmmmHmmmm! It's got plenty of that!

Hot summer night... cruising down Back River Neck Road... primer gray '69 Chevelle... gapped headers... chrome differential cover... little blue lights on the traction bars...

... stop in at the A-1 Crab Haven for a dozen jumbos and a couple pitchers of National Bohemian...

...after dinner, head off to the Bengies Drive-in for the Late Night Double Feature Picture Show (by RKO)...

Yeah, buddy. If there's anything better than that, I don't know what it is.

---

elSicomoro Tuesday Aug 7 08:26 PM

Spot on!

Man, Hubris Boy, that was almost perfect except for:

--Every fifth word is "hon."
--I have never heard someone from those parts actually refer to Natty Bo by its real name

---

jaguar Wednesday Aug 8 01:28 AM

Sycamore, don't get me wrong! Of course suburbs can have charachet, the inner/beach east suburbs of melbourne have tons of character, lovely old buildings, long tree lined streets, i love them. I was just bitter about these siney new developments of awful identical houses designed by anautistic engineer. (so i'm a fan of modern architecture - ill take my frank loyd wright any day)

---

elSicomoro Wednesday Aug 8 08:16 PM

I've seen Wright's home in Oak Park, IL, and he also had a hand in a synagogue here in the Philadelphia area. His work is simply awesome. He was featured in my art history class in college.

Actually Jag, let me ask you: Have you ever been to Canberra? I know it was designed by an American, and I've heard it's a beautiful city.

---

jaguar Thursday Aug 9 12:25 AM

Nope, i've been to europe, asia and america (briefly) but i've only gone to one other place in aust, sydeny.

Canberra has a rep for 3 things, fireworks, porn and the fact apart from those two thigns: its dead boring.

---
Your reply here?

The Cellar Image of the Day is just a section of a larger web community: a bunch of interesting folks talking about everything. Add your two cents to IotD by joining the Cellar.