Tony Shepps Thursday Aug 9 09:34 AM

8/9: Piece of whale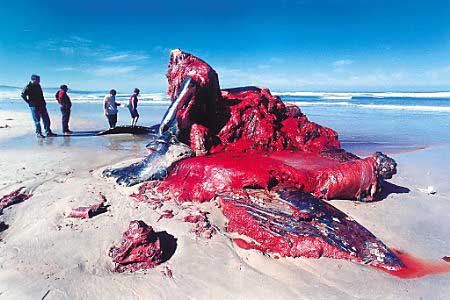 Many years back an Oregon town tried to get rid of a huge dead stinking bloated beached whale by blowing it up. Which only resulted in huge chunks of whale being dispersed widely around, not exactly the result they wanted. This was not an urban legend; the newsreel-like video is widely downloaded on the net. (It can be downloaded here: http://www.perp.com/whale/)

It's not the same thing, but what you see there are the remains of a 10-meter-long whale after they used an explosive charge to kill it, after it beached itself in South Africa. The local folks found that they could not save it and decided to give it a humane death. They are hopeful that the tides will carry the carcass out to sea.

---

kaleidoscopic ziggurat Thursday Aug 9 10:54 AM

gross!

gross!

if i were working on a set design for an eccentric movie that has a scene that takes place in hell i'd just distribute shining chunks of whale across the beach as depicted...

---

TheDollyLlama Thursday Aug 9 04:18 PM

Beached Whale in RI

When I lived in Newport, RI, a whale beached itself. It was much more..ahh..intact than this baby here, but even still, it reeked to high heaven. I can only imagine the stench and the insects. Ugh.

---

Hubris Boy Thursday Aug 9 06:45 PM

I wonder who got to set the charges? (Blecccch!) And who had to sift through the 'rubble' to make sure that all the caps fired? (Double bleccch!)

More importantly... who got to push the button? I would have PAID for that privilege! Can't you just hear the guys from the blasting contractor arguing over it??

"It's MY turn!!"
"NO! It's MY turn!!"

I wonder if they had enough humor to put a charge in the whale's spout? Everybody say it together: "FIRE IN THE HOLE!"

---

jaguar Monday Aug 13 12:44 AM

Wonder if it would be considered human if i shoved a wad of C4 down your throat and blew you to shreds...

They did hte same thing here iwht a floating corpse - had buggar all effect except to make it list a bit - they're gonan try again with 3 times the charge so i'm waiting for a bit to land on my roof.

---

Hubris Boy Monday Aug 13 12:37 PM

Quote:

Originally posted by jaguar
Wonder if it would be considered human if i shoved a wad of C4 down your throat and blew you to shreds...

Well... once I'm dead and gone, I don't particularly care how they dispose of the remains.

Do you know what to do with C4? Did your heavy weapons training in Cambodia also include basic demolition techniques? Wouldn't surprise me a bit.

---

kaleidoscopic ziggurat Monday Aug 13 02:09 PM

i offended hundreds of people by posting that picture in the wrong places =)

---

jaguar Monday Aug 13 08:44 PM

tut, tut hubis, lay of the patronising tone you ahve developed oh so well, soon as i ahve some time to kill (i'm in class atm) ill scan a few pics from when i was over there. You might be intersted to note the travel spot in the latest or one before time mag had somthing about normal tourists beign able to shot assult rifles for about $2 a round...... Apart from screwing with the usual low grade explosives round here(ANFO etc) and some fun with potassium nitrate i've never used an explosive in my life.

whoops, this one was dead - i thought it was alive when they did that to it...


---
Your reply here?

The Cellar Image of the Day is just a section of a larger web community: a bunch of interesting folks talking about everything. Add your two cents to IotD by joining the Cellar.