Undertoad Tuesday Oct 21 01:12 PM

10/21/2003: Hair wars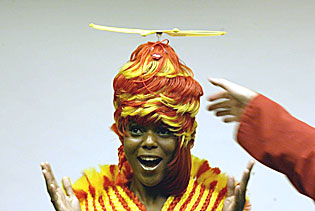 Thanks to Beletseri who found this in the Detroit Free Press. It's Hair Wars!

In this shot, "Robin Hamilton of Pittsburgh models the Baby Hairy Copter by Steven Noss, also of Pittsburgh. The swirling mass of piled-on hair is sent aloft when Noss flips a switch and the rotary blade begins to spin."

Oh dear.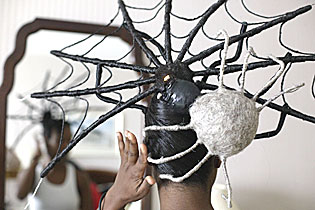 A few other photos are here but those two are the best of em.

---

daniwong Tuesday Oct 21 01:44 PM

Ok - the spider one looks really cool. Great for Halloween!

---

wolf Tuesday Oct 21 02:31 PM

Is that first lady auditioning for a new McDonalds commercial? Why would anyone allow someone to do that to their head?

Oh well, I didn't get the whole 80s royal blue hair thing anyway ...

---

e unibus plurum Tuesday Oct 21 04:44 PM

the term prophead finally becomes façionable

---

xoxoxoBruce Tuesday Oct 21 05:53 PM

Big Bad D's ring looks like a weapon to me.

---

tjennings Wednesday Oct 22 10:40 AM

Reminds me of an Alan Rickman movie of a couple of years ago:

"Blow Dry"

http://us.imdb.com/title/tt0212380/

---

quzah Wednesday Oct 22 11:31 AM

I want to be around when the updraft from the fan catches a strand of hair and gets it all twined around the blades, ripping it out or perhaps causing the motor to overhead, torching the whole works off.



Unfortunately it's all just fake hair and the worse case scenario is the whole thing just falls off. Not to mention the fact that it's all plastered down so much it wouldn't move if you took a chisel to it.

Quzah.

---

Scopulus Argentarius Wednesday Oct 22 10:30 PM

Work for long, it won't. Very very temporary fashion. Hair today, gone tomorrow...... cool tho..

---

OnyxCougar Thursday Oct 23 02:51 PM

I really really like the spider one. Call me naive, but that could be real hair, right?

---

Devia Thursday Jan 4 11:09 PM

Great Job !!!!!!!!!!!!!1

Hey ! Steven Noss,

This is your gurl Ashley Culliver, I just wanted to say that i am so proud of you !

Keep up thy great work, and stay focus and always be yourself because your great just the way you are, okay!

Next do tell me when you will be on "tv, or some kind of show" I just cant believe it you are going so many places in your life Good Luck and God Bless you!

Email me okay at culliverashley@yahoo.com Love you :p

Very Truly Yours,

Devia

---

Clodfobble Thursday Jan 4 11:19 PM

The nutters are out in force tonight I see.

---

wolf Friday Jan 5 02:13 AM

You know, just this once, I think the mailto: should be left intact.

Some people deserve spam.

---

adayofliberation Monday May 14 03:55 PM

i bet that totally fucks up your real hair afterwards...the shitty thing is its is so temporary. and kinda goofy

---
Your reply here?

The Cellar Image of the Day is just a section of a larger web community: a bunch of interesting folks talking about everything. Add your two cents to IotD by joining the Cellar.