Undertoad Thursday Oct 23 01:06 PM

10/23/2003: Svartifoss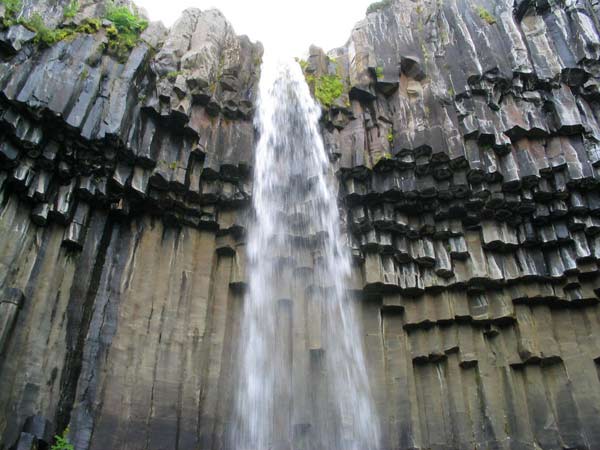 Svartifoss?

The official Earth Sci Pic of the Day caption: Iceland's geology is dominated by volcanic activity. Many lava flows have cooled into columnar basalt outcrops, some of which can be accessed easily from roads and pathways. These basalts often form ledges over which glacier-fed streams flow, creating plunge pools and undercuts. Both these conditions are displayed at the Svartifoss, "foss" meaning "waterfall," near the Visitor Centre of Skaftafell National Park in southern Iceland. The undercutting as shown in this unusual view reveals some of the "suspended" basalt columns.

Damn cool! Iceland is one place I really really want to visit in my lifetime.

(ed. note: tried to get photo permission but emails bounced.)

---

Elspode Thursday Oct 23 02:19 PM

Was Svartifoss designed by Slartibartfast, or did he just do the fjords?

The columnar basalt structure seen in this pic is also nicely rendered in Devil's Tower in Wyoming, albeit on a much larger scale, and without the nifty undercutting seen in the falls.

---

e unibus plurum Thursday Oct 23 03:08 PM

... and the Devil's Postpile in Calif and the Giant's Causeway in Eire (that's Ireland for you gentiles

)

---

warch Thursday Oct 23 03:32 PM

Reminds me of a killer pipe organ. I can hear it roar.

---

sniglet Thursday Oct 23 03:58 PM

Quote:

Both these conditions are displayed at the Svartifoss, "foss" meaning "waterfall,"

...and 'Svart', which is Icelandic for "Lego"

---

bjlhct Thursday Oct 23 06:37 PM

Shoulda shot LoTR there.

---

xoxoxoBruce Thursday Oct 23 07:04 PM

They have primo waterfalls.

---

zippyt Thursday Oct 23 11:57 PM

Yes they do have killer water falls there , they also have natural hot pools all over the place . Imagen driveing along a road , you see steam raising in the distance , you stop by the road , and walk down the path . Then you see 10-20 naked folks sitting in a geo-thermal pool , you wave and they wave you in . You shed your clothes and hop in . Dude or chick next to you passes you the bottle of vodka they have been passing around . It is VERRRRY cool sitting in a hot pool in a snow storm discussing everything and nothing , sipping vodka , and just generly chillin

---

bjlhct Monday Oct 27 12:06 AM

I like snow too. I should move there before the US falls apart.

---

dar512 Monday Oct 27 10:16 AM

Quote:

Originally posted by bjlhct
I like snow too. I should move there before the US falls apart.

Too late.

---

bjlhct Monday Oct 27 07:19 PM

....leave while I still can?

---

AlwaysAmazed Tuesday Oct 28 04:14 PM

escaping

nah... don't leave; that would increase the percentage of people in the US who have never criticized or felt ashamed of their country. and that would make it suck more for those of us who haven't jumped ship.

or at least, that's one of the things i tell myself to keep from hopping the next plane out.

and no. this had nothing at all to dow ith waterfalls and basalt. but maybe that's where the vodka comes in.

---

xoxoxoBruce Tuesday Oct 28 05:19 PM

Well it seems people leaving is not a problem. For each one that wants to leave there are 100 waiting to get in.

---
Your reply here?

The Cellar Image of the Day is just a section of a larger web community: a bunch of interesting folks talking about everything. Add your two cents to IotD by joining the Cellar.