Tony Shepps Friday Aug 17 11:19 AM

8/17: Diving pig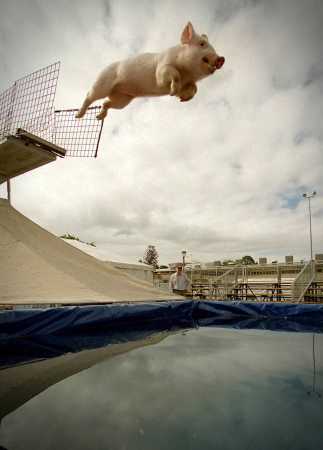 Speaking of animals doing weird things, you might have seen this one on the news but never mind. Some Brisbane festival is the source here. From the video that I saw of it, this guy genuinely likes his job. He runs right up to his platform and does a flying leap.

I don't have a shot (haven't looked for one yet, really) of the moose that took a leisurely swim in a pool in Washington state. If I had a pool I would let the mooses swim. Give them some relief dammit!

---

dave Friday Aug 17 11:35 AM

that's an awesome image for a friday. i really like that picture

it looks like the pig is having a good time, and it reminds me that, although i love my job, i love spending time doing the fun things on the weekends. and since i'm leaving in 30 minutes... i dunno. it just puts a big grin on my face

---

Tony Shepps Saturday Aug 18 12:07 AM

Hey, MSNBC had a better version of it! Aw, you're so right d - I hadn't thought of it like that... check out the smile on this guy...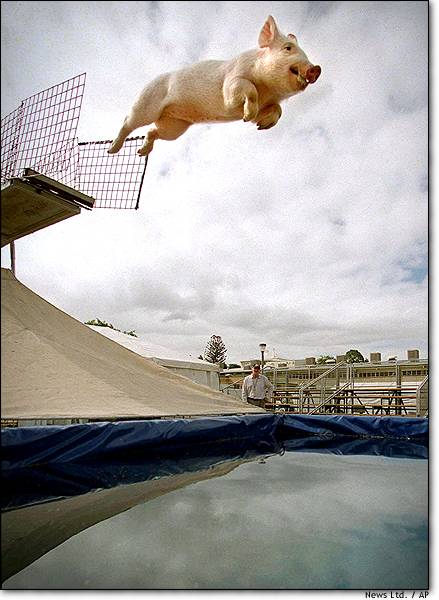 ---

russotto Saturday Aug 18 06:47 PM

Re: 8/17: Diving pig

Quote:

Originally posted by Tony Shepps
From the video that I saw of it, this guy genuinely likes his job. He runs right up to his platform and does a flying leap.

Beats being pork.

---

rathkon Tuesday Aug 21 05:37 PM

You got to wonder if the pig actually likes doing that, or is just trained to do that. I'm thinking it might be alittle messy if it's just trained enough to go run off diving boards without looking first.

---

umbrella dryspell Wednesday Aug 22 08:34 AM

About 10 years ago I worked security at a county fair in western PA where the big stink was "donkey diving." Basically, they put a donkey about 30 feet in the air, then tilted the platform the guy was on until he went tumbling into the water.

Having the regal honor of being security for this fiasco, I got to not only see this wonder of nature, but be prepared to fend off protestors who might find the whole thing inhumane.

Basically, the end result was nothing but boredom. It only took a day or two for people to realize that watching a donkey fall isn't terribly exciting. Unlike the Pig in your pic, donkey's don't assume the "superman" pose, or get happy looks on their faces as they frolic in the air. They just sorta fall like a bag of sugar off the kitchen counter. Then somebody drags them out of the water, and the guy gets a two hour stay of execution until the next show.

I hope the Pig is happy. God knows it looks better than my job most days...

---

dave Friday Jan 18 03:08 PM

For new people...

This was the first in a fine tradition of Friday Smiling Pig Images

---
Your reply here?

The Cellar Image of the Day is just a section of a larger web community: a bunch of interesting folks talking about everything. Add your two cents to IotD by joining the Cellar.