Undertoad Wednesday Nov 12 12:55 PM

11/12/2003: Death of an iceberg from space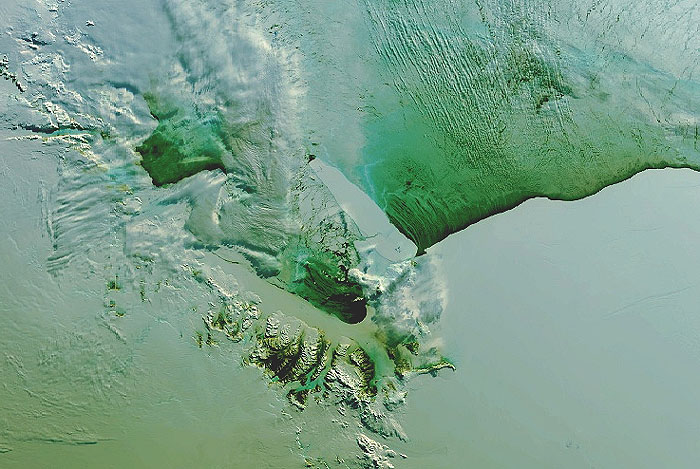 Beletseri finds another gem. We can put this in the "earth as art" category, or the "cool satellite images" category...

We're looking at Antarctica, and smack in the middle of this satellite image is an iceberg. The lower part of the image is the Ross ice shelf, and the top part of the image is sea. Jutting off from the ice shelf, pointing up and to the left, is the iceberg.

It may not seem impressive, but consider the scale here; that iceberg is 100 miles (160 km) long. If you stood in the middle of it you would see nothing but ice in every direction.

And so they named it: B-15A. (Bea for short?)

For two and a half years, this thing didn't move much because it was stuck on the ocean floor. This in turn screwed up the local weather, by messing up the expected ocean currents. Nobody but penguins and researchers cared, but apparently they all had a rough time of it for a while.

But if you look closely at the iceberg, about a quarter of the way up, you notice that it's cracked the whole way through. This only happened recently, October 7 in fact, when a storm passed trough that had 75 mph (120 kmh) winds. (This image was taken about two weeks later.)

If you go to the full story you will find a black and white image that's more recent; the thing really has cracked right up, and the larger piece has moved away a few miles. The larger piece is still named B-15A - they probably have some sort of secret iceberg-naming rule that says the larger parts keep the old name if it breaks up.

---

xoxoxoBruce Wednesday Nov 12 05:25 PM

From the link

Quote:

By determining rates of ice-thickness change CryoSat will contribute to our understanding of the relationship between the Earth's ice cover and global climate.

Even though we're going to get new data we've never had before, I can see the "Chicken littles" going off with every change in the ice. Cellar fodder for years to come.

---

xoxoxoBruce Wednesday Nov 12 07:00 PM

Found a couple false color radar images of Bigberg.

---

Undertoad Wednesday Nov 12 07:27 PM

Well those images make it clear: B-15A has been "Bobbitted".

---

xoxoxoBruce Wednesday Nov 12 09:36 PM

Yeah, but I wonder how they came up with B-15A and B-15L? Is L for lost? Maybe lopped.

---

Torrere Thursday Nov 13 02:38 AM

What happened to the other chunk of iceberg? Wasn't there a B-15B (or something) in addition to B-15A?

---

Elspode Thursday Nov 13 12:08 PM

We've got to kill those Icebergs from Space before they kill us...

---

xoxoxoBruce Thursday Nov 13 09:14 PM

Quote:

Originally posted by Torrere
What happened to the other chunk of iceberg? Wasn't there a B-15B (or something) in addition to B-15A?

Yeah, that's B-15L. Don't know what happened to B thru K.

---

xoxoxoBruce Sunday Apr 25 06:09 PM

Speaking of broken icebergs. Between April 12 and April 15, the A38-B iceberg split in half. The split was recorded in this series of Moderate Resolution Imaging Spectroradiometer (MODIS) images. The iceberg was originally part of the massive A-38 iceberg, which broke from the Ronne Ice Shelf in Antarctica around October 13, 1998. At the time, the A-38 iceberg was more than 90 miles (144 km) long and 30 miles (48 km) wide, the largest iceberg that had been observed in a decade. By October 22, 1998, A-38B had started to break off the original iceberg. The pieces drifted about 1,500 nautical miles north to their present location around South Georgia Island in the South Atlantic.

On April 12, 2004, top left, the A-38B iceberg was about 25 nautical miles long. The next time MODIS flew over the iceberg on April 15, top right, A-38B had broken in half. By April 17, lower left, and April 18, lower right, the eastern half of the iceberg had moved quickly north and turned west. The left half of the iceberg seemed to stay in place.

Another section of the A-38 iceberg, A-39D, was covered in melt water ponds as it drifted past South Georgia Island in late January 2004—the height of the summer in the Southern Hemisphere.

---

paranoid Monday Apr 26 10:54 AM

Quote:

Originally posted by xoxoxoBruce
Found a couple false color radar images of Bigberg.

I like the "fractality" of these images. Just by looking at them you have no way of knowing whether that "thing" is 10 centimeters, 10 meters or 100 kilometers long.

---

tw Tuesday Apr 27 12:24 AM

Predictions based upon the sudden and sharp temperature increase called Global warming (sharpest temperature increase in terra history): the Arctic Ocean may be ice free as soon as 2050 - earliest possible date. Would that cause a massive rise in oceans? No. The melted water would only replace the missing ice. However by 2100, cruise ships would be routinely calling on Canadian and Russian resort ports - and the sun never sets during the entire two week cruise.

---

lookout123 Monday Apr 4 03:31 PM

Here is an update on this creature

---
Your reply here?

The Cellar Image of the Day is just a section of a larger web community: a bunch of interesting folks talking about everything. Add your two cents to IotD by joining the Cellar.