Undertoad Friday Dec 26 01:08 PM

12/26/2003: Kashmir delivery system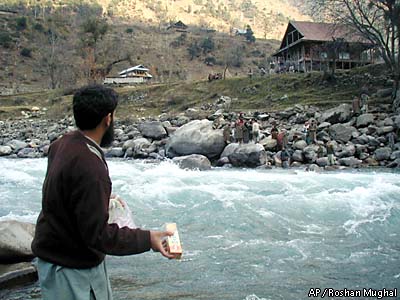 The official cap: Whether relatives of Kashmiri refugee Asad get their cookies depends on the strength and accuracy of his arm. Asad, who lives in Karin village in Pakistani Kashmir, often throws letters (wrapped around stones) and foodstuffs across the raging Neelum River to his kin on the Indian side of Kashmir.

I thought it was cool how this guy has to huck rocks across the river to get stuff to his family, even though they do seem to have a pretty nice house there.

I guess the people downstream get the leftovers.


---

Beletseri Friday Dec 26 01:28 PM

So why not throw a rock with a string around it over and use that to construct a rope pulley system to transport stuff? Guess the guy likes to throw stuff.

---

zippyt Friday Dec 26 01:43 PM

I had the EXACT same thought .
But then I had this 3 stooges flash ,
"Ok , here it comes Curley",, Moe Flings the rock.
BONK !!!!! OH OH OH!! WUP WUP WUP !!! NY NY NY !!!!!

Or better yet ,
"Ok , here it comes Moe !!" Curley flings the package of nitroglycerin ,,,,,,,,,

BOOOM

Smokeing Mo says " Why I ahta .........!!!!!"

Just my thoughts

---

wolf Friday Dec 26 02:12 PM

Interesting. But could he hit home from deep center without a cutoff man?

---

smillie Friday Dec 26 03:50 PM

I would have thought a mechanical assist would be in order such as a sling.

---

Nothing But Net Friday Dec 26 05:49 PM

Why don't they just shoot the message across inside a dummy RPG round?

It does seem practically everyone in that part of the world has access to that kind of firepower.

---

Griff Friday Dec 26 06:06 PM

The Man doesn't want any contact with the enemy, therefor, no bridge.

---

ndetroit Friday Dec 26 11:30 PM

This seems suspicious to me...

Surely to god if you can throw it across the river, it wouldn't be too hard to set up a damn clothes line pulley system to send stuff across....

It seems like one of those "aren't people in other countries quaint because they're so backward" sort of stories. ... but in fact, they have a sweet looking house, probably a car or 2, and more than likely access to electricity provided by a damn nuclear generator, so they aren't THAT far behind..

---

xoxoxoBruce Saturday Dec 27 02:42 AM

The India/Pakistan border is heavily patroled. Even throwing a rock/letter across can get you shot.

---

MAdMoNKEY Monday Dec 29 10:17 AM

I wonder what happens when the kids want to come over for a visit...

---

Kitsune Monday Dec 29 10:22 AM

Quote:

Originally posted by zippyt
"Ok , here it comes Curley",, Moe Flings the rock.
BONK !!!!! OH OH OH!! WUP WUP WUP !!! NY NY NY !!!!!


Dammit -- just reading that, and then imagining the scene, had me laughing.

More proof that the Stooges will forever be gods.

---

wolf Monday Dec 29 10:38 AM

I love the Stooges.

Yes, I am really female. Original equipment.

I enjoy watching the football contests, too.

---

tjennings Tuesday Dec 30 10:30 AM

Quote:

Originally posted by MAdMoNKEY
I wonder what happens when the kids want to come over for a visit...

They have a trebuchet behind the house for that.

---
Your reply here?

The Cellar Image of the Day is just a section of a larger web community: a bunch of interesting folks talking about everything. Add your two cents to IotD by joining the Cellar.