Undertoad Thursday Jan 1 02:26 PM

1/1/2004: S. Korean farmer protests with pig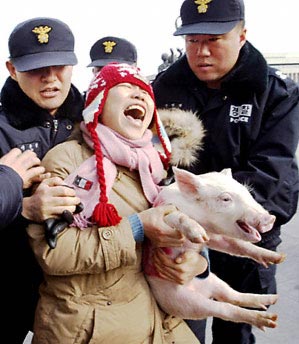 Thousands of local farmers rallied on Tuesday outside Seoul's National Assembly Hall to protest the ratification of a free trade agreement with Chile in Seoul.

And apparently they brought their livestock.

---

xoxoxoBruce Thursday Jan 1 02:29 PM

Why are he and the pig so happy looking? The other pigs are not.

---

emmtayoe Thursday Jan 1 03:50 PM

I bet they are just unhappy to be arresting a member of the family...I don't blame them, I would be too.

---

Beletseri Thursday Jan 1 04:14 PM

I think that farmer is a woman, and the pig might be a girl too.

---

Sun_Sparkz Thursday Jan 1 05:21 PM

I don't think that pig looks happy, i think it looks scared and uncomfortable. it looks like like its squealing, poor thing wouldn't know what is going on. I would be in more support of a protest against the farmers in their treatment and disrespect of their animals.

---

emmtayoe Thursday Jan 1 06:55 PM

It looks like the pig is lauging at something with an incredibly dumb expression on its face...almost high and in a state of disconnected bliss. For example, Beavis and Butthead, from what I've seen, have this expression on their face rather often. That is just what I see in this pig, but I'm not one to know the behavior of animals.



Oh and the pigs in uniform, however, look as though they long to get in a high, blissful state.

---

Leus Friday Jan 2 03:36 PM

Haw, didn't know my little country was so important to other people...

And as today we have a free trade agreement with USA too. Which means... cheap computers! cheaper cars! Wheeee!

---

Undertoad Friday Jan 2 04:14 PM

And even cheaper good wine for us?



-->

---

xoxoxoBruce Friday Jan 2 04:33 PM

Quote:

Originally posted by Beletseri
I think that farmer is a woman, and the pig might be a girl too.

You're right. She's a she.

---

Leus Friday Jan 2 11:19 PM

Quote:

Originally posted by Undertoad
And even cheaper good wine for us?



-->

That's right -- good cheap wine. Not french, mind you, but more bang for the buck (got that right?)

---

xoxoxoBruce Saturday Jan 3 01:59 AM

Are grapes a big crop there, Leus?

---

Katkeeper Sunday Jan 4 06:41 AM

Yes, I want to know about the wine as well. Grapes, quality, production, price. What are the bst areas for grape growing/wine production?

---

Leus Monday Jan 5 07:42 AM

We have a fairly decent production; our wine production has become a major player in our world presence the last decade, and now you can find chilean wine in most hotels in the world. Grapes are okay; some years ago, we even were boicotted (sp?) by US producers who were threatened with our quality and, specially, price --do a search for "cyanide chilean grapes" and you'll find a very amusing albeit serious story.
Edit: That "producers who were threatened" phrase is somewhat unfortunate. Some people thinks it was just the most expensive phone prank ever. The boicott theory is plausible, but most likely bogus.

---

Leus Monday Jan 5 07:46 AM

Oh, areas of production: Colchagua Valley, Maipo Valley, Maule, Casablanca. Those came to mind right now.

Good cheap wines: "Reserva de Familia Errazuriz", which cost about 10 bucks, "Medalla Real Santa Emiliana", about US$5, the most classic of our wines, "Casillero del Diablo", about US$5 as well.

Good "expensive" wines: lots, prices between US$30 and US$60. Any wine in this category is good enough.

If anybody is willing to pay the postage, I can give one of the cheap ones for free

---

Katkeeper Monday Jan 5 08:37 AM

We might not only have to pay the postage but also the fine for bringing an alcoholic beverage into the U.S. And Pennsylvania will not allow wine to be shipped into it from another state.

Absurd laws.

---

Leus Monday Jan 5 09:37 AM

A fine? I thought taxes would cut it. It's illegal to get some quality beverage delivered to your door? How's your hotel industry going on?





Well, I'm sorry for you. Just yesterday I "sampled" (liberal use of the word here, as a full bottle is no sample) some Casillero del Diablo. Good stuff.

---

Katkeeper Monday Jan 5 04:36 PM

The individual states all have different laws - left over from Prohibition attitudes. The states felt that if people could buy liquor, that they should legislate how. Pennsylvania has a State Store system where you have to buy alcoholic beverages in the stores run by the state. There are no private liquor stores. The hotels deal with the state by becoming licenseed to purchase and sell said beverages.

They do have some State Stores here that are Wine Specialty stores - that is they have a Wine Consultant on the staff who will actually help you with your wine selection, and they have a larger number of wines in their inventory. I will have to look for their Chilean collection next time I am in the store. I am there often. I love good wine.

---
Your reply here?

The Cellar Image of the Day is just a section of a larger web community: a bunch of interesting folks talking about everything. Add your two cents to IotD by joining the Cellar.