Undertoad Thursday Sep 6 11:38 AM

9/6: Human clock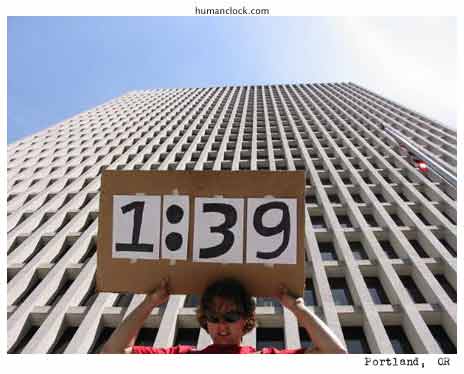 New motto for the web: "Maybe it's dumb, but somebody thought of it before you." In this case, this guy in Portland, OR thought of having people hold up signs that say what time it is, and when you visit his site - Human Clock - you can see the image for the current time, adjusted for your time zone, on a page that updates every 60 seconds.

Maybe it's dumb. On the other hand, I personally have always wanted a faddish site like this - just for fun. This guy is trying to make a bit of money by auctioning off times - 11:11, 4:20, etc.

---

dave Thursday Sep 6 12:57 PM

alright. i'll go first.

this is the dumbest thing i've ever seen. not the dumbest web site - the dumbest thing. ever. can we have another fad?

added @ 12:56pm 9/06/2001 - i'm sorry. i forgot. "the quick and the dead" with sharon stone was the dumbest thing ever. this is a close second.

---

Hubris Boy Thursday Sep 6 09:42 PM

Maybe I'm too easily amused, but I think this is the funniest thing I've seen in ages! Imagine how much effort went into this project... coming up with photos for both a digital and an analog version. What a breathtaking waste of time... Even the HTML source for the clock's image pages is amusing! (I admit it... I'm a dork. I right-clicked to view the source.)

I think the funniest part of the site, though, is here !

---

Katkeeper Friday Sep 7 01:42 PM

I think the site is funny also, including the engineering page. Of course I am genetically connected to Undertoad (who I consider to be Wondertoad in disguise.) As an artist, I think the design is totally right for the page and it only cost a dollar or two for the crayons.

---

dynamo Friday Sep 7 04:27 PM

I didn't give the human clock enough of a chance the first time, after wandering around the website, I'm also impressed. The crayon drawings are my favorite.

---

elSicomoro Friday Sep 7 08:48 PM

It's funny...and unique. Much like Bonsai Kitten.

---

jaguar Friday Sep 7 08:52 PM

wasen't this on slashdot a few months back? I remmber the webserver joke - read the source lol.

---

lisa Saturday Sep 8 12:17 AM

Quote:

Originally posted by jaguar
wasen't this on slashdot a few months back? I remmber the webserver joke - read the source lol.

Indeed it was, but at that point in time they didn't have most of the analog photos.

---

lookout123 Wednesday Feb 9 07:01 PM

has anyone looked at this recently? there are some fairly creative recent additions to the clocks.

---

warch Wednesday Feb 9 07:39 PM

I wanna do time!

---

richlevy Wednesday Feb 9 08:01 PM

I saw an 8:00 from South Street, Philadelphia.

---

404Error Wednesday Feb 9 09:06 PM

Quote:

Originally Posted by Hubris Boy

...I think the funniest part of the site, though, is

here

!

I gotta go with HB on this one!

---
Your reply here?

The Cellar Image of the Day is just a section of a larger web community: a bunch of interesting folks talking about everything. Add your two cents to IotD by joining the Cellar.