Undertoad Tuesday Jan 13 04:01 PM

1/13/2004: Huang's Taiwanese Penis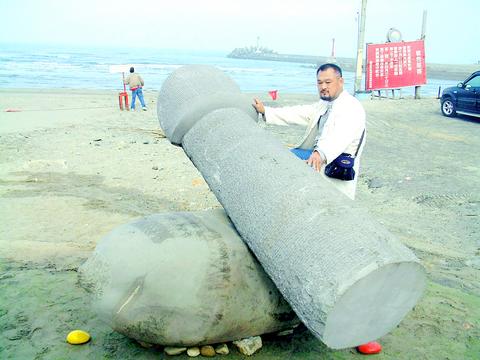 Thanks to one earth for pointing this one out.

This man is Huang Shun-nan, and he's clearly proud of his 10 ton 10-footer. But it's really a political statement:

http://www.taipeitimes.com/News/fron.../30/2003107212

"I am not a politician and I don't know politics, but China's missile threat is a humiliation for Taiwan, so I want to use the most vulgar and most native expression to show Taiwanese people's anger."

Actually, I find it a bit sad that any phallic item is going to be used as a show of some sort of weird dominance or aggression or such. At one point a minority of feminists advanced the idea that penetration is de facto violent. But this is the metrosexual 00s, people, get with the program; penii are sexual items, not threatening or humiliating. Gone are the cold war days, when missile-like objects were impressively displayed but never, ever fired off. These are the new world order days; everyone is subject to rigorous multilateral inspections programs in search of biological problems or chemical imbalances.

---

lumberjim Tuesday Jan 13 04:07 PM

you wouldn't believe how long I had to stand still while the cast they used to make that thing dried.

---

hairdog Tuesday Jan 13 04:41 PM

The Rabbi who performed the circumcision had to use a concrete saw, but still, it was a delicate operation.

Now, I'm trying to figure out what you call a concrete woody....

---

juju Tuesday Jan 13 05:02 PM

Because it is made of stone, it will last for thousands of years, just like the pyramids of Egypt.

---

e unibus plurum Tuesday Jan 13 05:27 PM

... and displayed at the appropriately rakish angle.


because the angle of the dangle is proportional to the megatonage?

---

warch Tuesday Jan 13 05:38 PM

Quote:

I'm trying to figure out what you call a concrete woody...

Rocky Johnson?

---

Beletseri Tuesday Jan 13 08:19 PM

Looks like Lorana Bobbit has already been there.

---

xoxoxoBruce Tuesday Jan 13 09:54 PM

Man, is he haung!

---

headsplice Wednesday Jan 14 11:21 AM

"Solid" (da-da--da-da-da)
"Solid as a rock!"


*crickets*

---

sixfeet Wednesday Jan 14 09:14 PM

So does it still apply with how many times you shake it or would that not matter now...lol

---

tjennings Thursday Jan 15 12:46 PM

He should mount it on the bow of a boat and go Captain Nemo on their asses.

Or he could go the Clockwork Orange route and beat people to death with it while singing "Singin' in the Rain" (or was he playing a bit of the Ludwig Van).

---

Undertoad Thursday Jan 15 01:05 PM

And what's more, where's the sack? This guy is missing a very important part of the whole package. No balls, no statement, I say.

And he's anchored it with some sort of M&M thing, there, what's that about? And then he had to prop it up on some kind of ugly metal tank thing in order to get it pointed the right angle?

This whole thing is weak, I disrepect it.

---

jinx Thursday Jan 15 01:35 PM

Quote:

Originally posted by Undertoad


This whole thing is weak, I disrepect it.

Oh no you dit-ent! ::head waggle::

---

Griff Thursday Jan 15 03:05 PM

Imagine the thinking you could do with that.

---

warch Thursday Jan 15 03:19 PM

head of state.

---

chrisinhouston Friday Jan 16 11:20 AM

What about that guy?

I'm reminded of the David Letterman routine where he shows a news photo and then centers in on someone in the image and says "What about that guy?"

So, what about him? Looks like he is waiting for the missles from mainland China or something

---

xoxoxoBruce Friday Jan 16 11:14 PM

He's standing like he's haung too.

---

Nerollss Friday Feb 13 05:26 PM

So..it's not true. The Asian may have huge ones too!!!

---

xoxoxoBruce Saturday Feb 14 06:47 PM

Sure, Billy told me he does.

---
Your reply here?

The Cellar Image of the Day is just a section of a larger web community: a bunch of interesting folks talking about everything. Add your two cents to IotD by joining the Cellar.