Undertoad Tuesday Jan 20 02:14 PM

1/20/2004: A soldier's funeral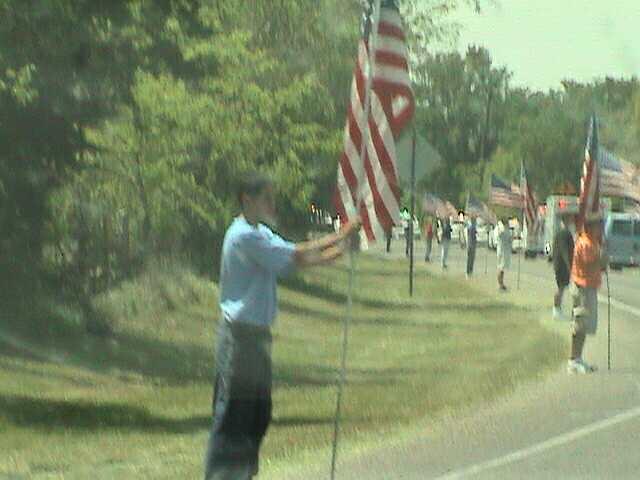 Some say it's for political reasons that the media is not permitted to shoot the caskets coming home from Iraq to Dover AFB; some say the administration doesn't want to acknowledge the deaths involved. Others say it's just the continuation of a policy that's been around for a while.

I don't know about that, but I do know that we could stand a bit more acknowledgement of those who paid the ultimate price. And I've never been one for sappy patriotism, but this item blew me away. So I include it even though it's been around a while.

http://webelegant.50megs.com/james/


Quote:

When we turned off the highway suddenly there were teenage boys along both sides of the street about every 20 feet or so, all holding large American flags on long flag poles, and again with their hands on their hearts. We thought at first it was the Boy Scouts or 4H club or something, but it continued .... for two and a half miles.

The reason the above shot is blurry is because it came from the still mode of a video camera, held by the 17-year-old sister (or so the text implies) in the funeral procession of the fallen soldier James M. Kiehl.

The images are so pure Americana. And when you stop to think about it, they show us an image that is so wrong and so right at the same time.

So wrong, because it is a funeral. James M. Kiehl met his wife at an Army training center at Fort Gordon, GA. They married in July 2001. She was pregnant with their first child when he was shipped overseas. James was killed on March 23, 2003. He was 22. Nathaniel Ethan Kiehl was born on May 12.

So wrong. And yet so right; somehow everything RIGHT with the situation is two and a half miles of children with flags solemnly acknowledging the casket.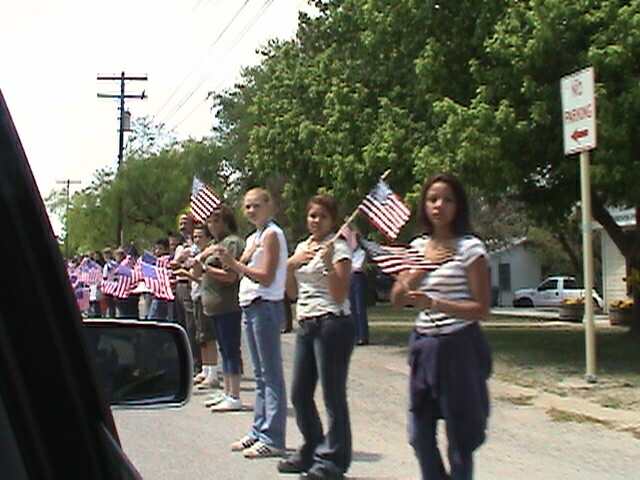 James was a member of Pfc. Jessica Lynch's unit, the Fort Bliss, Texas-based 507th Maintenance Company, which was ambushed near Nasiriyah. The unit was on a supply mission.

James Kiehl, thank you.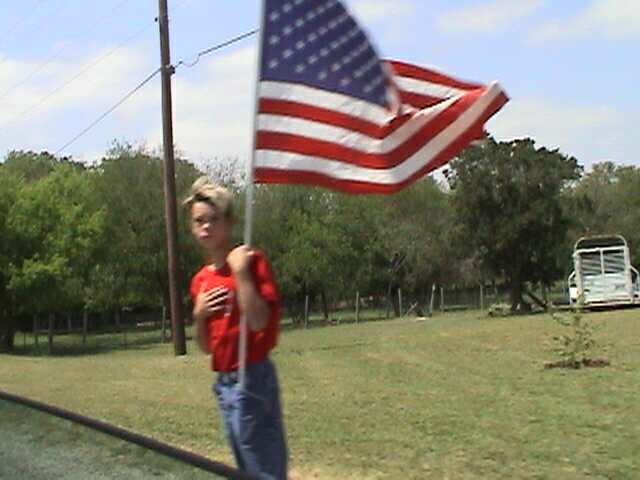 ---

Serk Tuesday Jan 20 03:02 PM

I may strongly disagree with WHY they were sent, but that does not in any way lessen my respect for those who have gone, and even more so for those who have paid the ultimate price...

Great pictures.....

---

xoxoxoBruce Tuesday Jan 20 06:40 PM

2 1/2 miles on both sides of the road.

---

Elspode Tuesday Jan 20 11:36 PM

That is at once the saddest and most glorious thing that I have seen in quite some time. Thanks, UT.

---

warch Tuesday Jan 20 11:51 PM

it just makes me sad.

---

stlbob Friday Jan 23 06:57 AM

I thought this was totally cool. I wish all our returning soldiers were treated this way!

If you haven't done it yet, check out the web site that UT gave a link for. This man was in PFC Jessica Lynch's outfit and was one of the recovered bodies found behind the hospital that they rescued her from.

---

daniwong Friday Jan 23 10:35 AM

Thanks UT. My buddy is over there right now and originally they were saying they weren't coming home until June. (After almost 2 years) Now I find out they will probably be flying to Colorado on Feb 22nd - 1 day before my birthday. This is probably the best present anyone could have ever given me. Granted - they will be in quarantine for a month - but hell - stateside is better that the Kuwait/Iraq border.

---

chrisinhouston Friday Jan 23 04:31 PM

Very moving pictures and the video still frames through the car window add a surreal, dreamy quality to them. I did some looking around at the website and found a link to this one:
http://www.annistonstar.com/www/as/iraq/
which has the stories and many pictures of the coalition fighters killed, captured or missing in Iraq

Interesting reading.

---

P-J Friday Jan 23 07:53 PM

wow. strange.

---

richlevy Friday Jan 23 09:49 PM

Quote:

OATH OF ENLISTMENT

"I DO SOLEMNLY SWEAR (OR AFFIRM) THAT I WILL SUPPORT AND DEFEND THE CONSTITUTION OF THE UNITED STATES AGAINST ALL ENEMIES, FOREIGN AND DOMESTIC; THAT I WILL BEAR TRUE FAITH AND ALLEGIANCE TO THE SAME; AND THAT I WILL OBEY THE ORDERS OF THE PRESIDENT OF THE UNITED STATES AND THE ORDERS OF THE OFFICERS APPOINTED OVER ME, ACCORDING TO REGULATIONS AND THE UNIFORM CODE OF MILITARY JUSTICE."


All the great things are simple, and many can be expressed in a single word: freedom; justice; honor; duty; mercy; hope.
--Sir Winston Churchill

These are the times that try men's souls. The summer soldier and the sunshine patriot will, in this crisis, shrink from the service of their country; but he that stands it now, deserves the love and thanks of man and woman.
--Thomas Paine (1737-1809) American political theorist, writer


I like the Churchill quote the best. Of course I believe he oversimplifies the situation a bit. What these words evoke in the people who hear or read them is as unique to each person as a fingerprint. When we see an object like an orange, those of us who are familiar with them bring our experience of what is an orange.

Freedom, honor, justice - are all concepts. They are not tangible, and are sometimes only noticed in their absence. People who have known oppression can better appreciate freedom. Injustice makes more of an impression than justice in the same way that we only notice the air we breathe when it is cut off.

It is an amazing sacrifice to give up one's life for duty. Many of us would fight hard if we could see our house at the edge of the battlefield. Fighting and dying in a war thousands of miles away against an enemy who probably could never have reached our shores demands a great commitment and sense of duty. Each man and woman who risks themselves because of an oath deserves everything we can give. In a nation where many of us live in comfort and safety, the example of what some must endure should be a reminder of what we take for granted each day.

They deserve our respect. Their families deserve everything we can give them.

---

Joy Monday Feb 9 04:26 AM

Respect

That is why photos of our fallen Heros coffins are not shown. It has been a law for many , many years.

As a military wife the thought of my DH dieing in the line of duty is a terror i have to , as many spouces like me, face each and every day.

But to show the family or coffin of a person who has given up all for our freedoms is consided one of the most disrespectful things you can do, in the eyes of many Active Duty and there families.

To me (IMO) the photos of the people on the side of the road were to remember just how many stand behind our military. I would love to say that i have come across more that support our military than dont , but that is not the case.

Next time you see a person in Uniform , please say thanks. Yes they choise to do this job, but it helps them to know that people see them and what they do to keep us all free.

---

xoxoxoBruce Monday Feb 9 08:31 AM

Welcome to the Cellar, Joy. I'm confused about the law that forbids photographing military coffins. I've seen still pictures and film clips of coffins being unloaded at Dover AFB in DE. I've also seen pictures of military funerals where the coffin was plainly displayed. I remember seeing pictures from Viet Nam showing body bags lined up and being carried, but that's different, I guess.

---

novice Monday Feb 9 09:11 AM

It's all about context. I understand why it's rarely depicted as a current event but often used in documentary form to highlight the atrocity of war/conflict in general.
Much like the Jackson nipple debacle.
Oh the shock, oh the awe yet EVERY news service here showed it over and over and over ad nauseum. Look everybody! This shocked everyone!
I guess you have to desensitise folks first then reveal the truth in manageable doses.

---

novice Monday Feb 9 09:55 AM

Ps: Welcome to the Cellar Joy.

---

Joy Tuesday Feb 10 02:52 AM

Thanks Novice and xoxoxoBruce for the welcome.

The ban has not allways been inforced. And like Novice said it is all about context.

---

modernhamlet Friday Feb 13 05:03 PM

The reporting of war dead and distribution of images like that shouldn't be banned. Powerful images make you think. And no matter what side of the debate you're on, I think we can agree, this country could use a little more thought to go along with it's great debates.

---

OnyxCougar Saturday Feb 14 01:21 AM

How is showing the coffin of a veteran in any way disrespectful?

---

Beestie Saturday Feb 14 02:01 AM

Quote:

Originally posted by OnyxCougar
How is showing the coffin of a veteran in any way disrespectful?

The news media used coffin shots in the 60s to buttress their opposition to the war. Decent and honorable depictions are good but the media has been known to stray from that.

God bless the families of the war dead. Our hearts are with you.

---

juju Saturday Feb 14 11:41 AM

Re: Respect

Quote:

Originally posted by Joy
As a military wife the thought of my DH dieing in the line of duty is a terror i have to , as many spouces like me, face each and every day.

DH = Dear Husband

---
Your reply here?

The Cellar Image of the Day is just a section of a larger web community: a bunch of interesting folks talking about everything. Add your two cents to IotD by joining the Cellar.