Undertoad Friday Jan 30 03:22 PM

1/30/2004: Dog yoga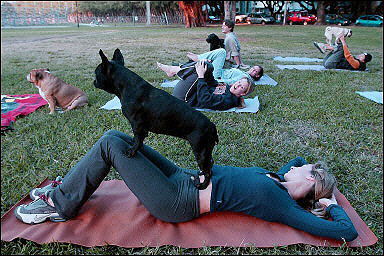 Happy Friday - what we have here is "dog yoga".

full story

Since it's Friday, I'll note that the dog here is named "Montana" and is a French Bulldog.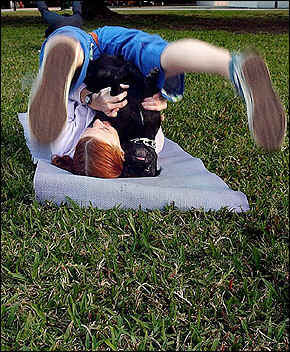 And this one is named "Satchmo".

Begin mocking this at will. I don't think the dogs should be involved here. Clearly the dog will be unhappy about being turned upside down for no particular reason. He could get hurt. And Montana up there is being unwittingly put in a dog-dominant position. Keep that up, lady, and he'll be humping your leg in no time, and then sorry won't be enough.

But for the counter-argument, it's simple: include your dog in everything you do, even if it's silly... and both of you will be happier for it.

---

blue58 Friday Jan 30 03:28 PM

Heh, he...my wife would go for this in a big way, she always takes the dogs walking and they love being involved in any kind of play activity. But man give me a 12 pack and a lawn chair and I'd participate as well, looks like a hoot for the whole family.

---

ndetroit Friday Jan 30 04:34 PM

what a bitch this must be for all those enlightened yoga-practicing great dane owners.

---

emmtayoe Friday Jan 30 04:48 PM

Ehh...tried this with my lab and she wasn't too happy about it...

---

lhand Friday Jan 30 05:04 PM

Upside down dog

Of all the dogs I've owned over the years, only one minded being upside down. I've got one now (small guy thankefully) that likes to climb up next to me on the sofa and lay himself upside down in the crook of my arm.

Usually they're pretty good about letting you know when you're doing something they don't like. Anything else is attention and, at least as far as all dogs I've ever known, attention is GOOD!

---

Undertoad Friday Jan 30 05:34 PM

Belly-up is one thing, but standing on the head?

---

russotto Friday Jan 30 06:01 PM

If the dog really doesn't like it, it'll let the owners know.

---

e unibus plurum Friday Jan 30 06:17 PM

hmmm... hundalini?

---

xoxoxoBruce Friday Jan 30 06:39 PM

Quote:

Originally posted by Undertoad
Belly-up is one thing, but standing on the head?

Well, if you're going to include your dog in your activities, it's better than dribbling him and tossing him through the basket.

---

Undertoad Friday Jan 30 07:29 PM

Some dogs prefer basketball to yoga.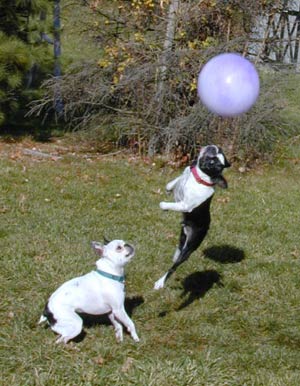 white dogs can't jump

---

Nothing But Net Friday Jan 30 10:16 PM

Umm, excuse me...

Quote:

I'll note that the dog here is named "Montana" and is a French Bulldog.

... shouldn't that be a Freedom Bulldog?



---

BrianR Friday Jan 30 11:06 PM

Just for the record...

my pit bull does NOT like to be turned ass over teakettle.

He thinks of this as aggression and responds accordingly.

Brian

---

Nothing But Net Saturday Jan 31 12:09 AM

If you guys have pets who don't understand the concept of the alpha male, or don't have the respect from them to be accorded to you as such, then I pity you.

---
Your reply here?

The Cellar Image of the Day is just a section of a larger web community: a bunch of interesting folks talking about everything. Add your two cents to IotD by joining the Cellar.