Undertoad Tuesday Feb 3 03:09 PM

2/3/2004: Record-setting omelette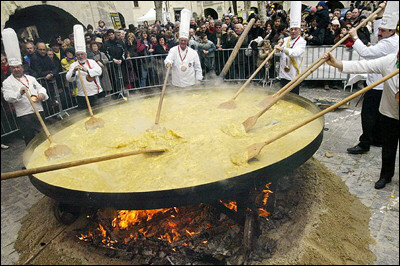 France - the one thing she should always be known for is gastronomy, and so let's enjoy this giant truffle omelette. Created to celebrate the truffle, which is a sort of fungus - known as the "black diamond", and extremely rare due to last summer's heat.

This was a record-breaking omelette, consisting of 3.5 kilos of truffles and more than 3,200 eggs. The culinary feat required a frying pan of some 3.7 metres in diameter. It was cut into 1,000 pieces and sold.

Mmmm omelette

---

Leah Tuesday Feb 3 04:36 PM

Those crazy French.

---

jinx Tuesday Feb 3 04:37 PM

I bet it sucked.

---

Leah Tuesday Feb 3 04:39 PM

It probably did suck. I like my omelettes with ham, cheese, onion and tomatos on it. Yummmmmm

---

Beletseri Tuesday Feb 3 04:46 PM

Looks like it will turn in to scrambled eggs to me. How are they going to flip it in half with cheese inside?

---

Elspode Tuesday Feb 3 05:27 PM

Quiet, you American pig-dogs with your silly running about knees-bent behavior! What do you know about French cuisine!? You invented les McDonalds and those so-called french fries! You vould not know a fine omlette if you awaken with one on your ugly faces! I fart in your general direction! Your mother was a hamster, and your father smelled of elderberries! PFFFFTTTT!!!!

Now, do not make any more unwanted comments about our cooking, or I shall taunt you a second time!

---

jinx Tuesday Feb 3 05:30 PM

Uhhh.... is there someone else up there we could talk to...?

---

glatt Tuesday Feb 3 05:35 PM

That's no omlette. That's scrambled eggs with stuff mixed in.






Who says you need an original idea to post?

---

Pi Tuesday Feb 3 05:48 PM

Sorry, even if I'm no frenchman, I must protest against putting cheese in a truffle omelette. When I'm at home I love having a "Bauerentriwel" (some luxemburgish word like farmer's omelette) with a lot of potatoes, cheese, bacon and so on. But a truffle omlette is like pouring water in a good wine...

---

xoxoxoBruce Tuesday Feb 3 08:28 PM

Why add anything to my dead chicken babies and fungus?

---

purecougar Tuesday Feb 3 11:55 PM

That's 7.7 pounds of truffle. Assuming they used white truffle, which according to one web site is $1,000 to $2,200 USD a pound, that is $7,700 to $16,940 for the fungus alone. That's more than my first car!!

gin

---

wolf Wednesday Feb 4 01:28 AM

French and American Omelettes are different. The French incorporate all the ingredients into a whipped fluffy batch of eggs that are only nearly allowed to set. It's a more labor intensive version of scrambling. The American omelette is the one that sets on the outside and has the fillings rolled into the middle. The French version usually has more eggs than stuffings.

(at least this is what I recall from watching Jaques Pepin ... my mom's the real Food TV/PBS cooking show freak.)

I make a mean damn omelette.

---

dar512 Wednesday Feb 4 11:11 AM

I ordered a fair number of omelettes in Paris a year ago, and mostly got scrambled eggs. Might have been that I was obviously American (my French sucks rocks). So maybe they were giving me what they thought I wanted. I prefer a real French omelette when I can get it.

---

Kitsune Wednesday Feb 4 11:59 AM

Quote:

Originally posted by xoxoxoBruce
Why add anything to my dead chicken babies and fungus?

"That's not an omlette! That's a chicken-abortion!"

Add some of the whale in the other post and that thing might not be so bad.

---
Your reply here?

The Cellar Image of the Day is just a section of a larger web community: a bunch of interesting folks talking about everything. Add your two cents to IotD by joining the Cellar.