Undertoad Friday Feb 6 11:42 AM

2/6/2004: Cow unexpectedly walks through bank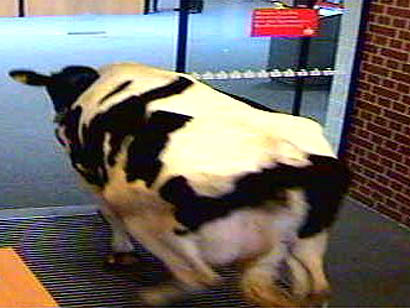 Oh sure, in India this might not be unusual, but this one happened in Germany. According to this Ananova story, the cow escaped from a nearby wedding, where the groom had employed it as a joke to provide guests with fresh milk in place of champagne. And then it walked into a bank.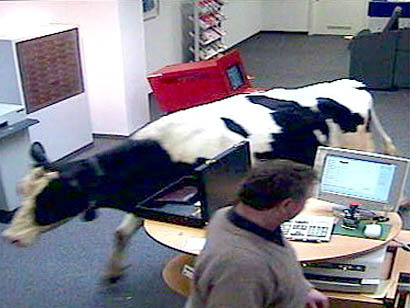 "The animal was a nice customer," a bank spokeswoman told Bild newspaper. "It behaved, was friendly and didn't even knock anything over."

---

SteveDallas Friday Feb 6 11:44 AM

That would be as opposed to a cow EXPECTEDLY walking through a bank.

Wonder if it made any deposits while it was there??

---

Michael Roth Friday Feb 6 11:52 AM

I love the quote from the spokesman, that is fantastic.

---

FileNotFound Friday Feb 6 12:52 PM

It wanted to see if they were using Gateways

---

jinx Friday Feb 6 01:12 PM

I bet it was looking for the china shop.

---

Happy Monkey Friday Feb 6 04:17 PM

So it could get funky with the bull?

---

xoxoxoBruce Friday Feb 6 06:59 PM

Looking for a bull market?

---

SteveDallas Friday Feb 6 08:39 PM

HEY! Who opened the Schlitz Malt Liquor(tm)?

---

novice Friday Feb 6 11:46 PM

Moonich?

---

elSicomoro Friday Feb 6 11:48 PM

That cow is gonna milk the publicity from this for all it's worth...

---

emmtayoe Saturday Feb 7 12:19 AM

I'm loving all these bad puns that are flying...tee hee. This is just one of those situations where they are necessary.

---

CDNRascal Saturday Feb 7 03:40 AM

wow

Holy cow, she sure seems to be moooving fast! If I hadn't seen the pics I would say this story was a load of bull!

---

Olikat Saturday Feb 7 03:56 AM

maybe she needed some moooola?


( sorry, I couldn't resist )

---

xoxoxoBruce Saturday Feb 7 07:52 AM

Welcome to the Cellar, Olikat.

I wonder what a cow will do with a free toaster?

---

Happy Monkey Saturday Feb 7 09:29 AM

I hope it wasn't that bank from "Bowling for Columbine" where you get a free gun.

---

Elspode Saturday Feb 7 09:50 AM

From the sound of the spokesperson's quote, they didn't really have much of a beef with Bossy...

---

emmtayoe Saturday Feb 7 10:01 AM

Hah...:p

---

Sun_Sparkz Sunday Feb 8 06:42 PM

when i was living in Dubbo (in Australias NSW country farming area) i was sittin in my office and a kangaroo hopped past my desk! it went down into the back tea room and just stood in the corner. It stayed for quite a time and even started to mess up some of our filing that was stacked there. All my fellow co-workers were too scared to go and shoo it out so we had to call a WIRES volunteer to capture it, and take it back out of the town.

---

wolf Sunday Feb 8 08:45 PM

I'm quite fond of kangaroos and have found out they can be quite nasty bastards ...

---

Sun_Sparkz Sunday Feb 8 09:25 PM

they are cute, and the joes are darlings..
but the big red ones are V scary, they box and wrestle if they feel threatened and can stand on their tails while they pumble you with their gigantic feet. the one in our office was a red kangaroo, about 4.5 feet tall. it wouldnt have been that bad had my boss not taken a happy snap of the poor darling and made it go mental with the flash

---

Degrees Monday Feb 9 10:13 AM

My wife had a pet cow

She raised it from a calf, and it followed her everywhere... except inside buildings. :-)

Bad news was that her step-dad had it slaughtered, and she developed a case of Bell's Palsy for a while after that.

She still likes cows. We even have a set of cow dishes that are kinda cute.

(posted from Tulare COWnty - we have more cows than people, and we have nearly 300,000 people.)

---
Your reply here?

The Cellar Image of the Day is just a section of a larger web community: a bunch of interesting folks talking about everything. Add your two cents to IotD by joining the Cellar.